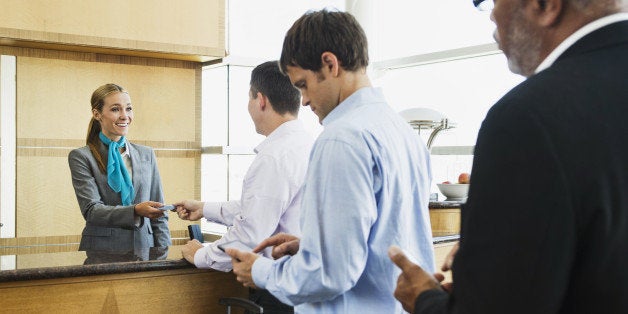 After a long day of travel woes, nothing calms and excites the soul like a free upgrade.
And whether on a flight or at your hotel, there are smart ways to secure a free upgrade beyond the typical "it's my anniversary" ploy. So we turned to air travel expert George Hobica of Airfarewatchdog and other HuffPost bloggers for some tips.
Get a little savvy, and...
Use your miles for an upgrade.
Remember that airline miles aren't just for booking flights -- on many airlines, they can be used to upgrade an existing ticket as well. It's best to check online for available upgrades three or four days before your flight, says Hobica. Calling the airline to ask in realtime helps, too.
Book with a site that monitors price dips.
Websites like tingo.com will "monitor your hotel reservation, and if a better room becomes available at the same price, they will alert you and offer to upgrade you," says Hobica. THAT'S a sweet deal.
Check in late at your hotel.
Later in the day, hotels usually have a better idea of precisely which rooms are booked for the night. That means they'll be in a better position to dish out an upgrade if you ask for one.
Volunteer to swap flights before they call volunteers.
When flights are overbooked, airlines will sometimes offer vouchers to passengers who volunteer to switch to a later flight. The value of these vouchers will often rise as the need for volunteers becomes more desperate. However, it may be most lucrative to approach the gate agent before this whole process starts and tell them you'd be happy to volunteer in exchange for the best voucher deal of the day.
Just ASK.
Whether at an airline or hotel check-in, the boldness of simply asking for an upgrade can pay off. If there's a last-minute suite or first-class seat, there's no reason it can't be yours.
Be really nice.
When you do approach the airline desk or hotel check-in to ask for an upgrade, being nice dramatically increases your chances of getting an offer. According to Hobica, the logic is simple: "Most people are NOT really nice at check in... Try being nice, and ask. If the hotel isn't full, they may give you a better room. I do this all the time."
Dress really nicely.
Likewise, looking the part of an upgraded client can earn you the status of an upgraded client. When airlines have a last-minute spot in first class, Hobica says, "Who do you think they'll upgrade? The slob, or the guy in the suit?"
Tip, just a little.
So it's not really a "free" upgrade if you offer a tip, but just a little bit of cash can go a long way. That's because it's not about the money -- it's about the gesture. "Tipping is kindness," explains hotel veteran Jacob Tomsky. "It's hard to express kindness in today's lightning-fast world."
Celebrate an "un-special" occasion.
When desk agents hear about birthdays and anniversaries all the time, you can imagine they don't find them very "special" or worthy of an upgrade anymore, explains Tomsky. He says he would most likely dole out an upgrade to a guest who is "celebrating" a divorce... do with that information what you will.