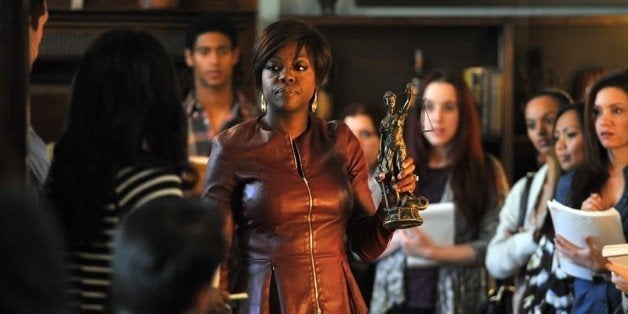 Welcome to "How To Get Away With Murder," where a law procedural turns into a college murder mystery, which turns into a sexy story of lust and betrayal. All will end disastrously, we hope.
The last show in ABC's highly marketed "TGIT" night was written and created by Pete Nowalk, and executive produced by Shonda Rhimes. Starring Viola Davis, Alfred Enoch, Jack Falahee, Aja Naomi King, Matt McGorry, Karla Souza and Liza Weil, the premiere was a slam dunk for the network.
Davis stars as Annalise Keating, an intimidating rock star of a law professor who recruits students to work at her law firm for the year. Armed with supporting characters who bend at her will (ahem, Olivia Pope) and dark secrets that lay the show's groundwork (hi again, Olivia) she'll break, test and inspire the law students (Enoch, Falahee, King, McGorry and Souza) to bend the rules, win the case and, yep, get away with murder. Here's what we learned in the show's series premiere (spoilers ahead!):
Don't expect answers.
Come on, the show is called "How To Get Away With Murder." As if they'd actually tap that out in the pilot. The premiere puts one murder mystery to bed, only to introduce another one that rolls out dozens of questions. Nowalk seems to be playing the long game, revealing bits of an 1000-piece puzzle slowly and with purpose.
Viola Davis is brilliant. We need more Viola Davis.
"I wanted to be the show." That was the reason Davis gave for wanting to star in "How To Get Away With Murder." She's the face, the promo material, the name brand and the star, but it's easy to fear that she won't be in the show as much as we want her to be. There are so many other moving parts and B-plot questions. Sure, she has a lot to do -- she tries to seduce Wes and manipulates her boyfriend into lying on the witness stand, all before winning a huge trial -- but while everything orbits around Annalise Keating, we still want more.
There are plenty of Shonda-like monologues.
Have no fear, Shondaland devotees. Peter Nowalk learned well from his time as a staff writer on "Private Practice," "Grey's Anatomy" and "Scandal." There are plenty "Gladiators in suits"-type speeches us to remind us of Shonda's greatest hits. Near the end of the premiere, Wes gets an earful from Annalise: "Everything after this moment will not only determine your career, but your life. You can spend it in a corporate office drafting contracts and hitting on chubby paralegals before finally putting a gun in your mouth or you could join my firm and become someone you actually like." Mic. Drop.
"OITNB's" Matt McGorry is more than just a C.O.
Litchfield's favorite correctional officer is now a law student, and, wouldn't you know, he's got pretty great comedic timing. McGorry's character, Asher Millstone, is an entitled, over-prepared, over-educated, blazer-wearing country club bro who Keating totally believes in, for some reason. (For the record, McGorry has said that "How To Get Away With Murder" won't prohibit him from continuing his role in "Orange Is The New Black," so we're all good.)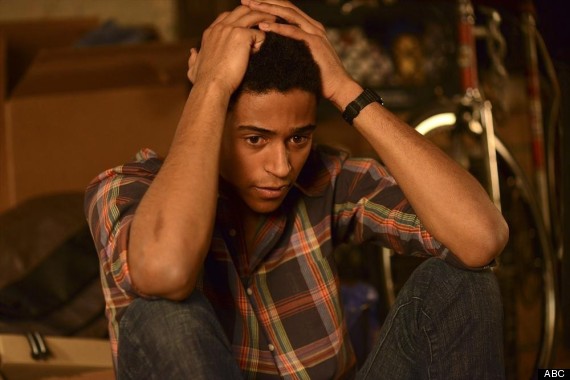 SEXY SEX SEX.
Think "Grey's" Season 2 exam room scene but with none of the romance and all of the secrecy. Here, Wes catches Annalise mid-cunnilingus (we assume?) with her boyfriend, Detective Nate Leahy (Billy Brown). Connor Walsh (Falahee) seduces a random IT guy for info on Annalise's case. Bonnie Winterbottom (Liza Weil) elbow nudges Frank Delfino's (Charlie Weber) tendency to sleep with students, and a storm is definitely brewing between Wes and his goth neighbor Rebecca (Katie Findlay). SEXY SEX SEX.
One character is dead before the episode ends.
Duh, maybe, because "Murder" is in the title. In the final moments of the premiere, we see the dead body the students have been lugging around all episode through three-month flash forwards is Sam (Tom Verica), Annalise's husband. At this point, the mystery is laid out. Who killed him? Why are they burning him in the woods? Who is going to get away with murder? How do you get away with murder? Good luck finding out.
"How To Get Away With Murder" airs Thursdays, 10 p.m. ET on ABC.
REAL LIFE. REAL NEWS. REAL VOICES.
Help us tell more of the stories that matter from voices that too often remain unheard.
BEFORE YOU GO
PHOTO GALLERY
How To Get Away With Murder