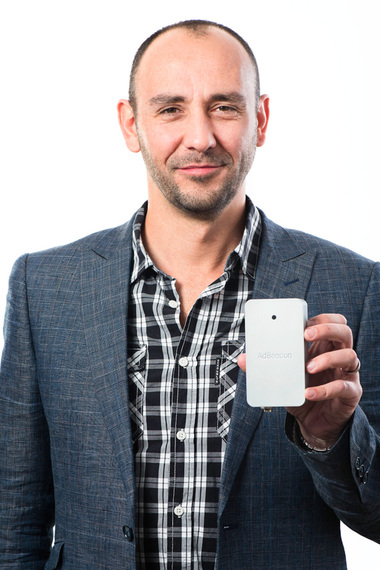 Two entrepreneurs, brothers Rodolfo and Alexis Saccoman, start a new business. Full of fire and energy, they create a new way to learn about yourself and call it My Therapy Journal.
It worked. But they lacked the money to scale it.
Then one day, Alexis says:
"Rodolfo, there's this crazy show on TV. You know what? How about we apply and see if we can win it?"
And so they applied to Shark Tank in 2009.
How did it turn out? Not as they hoped: they reached their promised land, but it wasn't exactly green and pleasant.
The upshot? It set Rodolfo on a path to discover his real passion.
Eight thousand other companies applied, which were whittled down to about sixty. Of those, twelve got on TV. Thankfully, the Saccoman brothers were in there.
On air, their nerves ran high. Millions of people would see this. Tough questions from elite investors. All-out win or lose. But the brothers were well-prepared and stood firm under fire.
Result? They won an $80k investment for 51% of their company.
The problem? Months later, they had one single call with their supposed investors' team. And then what? During my Skype call with Rodolfo, he told me:
"That was that. There was no follow-up. Just nothing."
Ouch. They never received a cent. Did they fight their way to the top of Mount Everest for zilch?
Hold on though. Successful entrepreneurs don't just quit: they're resilient. Saccoman points out the need to regenerate and let go.
"Back in the day, you had to have thick skin. But nowadays, I think you need to have regenerative skin. So every night, you shed and the next morning you have fresh skin. You're ready to go."
And they did. Even though Shark Tank netted them zero investment, they felt the power of prime-time TV. Avalanche-style. With 15 million people tuned in, Rodolfo and Alexis watched the subscriptions to their service just roll in. Hundreds of them. Think of it: actual customers and revenue. Way better than investment dollars, right?
Their company thrived and grew. But Rodolfo had new things in mind.
Your lesson? When you encounter roadblocks, promise me one thing: you stay in the fight.
"Nothing's really easy. You have to be a gladiator."
While in charge of advertising at The Breakers, a luxury resort in Palm Beach, Saccoman drove around looking for billboard space to buy. Turns out, it's a frustrating, haphazard, time-consuming process. Huge hassle.
"The way to do it is that you had to drive in your car with a pen and paper. And as you're driving, you would go and say, 'Oh, I like the location of this one. It's at exit 56.' And then you write it down."
"I came back to the office and I said, 'Man, that's ridiculous. How can in today's time, in 2010, people buy advertising in that fashion?' And it's a big industry: a $7B industry in the US."
And so he stumbled on the premise for AdMobilize, his next company. How? By drilling down on a problem he himself had. He asked a clear question:
"How can I connect online intelligence to the world of physical advertising?"
Whoa -- slow down. What tends to happen when an entrepreneur conjures up a possible solution to a tough problem? They go off and just build the full thing. The whole kit and caboodle.
He did himself a favor and figured out a way to test his ideas, quick and cheap. Built a small iPad app to turn the device into a digital display. Then he convinced advertisers to pay his people to literally carry iPads around.
"So then any person with an iPad could become a moving billboard and get paid for the periods that they were advertising."
And yes: if you get paid to just walk around with an overkill billboard all day, you won't get far. The point? He found a clever way to start manually and prove his concept quickly. No need to hire coders and build stuff for 10 months in a cave. This early on, scale doesn't matter.
Try and apply this to your own business. Do you have a great idea on how to solve the pain of your customers? Very good. Now: can you follow Saccoman's footsteps and get cheap, fast, accurate validation on it? Figure this out and you'll charge ahead, building stuff your customers want.
Sounds good. But is that all? Far from it. They had the iPad cameras take pictures, geeked around with the data, then told advertisers how many people saw their ads.
"So the concept was: Google Analytics for offline."
Key point: he started with a clear observation on a problem he himself tangled with, added a small, smart innovation, did careful testing and boom! Stumbled on a big idea that works.
And now? AdMobilize won $4.5M in investment, created a team of 35 employees spread in offices around the world, powered by a board of advisors which includes Mok Oh (former Chief Scientist at PayPal), Kurt Holstein (founder of Rosetta Digital, sold for $575M), Nabyl Charania (CEO of Rokk3r Labs) and more. An elite Internet of Things company.
Saccoman took a long shot, fought hard, hit a brick wall, didn't get discouraged, kept going...and then hit upon success on something far greater. My advice? Learn and absorb this mindset. Burn it into your skull.
Hi, I'm Harry--a fellow entrepreneur. Keen to help you discover customers you'd love to serve. Let's connect.
REAL LIFE. REAL NEWS. REAL VOICES.
Help us tell more of the stories that matter from voices that too often remain unheard.