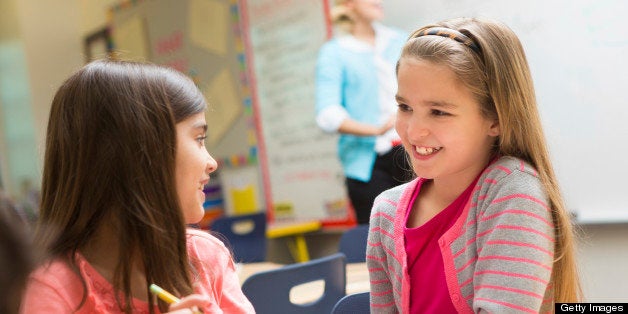 Editor's Note: This post is part of a series produced by HuffPost's Girls In STEM Mentorship Program. Join the community as we discuss issues affecting women in science, technology, engineering and math.
Teaching our girls the inverse of this formula at a global scale.
As a young girl growing up in India, I dreamed of flying. When I learned I was too short to become a pilot, there was nothing stopping me from becoming an aerospace engineer. My family and the Indian middle class society placed the highest value on education in math and science as a path away from poverty, and there was always a sense that girls were equally as capable as boys. So it was surprising to step foot into the US in my twenties and learn there was a palpable gender distinction in place: "boys invent things and girls use things that boys invent."
Fast forward nearly twenty years. Everyone is talking about the power of science, technology, engineering and math (STEM) education in our country now, and more specifically, about empowering young women to be successful in STEM careers. From President Obama's Educate to Innovate campaign, to the Lean-In movement and the star-studded code.org video that went viral on YouTube earlier this year.
But how do we transform these philosophical ideas into scalable programs that reach real girls around the world. How do we interest girls in inventing things?
Seven years ago, when I started Iridescent with the goal to bring an engineering simplicity and worldview to complex education problems and deep rooted attribute biases (I have an engineering and physics background), I brought an arrogance and accompanying ignorance for the complexities of the problem. My end goal was to create a large scale solution, so I knew the right-hand side of the equation -- the final product, but the critical left-hand side -- the functions necessary to get there -- were missing.
Here is the initial formula we used:
(mentors + girls) meet weekly for 9 weeks @ tech company= thousands of girls are interested in programming
Little did I know that societal factors and gender stereotyping begin influencing girls at birth in this country. It's a powerful and subtle series of events that ranges from how we talk about our beautiful babies (daughters are described as little, beautiful, pretty, cute and even soft, while sons are judged as better coordinated, more alert, stronger and hardier), to the toys they play with. For instance girls play with static toys that deprive them of an intuitive understanding of physics at play - forces, motion, and momentum. To worsen the situation, girls' toys prepare girls for the traditional duties they are supposed to assume as adults (motherhood and keeping house). Thus it is not surprising that we lack a solid force of women inventors, scientists and engineers.
How to engage girls in coding
After running the first pilot program with 45 girls in Silicon Valley, we started to scale up to New York, Los Angeles and Boston. We learned that girls in the US don't necessarily want to sign up for computer programming classes just because we are offering them. They don't see themselves as programmers. What worked was to bring a different group of supporters into the equation - schools and teachers. Teachers pushed girls to attend a low-stress Hack Day where girls could go with their friends and hack a crystal ball app or "mash a mole." And they were hooked.
Lesson 1:
Deep rooted biases need to be combated with in-person, positive, social, experiences that provide easy success.
Lesson 2:
Girls need to see the real-world value of the learning experience.
"Why should I learn to write code?"
Answer: "So that I can create an app that solves a problem I see."
So our initial formula needed to take into account that the program could work on a small scale with early adopters, but would need reworking to become a truly scalable program that broke down deep- rooted attribute biases.
It needed to factor in more time, a long term vision and a community of like-minded partners:
(mentors + girls + teachers) meet weekly for 10 weeks @ tech company = thousands of girls are interested in programming

Lessons from the field on scaling up
Over the past 4 years, we've had to adapt our approach to develop a truly scalable and sustainable program. Initially, bi-weekly mentoring sessions were held at tech companies like Google, LinkedIn, Twitter and Intel. While, this format made it easy for the mentors to participate, the model broke down as we scaled from 45 girls to 200 girls. Girls had a hard time traveling to the companies during rush hour from their schools.
It simply didn't work in Los Angeles, where all the tech companies were in Santa Monica and the high-need schools were around downtown LA (1.5 hours in traffic each way). Learning from FIRST Robotics, we moved the sessions to the school site and teachers started to play a bigger role.
We ran pre- and post-event surveys and worked with an external evaluator to analyze data on our program. And it was surprising. The experience of a girl was shaped primarily by her peers and the quality of instruction - not as we had imagined - the mentor.
As we scaled up, it was harder to find women instructors who had a solid programming background as well as real world experience doing market research and product development. Our solution was to adopt the MIT Open Courseware approach and make high quality curriculum materials freely available online day or night.
And after buckets of blood, sweat and tears, our formula has evolved:
((((girls + mentors + parents + teachers) x online curriculum) passionate team)visionary, patient funders)lots of blood, sweat, tears = scalable program
Though we were tempted many times to step on the gas and throw money at the problem, we realized that artificial growth isn't sustainable. Deep rooted problems need time and complex ecosystems. We need to build critical mass girl by girl, school by school. Once girls experience the joy of learning and the opportunity it provides, they come back as the strongest advocates and the group of programming girls grows each year.
Now our girls from around the world are inventing things.
What kind of ideas has your team put in place to scale for the future? Leave your thoughts in the comments. I'd love to hear!
Related
Popular in the Community