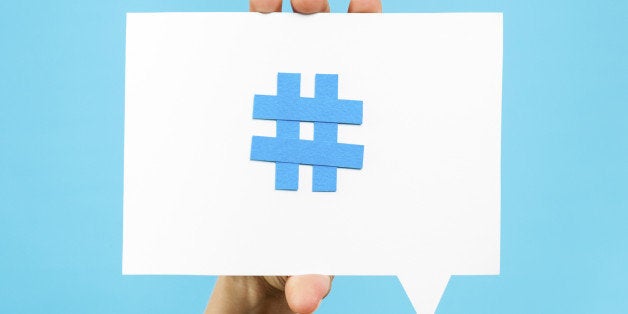 Most of us use twitter on our daily basis, but if I ask you how many of you use twitter list, then may be 10-15% people will raise their hand. When I first got to know about the uses and benefits of twitter list, I decided to share with others and I am sure this article will help you to get most out of your twitter experience.
Initially there was not an option to create list on twitter. Later in December 2009, twitter introduces this amazing feature. This list feature gives you the ability to group your friends accordingly into specific lists and you can easily catch up with their tweets you may have otherwise missed.
How to Create Twitter Lists
To create a list, log on to your twitter account and on very right hand side you can see lists option, here you'll see a new "Lists" section right below the search box in the right side navigation, simply click on the "New list" link to begin creating a new list. After you click on that link, a window will pop up asking you two questions: list name and description.
The key aspect is to decide whether your list will be public or private.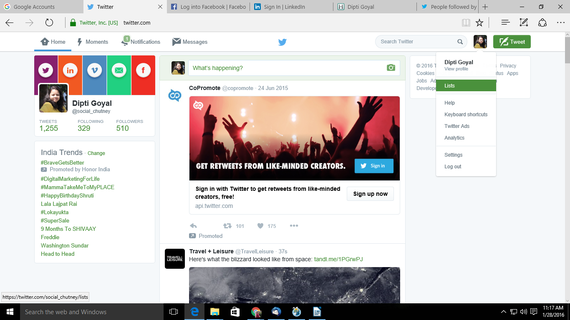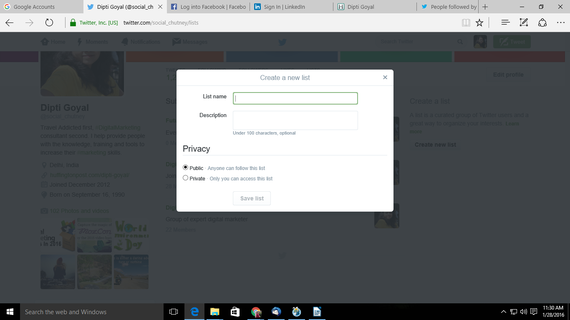 Public Lists: These lists can be seen by anyone, and anyone can follow or subscribe you.
Private Lists: In private lists, only the creator of the lists will be able to see or subscribe to them -- not even those on the list can see private lists. That means, for example, you could create a list of your competitors and keep an eye on them without knowing them.
Once you've clicked the "Save list" button, you're ready to add users. You'll be prompted to search for people to add to your list, but there is also an another way to add or remove users to lists. Go to the profile to whom you want to add in your lists and click on the button, next to follow option. Then you will get a drop down menu, select 'add or remove from list' option.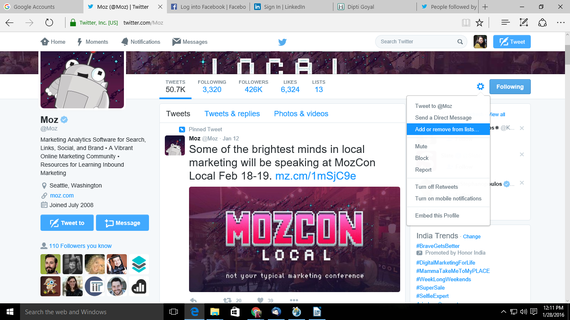 A pop-up will appear like this. Check the button in which you want to add that particular profile and close it.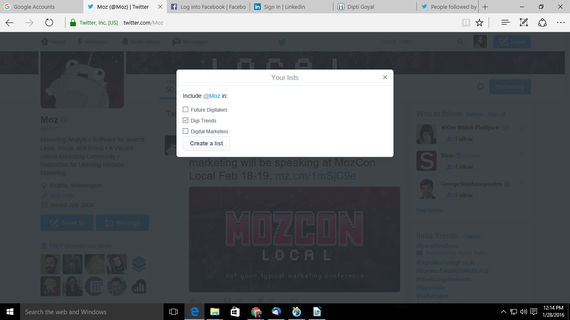 Keep in mind that each list is currently limited to 500 people, and users may create a maximum of 20 lists.
How To Get Most Out Of Twitter Lists
1. List of your competitors:
Create private lists of your business competitors. You can follow Twitter profiles using lists without actually following their accounts, which means these users aren't notified that you're following them. Technically, you're not following them; you're just observing their public Twitter time line.
2. List of event or conferences goers:
You can create a list of those who are attending live events or conferences as these lists collect event goers into one place so you can follow along with what's happening.
3. List of your fellow bloggers:
This list may help you to get connected with others who are doing the same job as you. You can share and get knowledge about latest trends in your field, tools, news and much more.
Collecting these accounts into one list makes it all the easier to connect and engage.
Besides these, you can find people and brands you respect on Twitter, and look at the lists they belong to. This is a great way to find like-minded people to connect with.
Finally, review the lists you're a member of from time to time. These are public lists that other people have added you to.
So, what are you waiting for? Create a list and find people you want to add and share with me how do you use them to make connecting on Twitter easier?
Calling all HuffPost superfans!
Sign up for membership to become a founding member and help shape HuffPost's next chapter