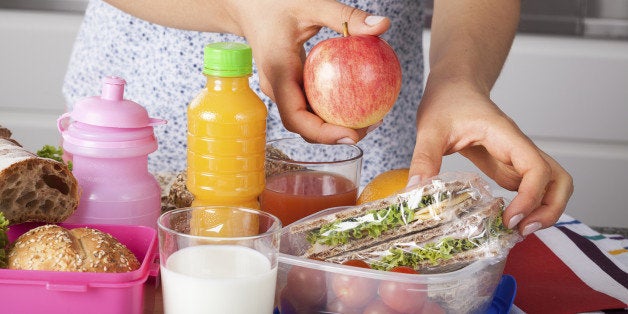 Kids are back from winter break and that means parents are back on lunch duty. Packing a well-balanced lunch and getting kids to actually eat their fruits and vegetables can be a real challenge. Here are a few ways to get kids to eat those healthy school lunches that you so lovingly pack.
Veggie Shapes: Get creative with your lunchbox art and use a small cookie cutter to make fun veggie shapes. Bell peppers work best for this, but you can transform cucumbers, jicama and carrots into stars, hearts and more. This will work well with fruits like pears, apples and melon as well.
Fruit Kebabs: Buy small, 4-inch skewers to make your very own fruit kebabs. Include a small container of yogurt for dipping. Add a dash of rainbow sprinkles on top of the yogurt to make their fruit even more appealing. If you really want to go the extra mile, use the technique from the tip above and make fruit shapes, then skewer them.
Healthy Dips: Providing a dip is a good way to get kids to eat veggies but so many dips are packed with fat. Salsa can be a great alternative. While it varies, one tablespoon of salsa can have only four or five calories. Other options are low-fat dressing, hummus or a savory yogurt dip. A healthy take on every kid's favorite: ranch dressing with Greek yogurt.
Easy Eating: In my experience, kids are more likely to eat fruits and vegetables if the work has been done for them. It may feel a little tedious to pluck those grapes off the stem or hull strawberries. But if it means your child is getting a healthy lunch, it's probably worth it.
Make it Drinkable: Disguising veggies is another simple strategy and making them drinkable will usually do the trick. Whip up a kid-friendly smoothie that's packed with nutritious ingredients without tasting that way.
Experiment with Color: Kids may shun boring old orange carrots, but what if they could have carrots in their favorite color? Rainbow carrots are showing up more frequently at farmer's markets and even at your local grocer. The purple trend in vegetables may make dinners a breeze, too. Look for purple cauliflower, artichokes, asparagus, beans, bell peppers and more.
Bento Box: Compartmentalized lunches are all the rage. And there is something about seeing your food in neatly separated sections that does make it all more appetizing. Remember, the USDA recommends that half your plate is filled with fruits and vegetables, so make sure half the compartments in your kid's Bento box follow these guidelines.
Stick to the Classics: When in doubt, go back to basics with apple slices. A squeeze of lemon juice will keep those slices from browning before lunchtime. But if lemon is too much for your little one's taste buds, try soaking them in another citrus juice, like pineapple.