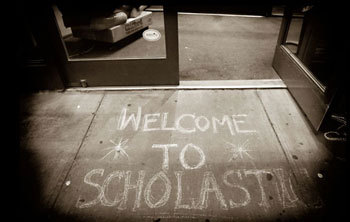 The other day I grabbed a quick lunch in the cafeteria at my office. I'd walked that route a thousand times before, but that time it looked...different.
As I passed through, I realized I was standing in the very spot where my brand-new husband and I agreed to hitch our lives together -- the same spot where I jubilantly danced with my best friends, where all my favorite people raised their glasses in a toast to love.
Yep. I got married at work. Here's how we did it.
Step 1: Have a really cool office space.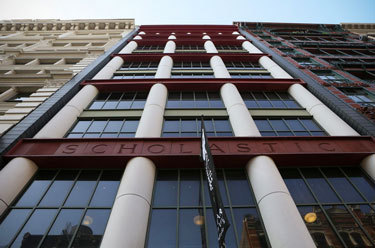 I work for Scholastic, the world's largest publisher and distributor of children's books -- and we have some pretty amazing event spaces in our global headquarters in New York. The rooftop terrace is open three seasons out of the year, and at all hours of the day you can find people up there reading, working, hosting meetings, eating lunch, and just plain enjoying the spectacular views. The terrace is accessible via the Greenhouse, which is floor-to-ceiling glass and had plenty of room for our 85 guests (and the big dance floor I requested!). And the Penthouse, my favorite spot in the building, is a stunning apartment-style venue that was the perfect place for my sisters, mom and me to get ready.
So when my husband and I were looking at wedding venues, we kept my office building on the short list. And as time wore on, it became clear that getting married where I work was the ideal choice for us.
Step 2: Make it make sense.
If I had married anyone else, maybe the whole thing would have been strange, but getting married at Scholastic was actually a perfect fit. Not only do I work there, but so too does my husband, Barry Lyga, in a way -- he's an author, and Scholastic is the publisher of his middle grade trilogy, Archvillain.
Then there's the story of how Barry and I met. A few years ago, my coworker from Scholastic, romance novelist Sarah MacLean, asked if she could set us up. Barry was a recent New York transplant, and Sarah was convinced we'd be perfect together. So when we decided to get married, we knew just the person to ask to officiate! (Here's the takeaway: when a romance writer wants to make a match in real life, let her. The relationship will probably work out.)
Step 3: Match the theme.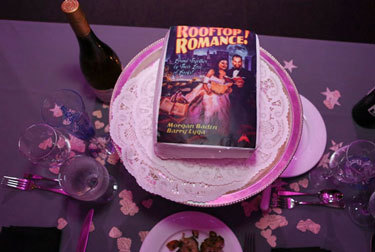 Two writers getting married by another writer at a publishing house? No question, we had to play up that concept. We started with our invitations, which were designed by comic book illustrator Mark Wheatley in the vein of a pulp novel and helped prepare our guests for the theme of the wedding: books! (The invitation eventually adorned our cake, too.) Instead of numbers, tables were assigned book titles, and guests had to match the book covers on their escort cards to find their tables. Individual cakes featuring the names of our favorite literary couples -- Lyra and Will, Lois and Clark, Hermione and Ron -- sat atop stacks of vintage books and served as table centerpieces. Newspaper-print cutouts of hearts and stars were sprinkled around like confetti. And instead of flowers, I walked down the aisle carrying a vintage book-turned-purse (Nancy Drew and the Mystery of the Clock).
Step 4: Regret nothing.
Is it strange to get married in the same place where you already spend 50 hours a week? Maybe. But I prefer to look at it this way: the memories of the most fun, emotional day of my life so far are easily accessible. I can take an elevator (or the stairs, if I'm really ambitious) upstairs to my wedding venue any time I want. I can stand on that terrace, close my eyes, and experience it all over again -- my husband's expression when I saw him for the first time; our nieces twirling in their dresses against a glittery skyline; everyone I love in one place, celebrating.
I got married at work, and now I get to revisit those emotions daily. How lucky is that?