Prague is one of the most visited destinations in Europe and has tourists coming from all over the world to discover this beautiful city. Understandably the city is littered with souvenir stores and people offering walking tours, Segway tours and free tours. The typical tours will check off the top few sites and will often lead you into tourist traps - overpriced restaurants or souvenirs that are commonly bought in Prague but are not actually Czech.
Guidilo and Local Artists are two newly opened companies that were born out of passion for the tourism industry but with the goal of doing things a little differently. They have changed the way that people act and feel as tourists and have inspirational goals and stories. They are impressive not only because they are successful startups but because they took tourism, something that is overabundant, and did it differently and arguably better.
Started up in 2014, Guidilo is an on-line marketplace that connects travelers with Prague's locals to share their interests in a unique way that goes beyond the traditional tourist concept. It is a place where travelers can find and book tours with like-minded local insiders who are eager to share insights and give travelers a chance to explore the local life and experience the authentic spirit of the city.
Local Artists opened their store on the 19th of March in 2015. They believe in creating a new dimension for souvenir sales. The thoughts behind the store are that local artists breathe soul into every product they create which enables the buyer to experience the stories and traditions of true craft production.
Guidilo differs from other tours by gathering interesting locals who want to share the passion for their hobbies and the city. The 'guides' are local people with intimate knowledge of the sites, customs and attractions to ensure that travelers get the most out of their visit. There are similar companies operating worldwide but Guidilo is the first of this kind in the Czech Republic.
Local Artists differ from other souvenir in three areas: people, presentation and locally made products. All Local Artists employees bring added value to the atmosphere of the store. They create a certain kind of atmosphere with the way they set up the store and in the way that they make the brands visible. Finally all of their products are made in the Czech Republic and are connected to Czech culture and craft tradition.
The owners of both businesses are very friendly and ambitious, taking part in tours and spending time at their store. Their positive attitudes and personalities resonate in what they have created and are part of the memories that tourists take back from Prague with them.
As a frequent traveler with a collection of both good and bad experiences as a tourist, I was hoping to find out more about these two new businesses and conducted the following interview.
Question: What gave you the idea to start Guidilo and Local Artists?
Guidilo: We came to the idea, when we realized how many of our foreign friends called us in advance to ask about the best places to stay, visit and eat. We always took them to our favorite coffee shops, introduced them to our local friends and to the beauty of the city of Prague. Not everyone is lucky enough to have some friends here, so we created this website to help others experience the magnificent Czech capital from the local's perspective.
Local Artists: Certainly it was the long-lasting situation in the historical center of Prague. It is full of shows that offer products with no connection to any Czech tradition or custom - which we think is a shame. Prague has a unique atmosphere and when tourists want to take home a memory from Prague - they always find the same soulless souvenirs in every store. 'Local Artists' offers a wide selection of authentic and quality Czech products with tradition and a complete story about how and whom they were crafted by.
Question: Why are you passionate about tourism?
Guidilo: We love to discover hidden places and meet new people, discover their culture (especially compare cultural differences and similarities) and share experiences together. Traveling is the best education ever! We prefer to collect moments, not things. Because things can disappear one day, but memories live in our minds forever.
Local Artists: We all love travelling and discovering new countries in their culture. If you run a shop like Local Artist s in the center of Prague, you meet a lot of people from various countries every day. When you speak to them you can learn a lot about their homes - so for us it is a kind of traveling even when staying in your home place.
Question: What are your current goals?
Guidilo: We plan to increase the number of experiences in Prague and expand to other cities in the Czech Republic as well. Speaking from experience - we know that Czechs are friendly people who want to show the best of their towns because they are very proud of them. This is one possibility of how to attract foreign visitors. If you have something special or unique in your town, wouldn't you want to let other people know about it?
Local Artists: We are creating an oasis in the sea of several full stores downtown. A base for those who seek something really connected to Prague and the Czech Republic and for those who just feel good while visiting.
Question: Has running Guidilo/Local Artists influences the way you act as a tourist?
Guidilo: Totally! Now we are looking for local activities and sustainable travel. Hanging out with locals is always the best way to explore the city. No guidebook can give you all the insider tips and hidden gems that the people living there ever day can offer. From our years of travelling, we've learned that a good guide can make the difference between an unpleasant walk and a wonderful lifelong memory.
Local Artists: Definitely. Not only that you cannot be a regular shopping tourist anymore, but you also start to ask for the story behind more things. It just comes naturally!
Globalism has opened up the world and made travel accessible and affordable. Tourism has seen a boom and many businesses have gotten their foot in the door and shaped our expectations for what traveling looks like. However Guidilo and Local Artists have proven that it's still possible to improve and change the way we travel. Tourists traveling to the Czech Republic now have a wider spectrum of experiences to choose from to make their trip more special and authentic.
Guidilo:
Photo by Jitka Pekárková with the owners: Eva Belokostolská on the left and Tereza Vítková on the right.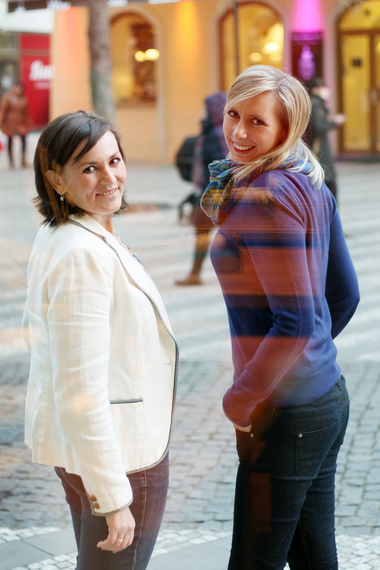 Local Artists:
"The shop has an interesting concept because of the old furniture that, mixed with the products, is very interesting" - Tourist