Here's one model of community mobilization for progressives across the nation. It can be adapted by faith communities, local officials, and citizens. It relies on face-to-face community gatherings, and uses social media not to drive, but to support, sustain and communicate real world, three-dimensional action. At its heart, it's about weaving together bonds of community. To start, bring together concerned citizens in a church or local library, someone's basement, any place where people can meet, even a bar.
When in February 2017 the president's press secretary Sean Spicer blocked CNN, The New York Times, and other media from a Friday press gaggle; when the shocking "Muslim ban" was first announced; when compromised candidates were being touted for Cabinet posts…a mobilization of volunteer activists in Brooklyn fought back.
The group, which seemed to have arisen spontaneously, is #GetOrganizedBK (Get Organized Brooklyn). Its members have marched, written letters, and lobbied furiously against nominees. They have shown up by the dozens or hundreds at rallies —at JFK airport against the travel ban, at #NotinOurCity protests at Grand Central Station, at rallies for preservation of the Affordable Care Act, and, this weekend, wearing duct tape across their mouths in support of press freedom, at a march from the NY Times building to Fox News and CNN's Manhattan headquarters.
Initiated by two local leaders —NY City Councilman Brad Lander and Rabbi Rachel Timoner, head rabbi of a large Park Slope synagogue—just days after the November 2016 election, this mobilization is one of the most prominent of the hundreds of resistance groups citywide that have formed in the aftermath of the election. Unlike Indivisible, Planned Parenthood, Common Cause, or Move On chapters, it is sui generis. It is also overwhelmingly white and middle or upper middle class. That said, as of late February 2017 at least five thousand individuals are newly connected with the objectives of taking political action, supporting others' resistance activities, and forging out of thin air a road map toward active engagement in local, state and federal politics. They come from the immediate neighborhood but also from other boroughs; because this group is cookin' with activities, it's a hot ticket in a city furious with the new administration in too many ways to count. (See video)
More work-in-progress than blueprint, this initiative may nonetheless offer useful guideposts and ideas for aspiring community organizers.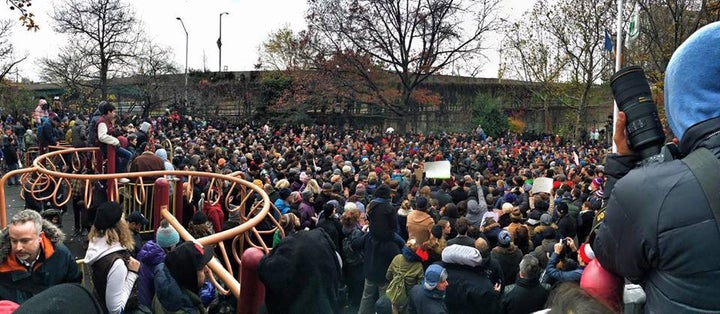 "Civic engagement is back," said Lander, reflecting on what the early popularity of #GetOrganizedBK means. "If we take anything positive out of a Trump administration, it's that people are reinvigorated and paying attention" to politics and the survival and health of American democracy.
"Don't get me wrong," he said. "There have been a lot of dark feelings post-election day. But there's inspiration in every act of resistance and it's hope that will keep us fighting these next four years."
#GetOrganizedBK is a case history of civil society in formation, a snapshot of a community struggling to fight back against Islamophobia, antisemitism, racism, and the sudden, real threat of authoritarianism.
"It is through action that we build relationships of trust, to know that we have each other's backs in this moment," said cofounder of the mobilization and head rabbi at Brooklyn's Beth Elohim synagogue, Rachel Timoner. "The ultimate form of resistance to hate, for instance, is to know each other more deeply, and to build trust with one another, and to get clear with each other about our shared values. We cannot be cowed into obeying immoral orders if we defend each other and our highest and shared values."
Set the stage for old-fashioned, face-to-face (not just virtual) community ... Like a four-piece Simplicity sewing pattern, the pattern for the #GetOrganizedBK mobilization against the multiple excesses of the new Republican regime seems straightforward enough. The elements are: 1) A local institution with sufficient physical space for a meeting, 2) a trusted local leader or two with extensive community contacts, 3) an engaged, motivated citizenry, and 4) social media. Of course, nothing's that simple.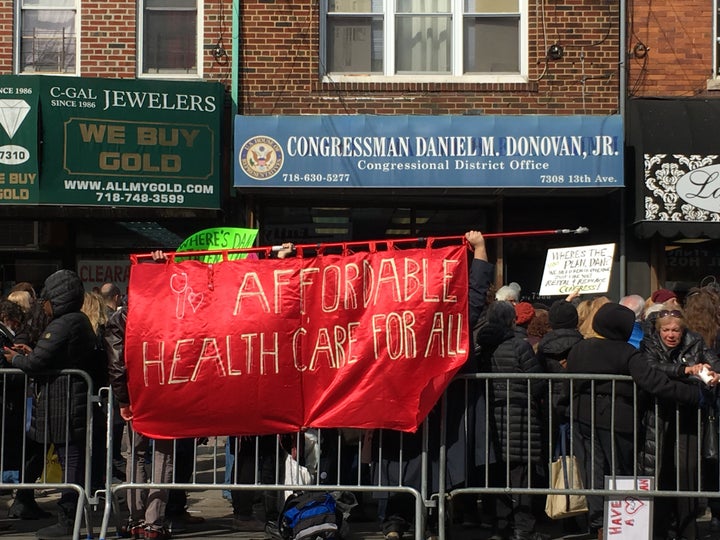 The open-door, interfaith dimension of the Brooklyn mobilization meetings are key. "I think," said Rabbi Timoner, "that houses of worship could mobilize like this all over the country if they were to open their doors to everyone regardless of membership or religion; to say, everyone is welcome to come together." (Her synagogue board approved of this initiative.)
The stunning, elaborately decorative landmark 1910 synagogue also feels like, and may yet become, literally, a sanctuary. The setting lends a sense of moral authority to the endeavor. "I see among our synagogue membership people feeling grateful to have a place where they and others are standing up for our core values," said Timoner. "It's become a place where they have opportunity to connect, and create real bonds stretching beyond the synagogue and through the community."
Local activist Ellen M. agrees. "The core thing is a sense of community and being able to find connections," she said. "Online sites like Slack, Facebook, and Pantsuit Nation support things that happen. But #GetOrganizedBK started with a big meeting and a big intention to continue to meet in person — and to organize."
Lander said, "The success is due to the commitment and driving passion volunteers have poured into #GetOrganizedBK. It's a powerful movement for the people, by the people. We have volunteer facilitators. We have working meetings each with hundreds of volunteers. Due to their willingness to contribute their time, resources, and experience, we've been able to mobilize thousands of people."
Of course, this seed was planted in delta-rich soil, in the bluest of blue communities. In Brooklyn, said Timoner, "we have a population of people who see themselves as having active role in public issues." Many long time activists and professionals who have built careers in nonprofit and advocacy organizations, for instance dealing with immigrants or on first amendment issues, call Brooklyn home.
... Then, "get out of the way:" The first meeting, in mid November 2016 was a coming-together of a community in shock (see a video of the event). Eight hundred people attended. "It was almost a collective moment of mourning," said a local, referring to the surprise of the Trump election. The mood had stiffened by the second #GetOrganizedBK meeting in December. The word "resistance" no longer seemed hyperbolic, perhaps thanks to the viral spread of the Indivisible Guide. Dismayed but determined, Democrats were itching for action. Participants chose breakout groups organized by issue. Volunteer staff asked that someone in each group develop a contact list; choose a way to communicate, and to commit to taking one clear next step.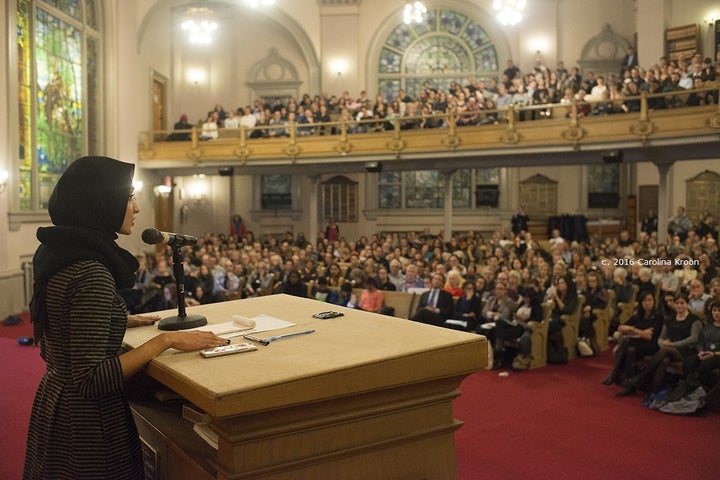 Lander relishes telling the birth story of #GetOrganizedBK:"At an Election Night watch party with Bangladeshi Muslim young people at a public library in my district, " he said, "I asked the students for their definition of democracy. A boy in middle school raised his hand: 'We look out for each other.' It's one of the best answers I've ever heard and I think defined our initial hopes for the first Get Organized Brooklyn meeting. It was about uniting community members and getting to work looking out for one another. "
Now, #GetOrganizedBK community meetings bring huge numbers of people together under one roof for a few hours about once a month. So far, the meetings have been organized in two acts. First, everyone gathers together in the sanctuary to hear presentations by speakers (see below). Afterward, people re-assemble in Sunday school classrooms and basement meeting spaces, in working groups. It sounds byzantine, but it's not. The issues are complex, the Republican's policy assaults are breathtakingly broad, and with vast goals like "protecting Medicare," there's just a lot of work to be done.
Organizationally, the infrastructure of the Brooklyn mobilization seems minimal, although both some staffers and many offsite volunteers are donating hours of work weekly to the project. "A key part of our model," said Timoner, "is the realization that there's more happening every day than any one of us could organize or direct."
Each issue group's mission, activities, and meeting schedule are self-determined. Many have met multiple times between big meetings. Some communicate daily. Some members of the #GetOrganizedBK effort work on several issue groups. It's creatively messy in a collaborative way; groups and issues overlap, but also share resources, ideas, and plans on social media. The mobilization has an ad hoc, free-form feel, with an edge of terror and anger; it's driven by palpable sense of urgency to keep the grassroots momentum going for the long haul — at least until the 2020 presidential election.
"People are smart," said Timoner, herself a seasoned protestor who recently risked arrest when protesting at Trump Towers. "They can organize themselves. We asked, 'What do you want to work on?' Anybody could decide, 'I want to work on Islamophobia.' Or, 'I want to stand with immigrants in our own and neighboring communities.' We just got out of the way."
Break down the issues: #GetOrganizedBK's fifteen action groups cover a gamut of issues: fighting nominations and appointments and Supreme Court nominees; organizing against racial and gender bias; fighting Trump's corruption and conflicts of interest; organizing to preserve and strengthen such safety net programs as Medicare, Medicaid and the Affordable Care Act; speaking out for reproductive rights and women's health; media and free press; "upstander" training; support of public education and working through educational institutions to support core American values; use of storytelling to illustrate the human toll of Republican policy initiatives; dialogue about race in America, and a web of issues around the environment and climate change.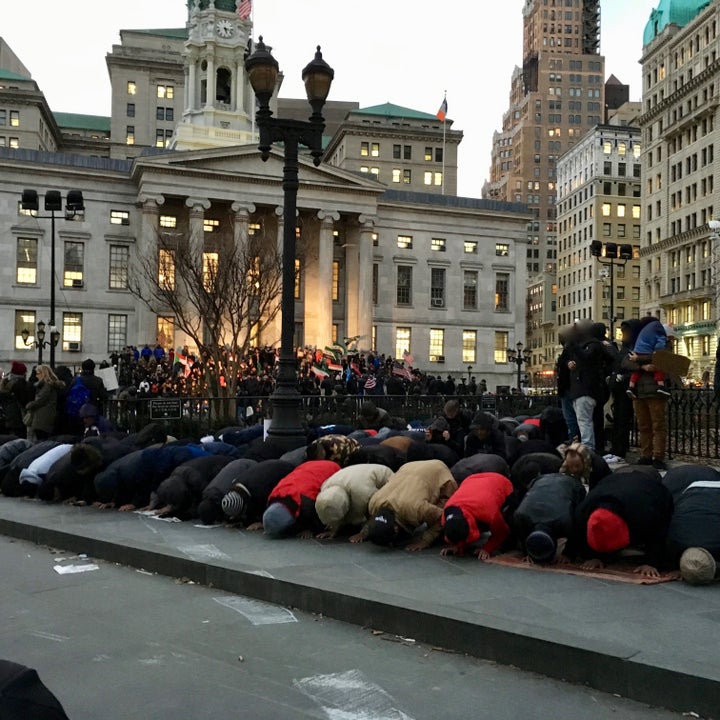 Communications: The core of this mobilization is face-to-face, in-person action. Still, as it grows, streamlined communications are essential. ("Too much email!" was an early complaint.) One lesson learned would be to set up a web page or other forms of communication early on and to help groups manage logistics.
Speakers from the front lines: The large meetings generate a turbo-charged sense of community, as speakers "from the front" of critical public issues dish out both information and inspiration. Speakers at the first five #GetOrganizedBK meetings included representatives of Planned Parenthood NYC and New York Civil Liberties Union; Commissioner Nisha Agarwal, Mayor's Office of Immigrant Affairs (MOIA); and advocates from a host of in-the-trenches groups, like NY Immigration Coalition, Desis Rising Up and Moving, Make the Road NY, 350Brooklyn, Take on Wall Street, Brooklyn Movement Center (BMC), Showing Up for Racial Justice, New York City Anti-Violence Project, NY Appleseed and IntegrateNYC4Me.
Measures of success: Asked what he considers measures of success, Lander offered a cautious calculus:
"Every postcard written, every hour donated, every time we're able to push someone to mobilize and engage with the system. That's when we're being successful — because every little moment, every little bit, adds up into something powerful."
The upshot: Is #GetOrganizedBK a model that can be adapted to other communities? Probably so, although Brooklyn is more densely populated, diverse, progressive, and activist than many towns and cities. Will more infrastructure be necessary to keep it afloat, including fundraising, dedicated staff, and so on? Probably. Is it an exhilarating experience to work together in new and productive ways with neighbors to secure American democracy? Sure thing. For more information, see the #GetOrganizedBK Facebook page; a website will be rolled out soon.
The writer is a member of the #GetOrganizedBK mobilization, working in the Safety Net and Free Press groups.
Related
Popular in the Community