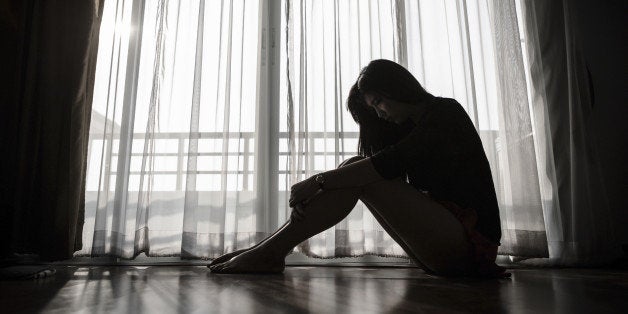 Lately I've been bogged down with work. A good thing, because I love my work! And at the same time I get a little bummed because I'm spending less quality time with my little daughter. I never thought I would miss changing a diaper, but I actually went an entire day without changing Evi's diaper because I didn't see her much that day. I felt a little sad and disconnected.
But before I ask you to break out the tiny violins for me...
Change is a part of growing, and growing is what I'm doing. I'm experiencing growing pains and my tendency is to fall into a funk when dealing with significant progress. This is my brain's way of keeping me safe and in the same place without adjustments because adjustments are uncomfortable and scary.
Knowing this, I'm able to recognize my low period, identify the cause and then handle the differences in a way that works for me. So one of the things I have to do is pull myself out so I don't get stuck. Here are my three go-to steps to reverse the mood so I can feel better and move forward:
1. Choose happiness & recognize gratitude. Or in other words - be proactively optimistic! This means aggressively choosing positive thoughts and outlooks. It's about finding the silver lining in experiences know matter what, and believing that every occurrence has something to offer. Look for things to be happy about.
Fortunately I did my gratitude journal years ago and the payoff is that gratitude pops up as a default for me several times a day. During times when I feel low, I open up my consciousness to the random gratitude that presents itself. I spend a little more time with those thoughts and try to feel it fully before I let it go. This step has proven to be very helpful in lifting my mood immediately. (If you haven't done the Gratitude Journal, start today)!
2. Deal with the fear. For me, it's fear that I'm dealing with nine times out of ten. While being optimistic is a quick bandage to stay afloat and out of a depression, the next step is to deal with the actual feeling that's going on. It could be fear, anger, sadness or other lousy feelings. I like to get to the root of what's going on, get it into perspective and resolve it as best as possible.
3. Look to the future. As they say: this too shall pass. A low mood will not last forever. I like to visualize where I'll be when I climb out of the other side of my min-depression. What will change? What will be better? What will I look like, behave like, sound like? Envisioning a better 'me' gives me hope for what lies beyond the funk and confidence to know that I will be ok.