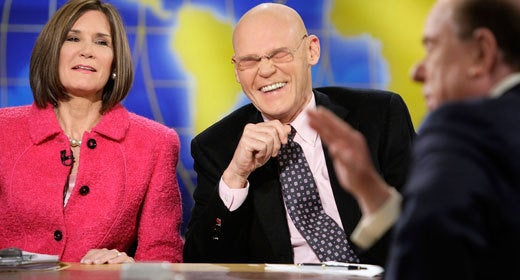 Why do the same people get quoted by reporters all the time? Laziness, for starters -- it's hard to cultivate new sources, so when a journo is on deadline, it's a safe bet to fall back on pundits you know can deliver a pithy soundbite. The good news? Once you break into their speed-dial, the "herd mentality" will take over and you can be sure their peers will be ringing you soon enough, magnifying your media profile. And the even better news? You don't have to be a "celebrity" to become a desirable pundit. Very few people take the time to strategically cultivate relationships with reporters, so if you follow these five steps, you're well on your way to becoming the next James Carville, Mark Zandi, or [insert your favorite ubiquitous sage].
1)Identify your targets. It's impossible to build a relationship with every reporter in the world, so don't even try. Start small and manageable. Determine what your colleagues and clients are reading (and consequently, where it would impress them the most to see you quoted). Pick 3-4 target reporters who cover your industry, ideally from a mix of publications -- your regional daily, your trade journal, and maybe your favorite national publication. Read their articles religiously and begin the stalking process.
2)Build an online relationship. A blessing of the Internet era is the ability to connect directly to almost any reporter, because their bosses are harassing them to blog and tweet. Admittedly, you're going to have a hard time breaking through to Paul Krugman, with his half-million Twitter devotees. But for almost any other reporter or editor, the numbers are so much smaller, you can immediately get noticed by following them (they might even follow you back in a show of "netiquette"), retweeting their posts, or commenting on their blogs. (The business editor of my regional daily, the Boston Globe, has barely a thousand followers at press time.) Thanks to business pressure as the online newsgathering model emerges, I guarantee they're obsessing about metrics and will be grateful for any dedicated online "fan." (You can read more about this in an article I wrote for the nonpartisan think tank MassINC about connecting with reporters via Twitter.)
3)Meet them in person. The networking experts are right -- nothing beats an in-person relationship. You can "prime" your connection by making friends online, but you'll cement it by meeting in person and demonstrating that you travel in similar circles (and therefore, that you're a good person for them to know and pay attention to). Identify events they're likely to attend (trade shows, conferences, major industry events) and sign up to attend. Then ask the folks at the registration table to point them out to you (again, in the online era, this is even easier because most reporters' Twitter accounts will feature their picture). When you see a break in the action (i.e., they're not furiously penning notes), introduce yourself and mention that you follow their work. Ideally, they'll recognize your name from your blog and Twitter comments and will be delighted to meet you (reporters are not without ego). Pass along your card, have a one-sentence explanation of what you do, and mention that if they ever need someone to comment on (cattle futures, B2B software, political trends in Serbia), you'd be glad to help out. Sixty seconds, in and out (they'll probably have an agenda for the event and you don't want to intrude) -- but your mission has been accomplished.
4)Ping them. After your in-person meeting, shoot them a note saying what a pleasure it was to meet them. Continue commenting and re-tweeting: you have to "give" -- your attention and comments -- before you can "get" quotes and media interest. And a few weeks later, up the ante: when a relevant news event breaks, email the reporter a few short, smart bullet points summarizing your thinking and offering to chat further if it would be helpful. You have to work fast, or they'll already have all the quotes they need from "the usual suspects." But if your insights are unique and you've provided your cellphone number for ready access, they may just take a chance on you. If you don't succeed the first time, keep trying. Reporters genuinely do want to bring new voices into their outlets, but with such fast-paced demands, you have to lay it on a platter for them.
5)Give them tips. You can call it spreading good karma. You can call it stocking up the favor bank. You can call it quid pro quo. But the best way to insinuate yourself into reporters' good graces is to provide them with leads and story ideas. The Project for Excellence in Journalism estimates that a third of American newspaper reporters have lost their jobs in the past decade, and TV network news staffs have been cut by half since their 1980s peak. More work to do and fewer people to do it means that reporters will be disproportionately grateful if you help them do their jobs. From reading their work, you'll know what topics and types of stories they like. Pass along any good tips you come across, even if they don't relate to you or your company: they're the building blocks of a mutually-beneficial relationship.
What strategies have you used to build successful relationships with reporters?
Dorie Clark is a former award-winning journalist who is now a marketing strategy consultant for clients including Google, Yale University, and the National Park Service. Read her blog, listen to her podcasts, or follow her on Twitter.

Related
Popular in the Community