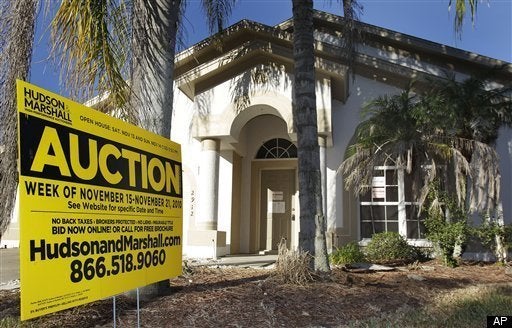 Following the maxim that drastic times call for tepid measures, the banking industry continues to pay "lip service" to loan modifications while doing little. On Dec. 15, the Congressional Oversight Committee admitted the government's HAMP loan modification program has failed to help enough homeowners to stem the tide of foreclosures. The vast majority of loan modification requests fail, in part, experts believe, because banks have balked at offering a reduction in mortgage principal, the most effective way to halt costly foreclosures. Trying to revive HAMP, the administration in December announced new regulations designed to push banks into offering more reductions in principal than they have in the past. Fannie Mae and Freddie Mac immediately proclaimed, however, that they remain opposed to making this option available to struggling homeowners. Protecting the interests of the banking industry over the consumer, the Federal Reserve also blocked new foreclosure regulations that would have reined in foreclosure abuses. Although the economic collapse of 2008 has caused the tide to rush in on everyone, there has been no bailout for the "little guy." Left to fend for themselves, increasing numbers of homeowners are turning to a little-known provision in the federal bankruptcy law, which permits the discharge of a second or even third mortgage in its entirety in a Chapter 13 bankruptcy. The American Bankruptcy Institute recently reported that Chapter 13 bankruptcies have risen by 9 percent in 2010 compared to last year.
Flying under the media radar, the right to discharge a second mortgage in a Chapter 13 bankruptcy provides a glimmer of hope to homeowners stuck with a foreclosure because they own a home they can't afford and can't sell. With one in 10 Americans out of work, while others have suffered a pay cut as a condition of keeping their jobs, the amount of disposable income available to pay a mortgage is not what it used to be. Getting rid of a 2nd mortgage payment can sometimes make the difference between keeping a home and losing it to a foreclosure. How then does a homeowner qualify? Quite simply, when a home is worth less than the balance of a first mortgage, federal bankruptcy law -- at least in most states -- permits a homeowner to treat a second mortgage like an unsecured credit card and discharge it in a Chapter 13 bankruptcy.
Housing prices dipped for the third straight month in October, and hope for a recovery in 2011 has started to fade. According to Corelogic, an industry researcher, 11.8 million homes, or more than one out of five mortgages in the United States are "underwater" -- i.e. the total mortgage debt exceeds the value of the home. The U.S. Department of the Treasury estimates eight to 13 million foreclosures will occur from December 2010 through 2012 unless something intervenes. Ironically, the HAMP requirement that a homeowner generally be at least 60 days behind on a mortgage in order to qualify has led to foreclosures on homes where the mortgage payment had been up to date. In fact, a recent National Consumer Law Center's survey of 96 foreclosure attorneys in the US found that mortgage servicers began foreclosure proceedings against 2,500 of their clients even though a loan modification request was pending. Loan servicers do make more in fees from the foreclosure process than from the loan modification process, so this is not surprising.
Bankruptcy is a business decision, no less for a homeowner than it was for General Motors when it filed a Chapter 11 bankruptcy. This economy has sent clients to my door that I seldom used to see -- attorneys, physical therapists, nurses, college professors, and scores of people dependent on the real estate market for their livelihood. A bankruptcy is usually preceded by a loss of income, a divorce or medical issues, sometimes all three. Bankruptcy is not on anyone's list of fun things to do, and clients only consider it when the alternative, like a foreclosure, is worse. Many have tried to do a short sale or loan modification to no avail and have found that the bank would rather foreclose. In New Hampshire, a homeowner will be responsible for a mortgage deficiency for 20 years. These problems will persist until the powers that be decide to offer more than half-measures to address the foreclosure crisis.
For those facing the loss of their home and wondering whether a Chapter 13 bankruptcy may help get rid of a second mortgage, the following information may be helpful:
(1) It is disingenuous of banks to lull homeowners into a false sense of security by scheduling a foreclosure auction when a loan mod request is pending. If this happens to you, don't be too trusting when your bank tells you not to worry about the foreclosure because they'll continue the auction if there's no answer by the auction date. What they are really saying is if you are denied, the foreclosure will happen. One client told me that Bank of America won't even consider continuing a foreclosure auction due to a loan mod request until it was 72 hours before the auction date. I regularly receive panicked calls from homeowners denied a loan mod just before the auction occurs. While a Chapter 13 stops a foreclosure automatically, given how busy most bankruptcy lawyers are these days, finding one who has time to do a court filing at the last minute may be difficult.

(2) If you decide to see if you can get rid of a second mortgage, ask a broker to give you an opinion in writing of what your house is worth. Brokers will usually do this as a courtesy, figuring if you ever do decide to sell your house, you'll go through them. Make sure you ask for the potential sales price rather than a list price, which may be somewhat inflated. If the estimate is less than the balance of your first mortgage, then removing it in a Chapter 13 bankruptcy is possible.
(3) Even if you can get rid of a second mortgage, however, a Chapter 13 is not for everyone. Removing a second mortgage only works if you have enough income to complete the plan successfully. If the real problem is that you don't have enough monthly cash flow to pay your first mortgage and other expenses, Chapter 13 won't solve that problem.
(4) Chapter 13 will permit strapped homeowners to discharge most or all of their credit card debt. It usually won't discharge certain debt like taxes and student loans.
(5) Before making a decision, you want to be sure you can keep all property. Most states have exemptions sufficient to permit a homeowner to keep a house, vehicles, and other assets, however, some states are more generous than others.

The above is not intended as legal advice for your particular situation. Questions should be addressed to attorneys admitted to practice within your state. Richard Gaudreau is a lawyer admitted to practice in New Hampshire and Massachusetts and may be reached by email at: richard@attorneygaudreau.com or by phone at: 603-893-4300.
REAL LIFE. REAL NEWS. REAL VOICES.
Help us tell more of the stories that matter from voices that too often remain unheard.