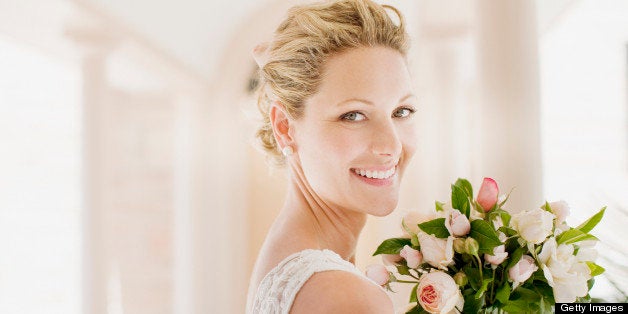 When it comes to spring 2013 wedding beauty, fashion has one word of advice for soon-to-be blushing brides: leave the drama to the dress. Ushered in by designers like Elie Saab, Vera Wang and Marchesa, nude, au naturel makeup is in full force this wedding season. Luminous eye shadow, nude lipstick and soft mascara are all essential to creating the back-to-basics bridal look, but the most important beauty enhancer for any bride is her skin. Here's how to ensure your skin is the perfect foundation for your minimalist wedding day style.
From the moment the Spring 2013 Bridal collections hit fashion week runways, the minimalist look was on every makeup artist's radar. Gone are the days when a loud lip and dark, dramatic eye are the bride's best beauty accessories. This season, it's all about glowing skin. Just take it from famed bridal designer Elie Saab. When he sent his Spring 2013 bridal collection down the runway, the first thing that captured your eye wasn't the signature romance of his beaded wedding gowns. It was the flawless faces of his models. Wearing only nude lipstick, subtle gold eye shadow and soft mascara, Elie Saab's bridal models let their beautiful skin take center stage.
The always-sophisticated Marchesa also gave her brides a touch of au naturel this spring. The designer's Spring 2013 Bridal models hit the runway in flawless barely-there makeup that let their beautiful skin and stunning bridal gowns do the talking. And classic, dramatic makeup styles have also gotten a nude makeover this season. One of the biggest names in bridal fashion, Vera Wang replaced grey with neutral honey tones on her runway models to create an earthy, feminine play on the classic smokey eye.
With only nude lipstick, neutral eye shadows and subtle blush to highlight the face, a bride's skin is the star of the show this season. But here's the good news: this is one runway beauty trend you can emulate with ease. To glow like the Elie Saab, Marchesa and Vera Wang bridal beauties, follow this four-step skin routine in the weeks before your wedding day.
Although some brides may think getting a little tan will give them the wedding day glow they are looking for, the sun's harmful UV rays are a one way ticket to sun spots, an uneven complexion, freckles, and even a burn. Although everyone loves a blushing bride, you don't want to be red in the face because of sun damage. The first step towards achieving the nude runway makeup look is to protect your skin. Apply a moisturizer with an SPF of at least 30 and avoid prolonged exposure to sunlight if possible.
Before you apply makeup on your big day, it's important that you have a smooth, refreshed foundation to work on. That's where hydration comes in. In addition to drinking at least eight cups of water a day, help your skin lock in its natural moisturizer by applying a moisturizing product day and night.
Commit to a skincare routine
Forget that bar of soap. In the weeks leading up to your wedding, invest in a few key products to get your natural glow in order. First, pick up a gentle cleanser that you use day and night. Using an exfoliating product will remove the dead, dull outer layer from your skin and expose your living, glowing cells. You'll be surprised at the difference it makes to simply clean your skin regularly. It's a quick daily practice that will bring out the best in your blank canvas.
Practice your A's, BB's and CC's
Once you've prepared your skin for your wedding day makeup, it's time to apply the finishing touches that enhance your natural beauty. The nude makeup trend is the perfect way to incorporate this season's "it" beauty products: BB creams and CC creams. BB creams are all-in-one products that prime, conceal, hydrate, and provide anti-aging benefits for your skin. The biggest difference between BB and CC creams is in the "C": CC creams add a color-correcting property to the mix.
A BB or CC cream will get your minimalist wedding day makeup look off to a flawless start. Simply wash your face with a cleanser, towel dry, and apply a pea-sized amount of one of these two products evenly across your face. Not sure which to use? BB creams are shear, and are typically best for younger brides who don't need to even out any skin discoloration. More mature brides usually prefer the CC cream's color correcting quality. With either product, you'll get the benefit of light concealer and foundation, without the guesswork. From there, apply a little of the cream to your lips and apply a clear gloss to get the perfect nude lip to match your skin. A brush of bronzer on your cheeks and eyelids, followed by some subtle mascara, and you'll be walking that wedding catwalk with the best of them.
Related