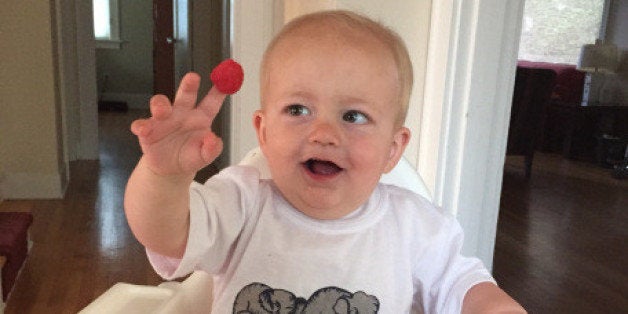 Do you remember those days when getting out of the house was as simple as grabbing your purse or wallet, slipping on a pair of shoes, opening the door and leaving? Three kids later (ages 1, 3, and 5), those days are long gone in these parts. But I am happy to say that I have figured out the secret to leaving the four hallowed walls of our house. You, too, can be a pro like me if you follow these simple steps.
Step 1. Set all the clocks forward in your house at least an hour.
Step 2. When you hit the hour mark, close your eyes and set the clock forward a bit more. The key here is not to know exactly how much you set it forward so that you can't just add the hour back on. "Oh, I know it's not really 9 a.m., it's actually 8 a.m." Screw yourself over. Your kids will, you may as well too.
Step 3. Realize you will never do Steps 1 and 2, even though it is a brilliant idea.
Step 4. Figure out exactly how much time you need for your kids to get up, get dressed, eat breakfast and put shoes on and multiply it by 15. Set the alarm for this time.
Step 5. Decide you would rather not get up at 1 a.m. and stick with 6:45 a.m.
Step 6. Greet your darling children with a smile and a hug.
Step 7. Send your kids back upstairs to get dressed before eating breakfast. This is key. This is the sole motivation you have going for you.
Step 8. DO NOT ASK YOUR KIDS WHAT THEY WANT FOR BREAKFAST. It always ends badly.
Step 9. Ask your kids what they want for breakfast.
Step 10. Curse yourself and begin making three different kinds of toast and putting out 18 boxes of cereal.
Step 11. Remind your daughter that she has to wear pants to school and send her back upstairs for pants.
Step 12. Forget to put out the milk.
Step 13. Tell your son it is now his job to get the milk.
Step 14. Clean up half a carton of spilled milk from the ground.
Step 15. Yell upstairs to your daughter to see what's taking so long.
Step 16. Decide cold cereal will have to do.
Step 17. Throw cheerios on your youngest child's highchair tray.
Step 20. Ask your daughter if she really needs to wear three pairs of pants to school given that it is 74 degrees out.
Step 21. Let that battle go. Three pairs of pants totally works.
Step 23. Get the toast. Put Nutella on one, jelly on the other two and hope for the best.
Step 24. Remind yourself of Step 8.
Step 25. Scrape jelly off one and put Nutella on it.
Step 26. Repeat Step 17. Add toast.
Step 27. Hand out toast to remaining two children.
Step 29. Crap, lunch. Quickly pack a lunch for your oldest. Regret not doing it the night before.
Step 31. Ask why everyone is yelling.
Step 32. Threaten to never let anyone eat cereal again if they keep fighting over the cereal boxes.
Step 33. Ask yourself for the three millionth time why you thought it would be a cute story to tell your kids about how you and your brother used to make little barricades behind the cereal boxes.
Step 34. Give one last warning about the cereal boxes.
Step 35. Remove cereal boxes from the table.
Step 37. Begin nervously looking at the clock. Wish that you had implemented Steps 1 and 2.
Step 38. Ask everyone if they're almost done.
Step 39. Give five-minute warning. Marvel at the amount of food such little people can consume.
Step 41. COFFEE. Marvel at how much caffeine you can now drink without perceptible benefits.
Step 42. Give three minute warning.
Step 44. Give two minute warning.
Step 46. Give 1.5 minute warning.
Step 47. Realize how far you've let yourself go.
Step 48. Announce breakfast is over.
Step 49. Field screams of indignation. Promise there are graham crackers in the car.
Step 50. Remind everyone to clear their plates.
Step 51. Remind everyone to wash their hands.
Step 52. Realize Nutella was consumed and remind everyone to wash their faces as well.
Step 53. Get the baby dressed.
Step 54. Clean up three pounds of cereal from the floor. Wish for a dog.
Step 55. Explain that you don't care if they think they washed their hands, they are still completely covered with Nutella and they need to do it again.
Step 56. Go find your shoes rather than hear screaming at close distance.
Step 57. Get a cloth and wipe Nutella off everyone's faces and hands. Once again wish that you had heeded Step 8.
Step 58. Look at the clock again. Say you can't believe how late it is.
Step 59. Tell everyone to get shoes on.
Step 63. Realize your shirt is covered in Nutella. Frickin' Step 8. Change shirt.
Step 64. Say everyone has to get out of the house right now whether they are wearing shoes or not.
Step 65. Swat shoeless stream of children out the door.
Step 67. Realize you forget to bring lunch.
Step 68. Unlock door and grab lunch.
Step 70. Realize you forgot your purse.
Step 71. Unlock door and grab purse.
Step 73. Realize you forgot -- screw it.
And that's all there is to it, folks. Stay tuned for another post on how to actually get everyone into the car in under 100 steps!