*It's really $5 plus $1 per bid, but hear us out - you could end up spending something like $10 on a Louis Vuitton bag.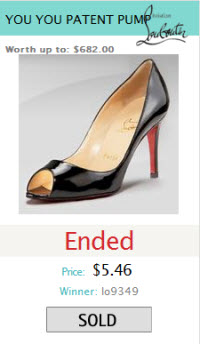 New site OohILove has changed the name of the luxury auction game, and we're hooked. Master the game and you can get a real designer bag (think Marc Jacobs and Chanel) for a few bucks.
It's something like gambling on a strategy game (more like poker, less like roulette): buy a package of bids, the way you'd buy chips, for 99 cents each. Unlike Ebay, you can't raise the price manually - it automatically raises 2 cents with each bid. (We have a coupon code for the bid packs, too - get it here.)
To win an auction at OohILove.com, you have to be crafty. Try the following tips:
1. Don't bid early. All the real bidding happens seconds before the auction ends. If you bid in the last 10 seconds, the timer adds 30 seconds to the auction ... until someone gives up.
2. Bid on auctions that end at weird times, like while people are commuting or eating dinner.
3. Set up a 'Bid Assistant.' It literally does your bidding for you, and can kick in just before the auction ends in case you have to sneeze or something.
4. Spy on your fellow bidders. If you click the product photo during an auction, you can see other bidders' activity - try and predict what they'll do by looking at their bidding history. If someone's obviously gung-ho about that pair of Louboutins, it might be best to wait for the next round.

What do you think about pay-to-bid auctions - would you try one?