There's nothing worse than having your confidence knocked, and if it's not dealt with quick enough, it can start negatively affecting all areas of your life.
It's extremely important for your career that you are perceived as a confident and capable individual in the workplace.
Note I use the word "perceived." You don't necessarily have to always feel confident but it's important that you come across confident to those around you, and particularly your clients and managers. Exuding a certain amount of assurity and sparkle can go a long way.
Sometimes, the most capable of people can have their confidence knocked due to a number of different reasons:
Some employees are made redundant out of the blue and lose confidence.
Others are out of their comfort zone after a change of role or job and are faced with new challenges that can knock their confidence.
Job hunting and being rejected for roles can affect confidence levels.
Sometimes conflict with others can create doubts and affect confidence.
These are just a few examples but there can be so many other reasons.
I remember the time I made the jump from working for a large IT service provider to a Management Consulting firm. All of a sudden I was working in a different type of environment surrounded by extremely capable, high flying individuals.
Couple that with a pushy, anxious micro manager, I can tell you that experience took a toll on my confidence for some time. The worst part was I didn't realise just how much the experience was affecting me or my performance. Of course people around me picked up on it.
So, what to do when facing a situation where your confidence has taken a hit, or worse still, is at an all-time low?
Here are a few ways to take charge and get back your mojo:
1. Take some time to figure out what's affecting your confidence.
Then remember a time when you did something similar and had succeeded. It could be anything, big or small from any point in your life.
Taking my situation as an example, at the time when I was getting heavy pressure from this guy. I was in a sales type role where as per the client contract, the organisation was getting paid on the number of sales of the product/service.
Now years earlier, when I was a student in London I took up a job during the holidays selling double glazed windows over the phone, by cold calling Mr or Mrs Smith in the evening when they're about to sit down for dinner with the family. Not an easy job at all! However it's a numbers game and I ploughed on and was one of the better sales reps there.
10 years later working in a sales environment for a Management Consulting firm was actually a breeze by comparison! So drawing on my previous experience helped develop the belief in myself again which reflected in my attitude and communications. This helped me to go on and transition to a project manager role which is where I further gained confidence as I utilised my natural skills and ability.
2. You don't have to have all the answers.
Many people learn on the job but at a minimum you must emanate enough confidence to show that you're game, ready to take on any challenge, capable and have the belief that you can get the job done. THIS is confidence, even if you aren't fully skilled, but you're ready to be stretched.
If you really are struggling in a particular area, or lacking skills then the best way to gain confidence is to first accept you need to take some action. You may need to develop your skills in that particular area by taking up a course or maybe by geting a mentor and/or shadowing someone. Get some experience first before you can confidently step into that role.
3. Remember, confidence is just a feeling.
It cannot be measured but it can be perceived by others. As Eleanor Roosevelt famously said: "No one can make you feel inferior without your consent".
Confidence isn't about being able to do all things at all times, or having knowledge on all things in this world. Does it help to have done your homework? To be prepared? Of course - be smart, and intelligent enough to have covered all grounds possible but in the end, confidence is really about how YOU feel about yourself and your capabilities. Do you value yourself enough? Do you believe you can succeed if given a chance?
A great tip is to keep an electronic folder on your computer for storing any positive appraisals, emails/comments or praise throughout your career. Be it from colleagues, managers, clients, friends or family. It doesn't matter. Whenever you start doubting yourself, open up that file and read all those comments and remind yourself of all your great work and successes.
You are capable. You only have to believe it and then display that level of confidence in your interactions with others.
It takes practice and it takes time, but there's nothing quite like getting your mojo back in full swing!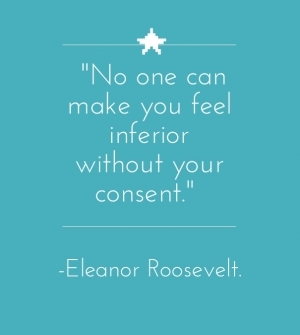 Have you ever had your confidence knocked? What do you do to try and instantly get your confidence levels back up? Feel free to share your comments below.
Shivani Bhagi is an International Career Success Strategist with a sole mission to help smart, committed professionals take charge of their careers by increasing their self worth and net worth.

For more career tips and advice, head on over and sign up for my free Career Spark Newsletter at www.shivanibhagi.com.

If you're currently facing a career challenge or a career set back, I'd love to hear from you.

Book your complimentary Career Planning Session here: www.connectwithshivani.com
Popular in the Community