If you live in the Los Angeles area, the name Darren Kavinoky might sound familiar to you. Kavinoky, an attorney, certified interventionist, and legal analyst has appeared on the Today Show, The View, Entertainment Tonight, Dr. Phil, Fox News, and several other TV shows along with radio shows.
The way I see it - Kavinoky is a master at getting on TV and radio for free and when he's on, he's got a great personal brand that's hard to look away from.
Between making appearances and running his law firm, he gave me the inside scoop on what it takes to get on TV and radio for free.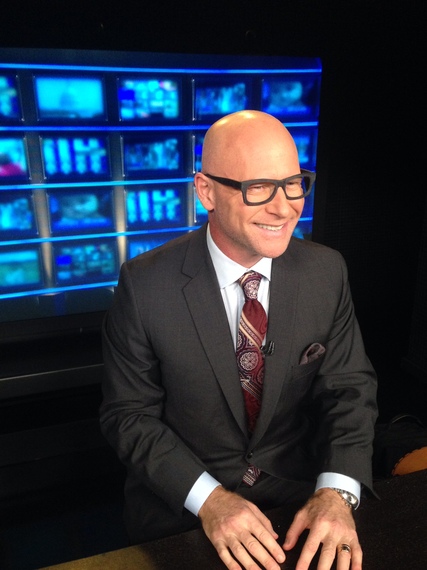 Pictured: Attorney Darren Kavinoky on set at CNN & HLN in Los Angeles, California. Photo provided by Kavinoky Law Firm.
There's the old fashioned way of trying to get your small or medium sized business (SMB) on TV or radio - send the people in charged an email pitch. Anyone who has ever done that knows that simply sending an email is easy, but crafting it accordingly in order to get it opened and grab the reader's attention are the hard parts.
Kavinoky says grabbing attention starts with the subject line - it needs to be catchy, but most importantly the email itself should be bullet points (not blocks of text). In writing the bullet points, he noted the secret is in creating ones that produce the show for the producer. In order to do that "the key is to learn what their problems are and how you can solve them."
Finding out this information might seem like rocket surgery, joked Kavinoky, but it's really not - there is a recipe for it. Of course, producers never come straight out and state what their problems are. In his experience, he has found that their problems include:
• Booking producers are frequently juggling many plates at the same time (multiple shows, multiple days).
• Working under relentless deadlines.
• Where there is a significant risk of making the wrong choice; a bad guest can "suck the life out of a segment."
Producer and casting director Vinnie Potestivo (The Millionaire Matchmaker, Newlyweds, TRL: Total Request Live, etc.) did tell however me that the biggest issue he has when selecting guests (for talk shows, makeover shows, game shows, etc.) is that they present themselves in a way they think the producers and casting directors want to see them and often leave out vital information that differentiates them from others.
Potestivo, who has hired network talent for MTV, CBS, Bravo, A&E, HooplaHa, and the list goes on (his entertainment firm is engaged by top networks and platforms to vet through thousands of talent and SMB submissions every year), says the biggest obstacle he sees in most SMB pitches is they lack the 'stand out factor.'
"They might do a decent job at representing their body of work or demonstrating they are an industry leader in their respective field, but that's not enough to excite a network executive."
Potestivo adds that the secret to success to standing out as SMB is to have a unique point of view, a distinct opinion that you can substantiate (whether its based on fact of opinion), and most importantly have a great story or be a great storyteller.

The worst things Potestivo says prospects can do when pitching their SMB is to omit social media stats, attach large files/photos to initial emails or spell the name of the producers wrong.
"It just points out that your attention to detail is poor and makes me nervous about how you would act under pressure."

So what's the best way to pitch?
"Keep it short and sweet," Potestivo advises.
"Tell us who you are and what your goals are; let me worry about if you're a good match for this project or if I should hold on to your info for future projects. I'm also a big fan of candid (and clear) photos that showcase not only prospects personalities, but their personal or professional environments as well. It shows access and is a great visual for network execs."
When first sending your pitches, don't be surprised if you hear crickets. Until you get the hang of it, you might get a lot of people ignoring you or a lot of rejections, but you can't let them get you down. Kavinoky suggests: keep on hustling.
"It's all about the personal hustle. You have to have a willingness to drive," he said. "No one will be as passionate about your business as you are." You also have to be flexible.
Kavinoky recalled one of the first times he was granted a TV appearance. "I had to get out the door at 3 am for a quick hit from San Diego at 6am, then turning around and driving home." He added it was a huge piece but a critical to his reel and future success.
So it's confirmed - you've been given your time slot and you're going to be on TV or radio! You're probably both nervous and excited. Lots of sweaty palms! You of course want to make a good impression and get invited back and get accepted to appear on other stations.

Kavinoky says his key to "not sucking" on TV or radio is in authenticity and insight. He added that both trump polish any day of the week. And advises:

• Think about what producers need and meet and exceed their expectations, without asking what they are.
• Don't be an "air hog" by not passing the ball to other experts or talent on the show. Also, be sure to respect everyone from the executive producer straight down to the interns.
• Don't overlook the value of a handwritten thank you care and the power of salt, fat, and sugar in the form of gift baskets.
"These are human beings you are dealing with and they have the power to 'green light' you or not" he advised. "Who are they going to call back? The nasty guest or the one who sent goodies?"
Potestivo agrees that showing respect is key.
"While each platform and network are completely different in terms of audience, there is uniformity to the success of having a long lasting on-air career: Show respect and do your research," Potestivo advises.
"Always say thank you, know your crew by first name, say hello to people you don't know and get to know them (today's intern is tomorrow's segment producer) and most importantly be consistent in your attitude, performance and work ethic."
Related
Popular in the Community