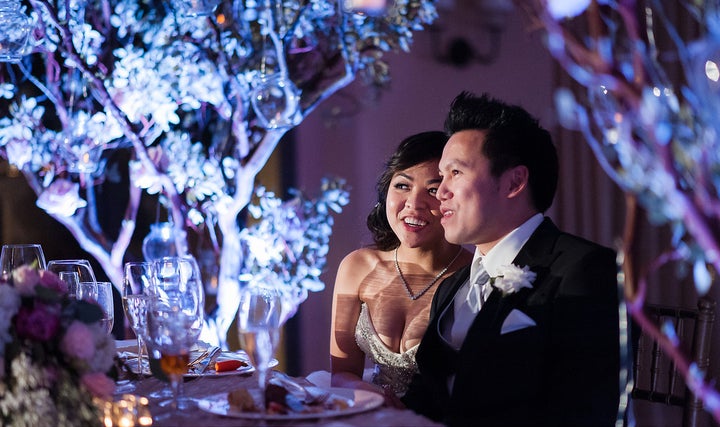 I recently had an email from a maid-of-honor. Jasmine wrote that she and the bride had been friends for twenty years and that she's "feeling a little challenged with how to condense a heart filled speech into five minutes."
I was touched by Jasmine's love for her friend and I was impressed that she reached out to me for guidance. Jasmine is right to be nervous! The thought of standing in front of friends, families and strangers, and pouring your heart out (or trying to be funny) can be unnerving. And thanks to social media toasts last longer than centerpieces.
A toast is such a unique form of public speaking. While everyone thinks they know what a toast is supposed to do it's clear that few people know how to give a toast that is remembered for all the right reasons. Even Pippa Middleton had to endure a wretched toast offered by her husband's off-key best man!
If you are the maid (man) of honor or the best man (woman) then one of your responsibilities is to offer a toast at the reception.
Recognize that giving a toast is an honor. The toast is your gift to the couple. Therefore, the toast is about them – not you! This is not an opportunity to lay claim to knowing the bride or groom better than anyone else in the room. The bride asked Jasmine to give a toast because of their twenty year old friendship – not to tell twenty years worth of stories!
A toast is your gift to the couple. Therefore, it is not a roast. It is not an opportunity to embarrass the couple. It is not the time to practice your audition for The Comedy Club. Avoid cursing and off-color humor (leave that to the bachelor/bachelorette party).
One of the tricky parts to a toast is recognizing that your audience goes beyond your peers – it is a cross section of generations. Respect that reality.
Remember – the couple will remember your toast on every anniversary. Do you want them to smile or groan as they remember your words?
And if you're jealous of the couple or if you're in love with the bride or groom – make sure you go to therapy before writing/giving your toast!
Prepare! Prepare because you can't wing it. Your toast must be written down. No one expects you to have it memorized BUT you want to have the opening lines and the closing lines memorized so as to deliver them with spot-on energy.
You need to start working on your toast as soon as the couple invites you to gift their celebration with that toast. A few days before the wedding is not enough time. And you don't want to start preparing the night before as you stumble into your hotel room after the rehearsal dinner.
Practice. Practice. Practice with a trusted friend. Play around with it. A good toast will go through at least three drafts.
Realize that you are toasting the couple. If you are the maid of honor, you are toasting the bride and groom and not simply telling everyone how much you love the bride. If you are the best man, you are toasting the couple and not simply telling everyone what a great guy the groom is. This is the trickiest part of a toast – you start off talking about "your" person and end up toasting them as a couple.
Understand that although you're toasting the couple, the real audience is the room – family and friends. What do you want them to know about the couple? What do you want them to feel?
Follow these steps to craft a toast that will be remembered for all the right reasons:
1. Introduce yourself in two or three sentences, establishing your relationship with the couple. Add some lightness and humor. For instance, Jasmine could reference that she and the bride have been friends for twenty years, since grammar school. PAUSE. "But, sorry folks, she has paid me well to keep her secrets!"
2. Share memory(s) of what "your" person was like prior to meeting their spouse. Again, this is a place for good-natured humor – not roasting. Nor is this an opportunity to go down the long, winding road of memory lane. There is no need to tell ALL your memories. Your toast should be NO MORE THAN 3 minutes. You're not introducing a Lifetime Achievement Award!
3. Now pivot in your remarks to the new spouse with words like – "and then he/she met you and everything changed!" Again, you can inject some humor, for instance commenting on how once your friend, who was also your roommate, starting dating your own life changed because he/she started keeping the apartment cleaner.
4. Then share what you observed as the two of them grew closer together. Share a snapshot anecdote (not a photo album!) of a time when you realized – "hey, these two belong together – how wonderful."
5. Now it's time to bring your toast to a head. Offer a wish – be specific in your words and avoid clichés. Rather than saying "I wish you joy," say something like, "Of all the things I could wish you tonight, I especially wish you a lifetime of joy like I saw in your eyes earlier as you said your vows."
6. Now, you do the actual toast. Turn and look about the room – hold up your glass – say something like, "Family and friends please join me in raising your glasses."
Dramatically turn to the couple and boldly say, "To x and x – happiness tonight and forever!"
The room will explode with love and cheer!
· Don't rush it. Speak slowly and loudly for everyone to hear.
· Note cards? Sure. However, know your talk as well as you know Happy Birthday (a great suggestion made by Chris Anderson who founded TED Talks).
When giving a toast your job is to gather up all the love in the room and be the voice of all present. That is your gift to the couple – and it's better than any toaster oven!
JP Reynolds, M.Div. has officiated more than one thousand weddings and has coached hundreds of people in how to create and deliver heartfelt, personalized ceremonies.
He is the author of the best-selling
Both books are exclusively at Amazon.com
If you've been invited by a friend or relative to celebrate their wedding ceremony and are wondering what to do, visit: ceremonymadesimple.com