Traveling ignites something in the soul - there's no denying that. Every new experience, every new place explored, and every cultural barrier knocked down brings about a change in our perspectives and in the very way we live our lives.
Travel inspires us to do more and to be more. Travel unites us.
While we gain so much from our travels, we should also all aspire to give back during our journeys. Whether we're traveling around the world or barely crossing a border, there is good to be done everywhere we go.
One particularly easy way to give back requires absolutely zero skills. Well, that is, except for the ability to carry a bag.
Not Just Tourists is an organization connecting travelers with their destinations in a unique and life-changing way.
The organization collects donated medical supplies and sends them to hospitals and clinics around the world via travelers who volunteer to carry an extra bag.
The average suitcase weighs a mere 22lbs, while its contents value between $200-$400 of medical supplies. Those medical supplies save lives in the clinics and hospitals they reach.

"Not Just Tourists is about love," says Avi D'Souza, Program Director of Not Just Tourists Toronto. "The reason we send the suitcase with a traveler is that we want to show the locals we visit that we care about them. Many times, after seeing the condition of these clinics, the travelers become life-long supporters, finding ways to help the clinics and the people they meet. I can't tell you how many times travelers have told me it was the best thing they did all vacation."
April Hoyt, a Registered Midwife from Ontario, knows this first-hand. She delivered a suitcase through Not Just Tourists Simcoe County when she visited Kenya recently as a volunteer midwife. "The staff at the hospital in Mbooni County, Kenya, are VERY grateful for the suitcase full of medical supplies. And I think I am even more grateful," she says. "We had a baby that needed an hour-long resuscitation after she was born and I knew there were laryngeal mask airways (LMAs) in the suitcase from Not Just Tourists. The baby wasn't doing well at all, but once I got the LMA inserted she started to turn around.
"That donation helped save that baby's life," April says, "and now she's doing much better. Because of those LMAs, we were able to save two more babies during my time there. I am so grateful to Not Just Tourists. They made all the difference in the lives of each of those families."
That first baby that Not Just Tourists and April helped to save is now thriving. And her mom chose a fitting name for her: April.
The suitcases delivered by Not Just Tourists volunteers contain simple items, but they can be the difference between life and death. Syringes, surgical masks, bandages, examination gloves. These are items that are regularly in oversupply in our hospitals, yet they cannot even be found near many hospitals and clinics around the world.
Not Just Tourists volunteers have delivered more than 10,000 suitcases filled with medical supplies to more than 80 countries around the world. All of those medical supplies are donated by hospitals, clinics, and medical companies.
"The suitcase will only have medical supplies in it - no medicines," explains D'Souza. "It is also packed with specific information. We include customs letters explaining the contents, a doctor's letter from a Canadian doctor certifying that it is Humanitarian Aid, and a letter with information about Not Just Tourists and about our values, specifically that we are non-political, non-religious, and 100% volunteer-based."
After more than two decades of sending suitcases with travelers around the world, Not Just Tourists has honed their system to make it incredibly easy for the volunteer traveler. "We even require that every traveler unpack and repack their bags so they know exactly what they are taking and can honestly tell customs they packed their own bags," D'Souza says.
"Not Just Tourists is 100% volunteer-based. We do not accept any financial donations," D'Souza explains. "Again, this whole project is about love. That's why it's so important that no money is involved. In our chapter in Toronto, we have volunteers who drive all over the city to pick up the donated supplies, and every Wednesday as many as 50 people come to our 'packing party' to sort and pack medical supplies. We have a whole team of volunteers who talk to every single traveler and help coordinate a suitcase with them. I am continually inspired by the devotion our volunteers show to helping people they will never meet."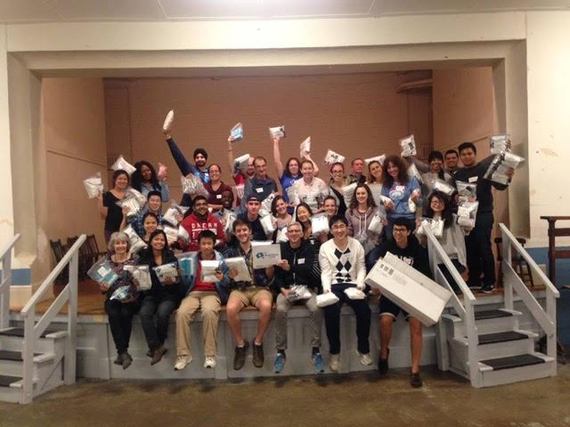 Wednesday Packing Party in Toronto. Photo provided by Avi D'Souza, Program Director of Not Just Tourists Toronto.
D'Souza has delivered suitcases himself in both Ecuador and Indonesia. "The delivery to Indonesia was very emotional," D'Souza says. "I went to a small hospital on the island of Lombok. From the outside, the building looked fine, but inside they had empty shelves and lacked many basic items."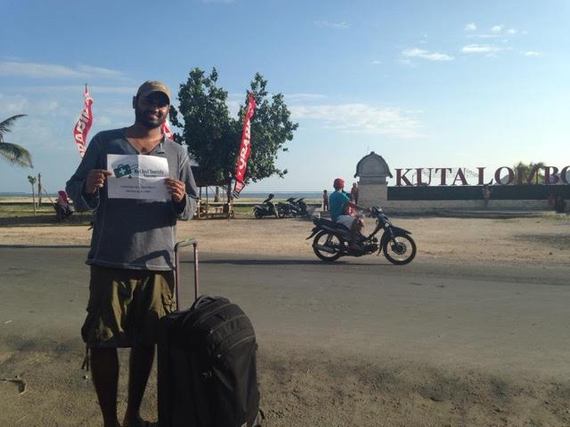 Avi D'Souza delivers suitcases in Indonesia for Not Just Tourists Toronto. Photo provided by Avi D'Souza, Program Director of Not Just Tourists Toronto.
He continues, "The doctor was very happy with the bandages, syringes, and IV supplies I had brought him. After the delivery, he took me on his motorbike to meet his family and share a meal in their village. It's something I will never forget."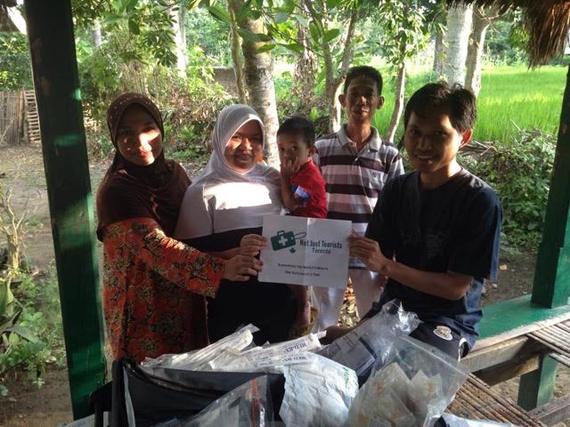 Recipients of donated medical supplies in Lombok, Indonesia. Photo provided by Avi D'Souza, Program Director of Not Just Tourists Toronto.
That's a sentiment very clearly shared by most volunteer travelers, including Alexa Gilmour, a volunteer traveler for Not Just Tourists Toronto. "We found three very worthy medical centers for the supplies," Alexa says. "One was a rural village in the La Bermuda area of San Salvador. The village has 200 hundred people who work the fields and had a clinic built for them, but it was completely empty - not a bandaid or a painkiller to be found. They have a woman trained in basic first aid and midwifery to care for them, and a doctor comes every few months. You should have seen the looks on their faces when all the clean supplies came in. They had been using rags to stop wounds from bleeding."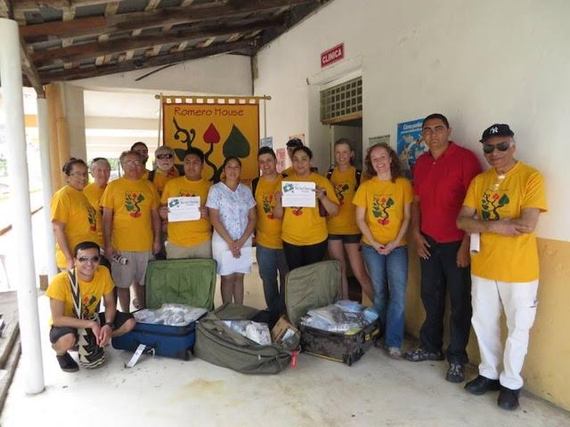 Another clinic visited by Alexa Gilmour and her fellow travelers, located in Aguilares. Photo provided by Avi D'Souza from Not Just Tourists Toronto.
You might be taking a vacation from real life, but there are real lives that need to be saved at your vacation destination.
After all, this time of year is for reflecting on what we've done and what we plan to do.
Let's all plan to do a little more in 2016. Let's save lives.
------------------------------------------
If you aren't traveling but still want to get involved with Not Just Tourists, you can also help by donating full-sized suitcases or by participating in a packing party. Contact Not Just Tourists in your area for more information.
Amanda Walkins is a freelance expat and travel writer. She met Avi D'Souza on the island of Roatan, where Not Just Tourists has sent many donations to Clinica Esperanza. You can read more about her serial expat life at www.amandawalkins.com.
Related