"Justice is not only the absence of oppression, it is the presence of opportunity."
I had the honor and privilege of attending the 106th Annual NAACP Convention in Philadelphia where there were a host of luminaries, dignitaries, civil rights icons and advocates joining in a pledge to dedicate their time, their resources and their lives to America's Journey for Justice. As I listened to the speakers it became clearer and clearer that the first step on the journey has got to be ensuring that all students have access to an equal and high-quality public education.
Over 60 years ago Chief Justice Earl Warren wrote in Brown V. Board of Education, "In these days, it is doubtful that any child may reasonably be expected to succeed in life if he is denied the opportunities of an education. Such an opportunity, where the state has undertaken to provide it, is a right that must be made available on equal terms."
And yet, we live in a day and age that has a formal attribution called "the school to prison pipeline." That pipeline disproportionately affects African American and Latino children. In fact, 70 percent of students arrested in school, or referred to law enforcement are black or Latino. And 68 percent of all males in prison did not graduate from high school. There are many opinions on the contributors to the cause, however one thing is clear: If students in school were engaged in learning and they experienced a personal sense of accomplishment, the likelihood that this pipeline would crumble greatly increases.
The effort begins in the early grades. As the National Dropout Prevention Network at Clemson University explains, "Although we tend to think of students dropping out during their last years of high school, many are lost long before that. Social and task-related behavioral problems that develop into school adjustment problems can be identified at the beginning of the elementary grades. The dropout problem is not one that can be addressed exclusively at the middle or high school levels; by then it is too late for some students."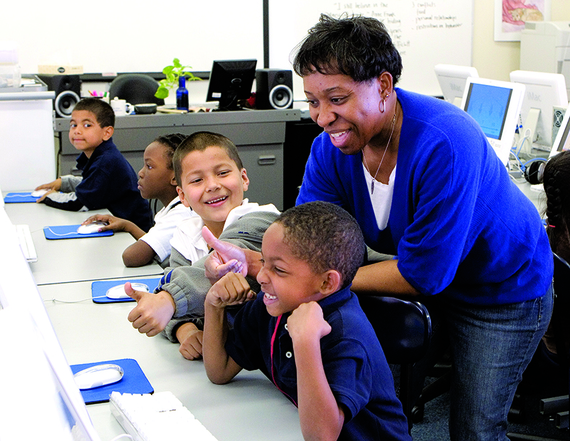 I walk into elementary classrooms across this country on a regular basis and as is often said --"the eyes don't lie." Recently on a trip to Washington, D.C., I had the opportunity to tour a few schools and a few classrooms. These were schools in distressed neighborhoods with trash on the pavements, guards at the door, run-down homes and vagrants.
Yet, when I stepped inside the building there was an alternate universe. These schools were about the business of educating and embracing their kids. Looking into the eyes of a student, who in other contexts might be struggling, I saw determination and grit followed by joy. As one administrator shared with me, this is probably the first time this child experienced success and that success translated to improvements in everything from behavior, to decision-making, to improving their grades. And, all of this was derived by enabling this student to learn math through a game-based approach. It sounds simple but in actuality it can be life-changing.
Remember, this is the world our children live in. Learning through doing is second nature. Learning through games is second nature -- something beautifully described in Greg Toppo's book The Game Believes in You. It's all a part of their road to decoding and thinking their way through problems. We must create learning spaces that support this kind of work because when a student can experience success through their own perseverance, their own "working it out," their own unique approaches to solving problems you can actually see them own their learning. Nobody gives it to them and they aren't told what to think. They reason on their own and understand what success feels like when you earn it. Lace that teaching and thinking through the many roads of life and what comes out at the end is future leaders.
Before we so simply make the decision that a child is in despair and "just can't do the work" we should consider the work that we are giving them. Is it empowering or is rote? Is it meaningful or is it memorization? Is it motivational or is it drudgery? We have the choice to make learning exceptional which leads to creating exceptional students. And, when our students win, we win.
I challenge you to take a look at the significant differences in the way our children learn. Walk into your local school. Does it look the same as it did decades ago or are we truly providing opportunity?
Popular in the Community