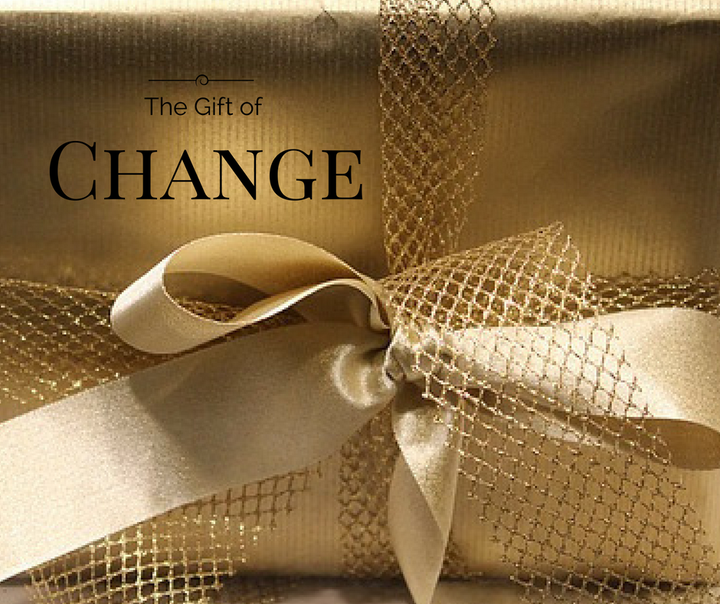 You don't need to put a bow on it, or attach a price tag, but change and transformation can still be gifted. The best part is…these "gifts" can be given or gotten at any time of the year.
Gift to Self: Typically omitted from our own life lists, giving ourselves the bandwidth and time to implement and change some aspect of our immediate lives is empowering. What have you always wanted to do, but somehow every time you started to move toward doing it, something got in the way? What one thing do you most want to do differently now? What would be change if you gave yourself permission to do whatever that was? When you purposely and intentionally give back to yourself it is like adding fuel to your gas tank. How to begin? Pick one class, event, self-care, or luxury indulgence that you are going to schedule into 2017. Now schedule it! Or… pick one new way of addressing how you recycle what is comfortable for yourself, by picking something uncomfortable yet challenging to or conquer. Now jump in and do or implement that change. Painful at first? Maybe. Don't you feel better that you switched one thing and others can follow? Admit it!
Gift of Self: Not everything in life has to cost money or be a tangible item! Some of the best presents are those that gift an experience. What can you do with someone else, what aspect of life can you share? Things can be wonderful, but memories are based on experiences. What can you teach, share, plan, or develop that will create a memory? How to begin? Be in the moment and access what may be missing or needed in your relationships, within your family dynamics, or at work. Omit the mug, the sweater, the toy, or the jewelry. Instead, substitute a gift of change that will impact how your team, the people closest to you respond or react to you. What can you do or offer of yourself that will transcend time, impact connection, and indulge both the heart and the mind?
Gift of Relationship Growth: While you may understand the direct outcome of changing your life and your own personal growth as a human, what you may not consider is that when we change, others in our lives may not be changing at exactly the same pace. Being open to transformation allows you to explore possibilities within your closest relationships in which to embrace renewal. How to begin? Think about one thing you could do differently within your marriage, with your teenager, with your mom. Actually ask that person what one thing would they like to change within the confines of your current relationship? What would be very meaningful to them? Agree to it? Then explore ways to step into that change so that it becomes a part of what you do. Then reverse the discussion. We may disagree with our spouse, or our children, or our parents, but we seldom take the time to examine how we may be able to tweak what we are disagreeing about so that the "gift of change" changes and renews our relationships.
Gift of Volunteering: We all know how to volunteer in the traditional sense, but what about stepping up and stepping in by having a voice where it matters? Attending a meeting at work? Part of a conversation with your aging parents medical team? Meeting with other parents on a sports team, club, or group in which your child plays a part? Where can you make a difference, co-mingle ideas, and be active within that community? How to begin? Have an opinion and don't be afraid to share it and move ideas forward! We all sit through meetings, calls, and in social situations in which we think about what could be different. The twist here is to take action to actually make it so. Offer your home for a meeting, help with the agenda, and organize some aspect of an event or get-together that has never been done before. Make a difference.
BONUS THOUGHT: Gifting change is gifting legacy. How so? Our legacy is entwined with the memories and the moments that we create. In the scope of your life, you will never remain focused on the entire timeline, but you will be focused on the mosaic of memories, of twists and turns, of defining moments that you experienced along the way. Giving the gift of change to yourself, to others, to the world at large always gives back because it helps you to curate and edit the story of your own existence. It encapsulates trying something a little differently and allowing yourself to step into that difference. One small step at a time...
Popular in the Community