In our over-stressed world, many health care providers, social workers, and caregivers are suffering from slow yet painful burnout. Many of the rest of us, working long hours and raising families, seem to be approaching burnout, too. Sometimes we may feel that we're too exhausted to keep giving to others, even though giving is a primary source of happiness in our lives.
So how can we keep giving without burning out? We're told that self-care is the answer: Give yourself a treat; you deserve it. Take some time for yourself. Say no.
Indeed, a research review found that psychologists in training who practice more self-care report feeling less distressed and stressed and more satisfied with life. The question is: What does self-care look like, and how much of it do we need?
As it turns out, the trick is to be other-focused and kind, but to balance that with taking care of yourself as well. Here are some practices to help you do that.
1. Self-compassion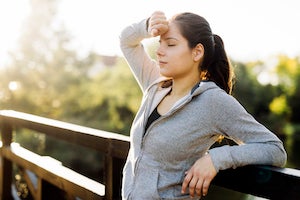 One particularly potent form of self-care involves transforming our relationship with ourselves—in particular, practicing self-compassion.
Self-compassion is treating yourself as you would a friend—with kindness rather than self-judgment—especially at times when you fail. Self-compassion is remembering that we all make mistakes, instead of beating ourselves up. And it means being mindful of emotions and thoughts without getting overly immersed in them. Self-compassion doesn't mean being indulgent or letting yourself off the hook, but it also doesn't mean being overly self-critical and harsh.
Elaine Beaumont at the University of Salford has conducted numerous studies looking at the impact of self-compassion on burnout and compassion fatigue. In a study of 100 student midwives—who routinely see both the miracle of new life and the tragedies that can accompany childbirth—Beaumont and her team found that midwives who had higher levels of self-compassion also showed less burnout and compassion fatigue symptoms. The opposite was true of midwives who were highly self-critical. She repeated this study with different caretaker professions and found similar results in nurses and students training to be counselors and psychotherapists.