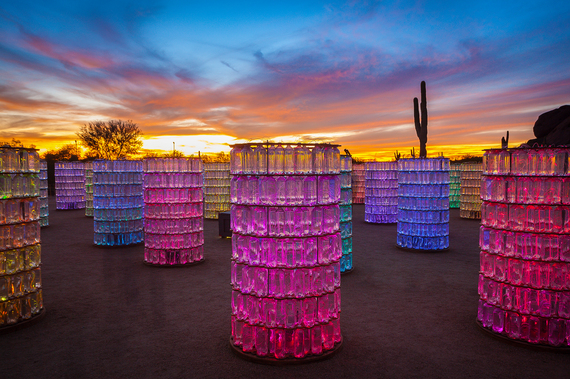 (The "Water-Towers" installation in the "Bruce Munro: Sonoran Light" exhibit at Desert Botanical Garden incorporates water-filled bottles and fiber optic LED lights.)
Whether you're seeking eco-friendly attractions to explore as you try to continue that "Earth Day every day" promise, or are piecing together an itinerary for any day of the year, Phoenix's installations, shops and centers create for intriguing tours through the city.
Enjoy art installations that repurpose materials, or shop custom reclaimed-wood furnishings at Porter Barn Wood and up-cycled art at Practical Art. Explore a restored hydroelectric plant and a water conservation center, tour two organic farms and cycle (instead of drive) through the city.
Find an earthly connection by simply wandering the trails of Desert Botanical Garden in Phoenix. Tip: At night, through May 8, see "Bruce Munro: Sonoran Light," featuring six large-scale, fiber optic LED installations throughout the gardens including a collection of 58 color-changing towers made out of water-filled bottles called "Water-Towers."
Situated in front of the Fountain Park at Plaza Fountainside in Fountain Hills is "Maytag Matilda," a horse sculpture created with scrap metals--a car bumper, chains, silverware, a Maytag washing machine--by artist Dixie Jewett.
Reclaimed barn wood, fallen trees, up-cycled finishings and even clients' momentos are incorporated into myriad furnishings, countertops, entertainment centers, sliding barn doors and such by Porter Barn Wood. The refined works come out of downtown Phoenix (showroom is open 9 am-2 pm M-Sa) and are found in corporate buildings, shops, restaurants--check out Dierks Bentley's Whiskey Row in Tempe--and private residences all over the country.
Each and every piece of art at Practical Art retail gallery is produced in-state by local artists and serves a purpose. Up-cycled items include Refresh Glass' glasses made out of recycled wine bottles, Devin and Lisa Kelley's coasters made out of skateboards, Ann Morton's jewelry made out of plastic bottles, and Chad Schimmel's lamps made out of vintage cameras.
Eisendrath Center for Water Conservation
The expansive 1930s Pueblo revival-style structure, built by well-know Valley architect Robert T. Evans, served as the home of Rose Eisendrath and hosted many visitors until her death in 1936. Recently restored, it now acts as a water conservation and special events center. Among the period furniture and display panels highlighting that work of the famed architect is a gallery featuring Arizona's water conservation and sustainability practices.
"WaterWorks" at Arizona Falls
Arizona Falls, is located at a restored hydroelectric plant originally built in 1901 along the Arizona Canal on Indian School Road between 56th and 58th streets. A pedestrian walkway navigates above and below three waterfalls, and visitors sit (and relax) in the shaded viewing room. The project generates enough clean, renewable energy to provide electricity to 150 homes.
Paolo Soleri's (1919-2013) combined architecture and ecology philosophy, dubbed "arcology," is put to work at Arcosanti, an "urban laboratory" and live-in community that aims to harmoniously meld the environment and human habitat. One-hour tours highlight Soleri's design methodologies, and visit select structures, the bronze foundry and ceramics studio. Before making the return 75-minute drive back to Phoenix, grab a bite at the Café at Arcosanti--eggs and vegetables from the on-site organic farm are often incorporated into the dishes served.
Don't have time to make the drive to Arcosanti? The "bio-climatic" architecture is also explored at Cosanti, Paolo Soleri's former residence and sculpture studios in Paradise Valley. Self-tour the five-acre property and visit the studios where Soleri Windbells and sculptures are created.
The seven-acre farm at The Farm at South Mountain in Phoenix produces organic produce, herbs, flowers and eggs. Classes and workshops around farming and gardening topics are offered, as are farm tours, though visitors may also peek around on their own as long as they remain on the marked paths. Farm yields are found at local farmers markets and restaurants, including on-site Quiessence, Morning Glory Café and The Farm Kitchen.
Steadfast Farm at Agritopia
The 11-acre USDA Certified Organic farm in Gilbert is part of the urban-agricultural community Agritopia. The produce, grains, eggs and meats are utilized by community members and in many homes and restaurants around the Valley. Guided farm tours explore ecological and bio-intensive farming practices, and Steadfast Farm is a vendor at the Gilbert Farmers Market on Saturday mornings.
Check out one of 500 cruiser bicycles at one of the 50 downtown and central Phoenix Grid Bike Share stations for an eco-friendly means by which to navigate the city. Riders reserve a bike online or through the mobile app, pay in advance ($7 per hour) and receive a PIN code to unlock the bike when they arrive at the station. Ride safely in the well-defined bike lanes along Central Avenue and around downtown Phoenix while stopping to visit the city's museums (Phoenix Art Museum and Heard Museum are both located on Central Avenue), eateries and watering holes.
Love Phoenix? Here are more great travel ideas for Phoenix and Scottsdale:
Photo credits: Courtesy Desert Botanical Garden; ©Andrew Pielage/Scottsdale Public Art; ©Jesse Fitton Smith/Porter Barn Wood; Courtesy Practical Art; Courtesy Phoenix Office of Arts & Culture; ©Cosanti Archives; Courtesy Steadfast Farm at Agritopia
Related