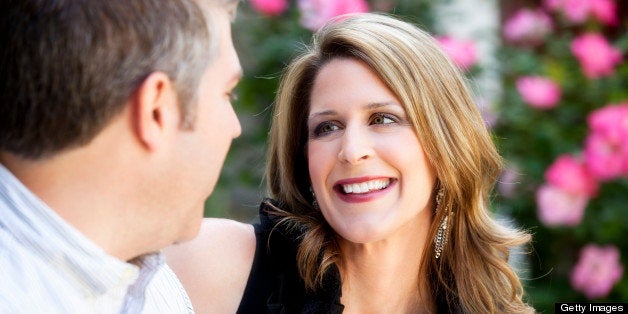 When you've spent the last decade or more with a ring on your fourth finger, you're almost a novice to the dating scene. Certainly, if your first song was by Madonna or Sinéad O'Connor -- or The Carpenters, blind dates were set-ups by well-meaning friends and not the result of matching swipe rights.
There's plenty of advice to be found on how to write the perfect profile, choose the most engaging photos, and meet the first few times in a well-lit Starbucks!
But, what about your first venture into the land of relationships?
Conventional wisdom - and the advice of most therapists - suggests dipping your toes into the pool for a while before you head for anything serious. You're probably healing from the breakup - and likely vulnerable, no matter if your name was on the plaintiff or the respondent side on the divorce papers.
If you were in a dysfunctional marriage or your spouse was involved with someone else, your self-esteem may need some rebuilding before you move into the next coupling.
We've all met those who seem uncomfortable on their own. In my experience, a key lesson post-divorce is learning how to be single. Perhaps you've slid into this shape-shifting space where your identity rests as someone's wife and mother. Men can experience this, as well, but culturally, this seems to be occur more frequently with women.
Now's the time to explore new interests. Maybe you're returning to the work force or searching for a new career path. You may want to focus on stocking your social circle with other singles.
Advice aside, a fair number of those new to the dating market will end up in a relationship early on.
What can you do to ensure you're not making the same mistakes?
Launching into a new relationship before you're ready may leave you vulnerable to partners who prey on those who aren't sure of themselves and who may feel uneasy setting limits. If you've been without affection or attention, it's pretty easy to get romanced by someone who comes on strong.
You'll no doubt come across a fair number of potential daters online who romance with words, promising exotic dates or vacations before you've met in person. If the only romance you've experienced in the past decades is through a novel or The Bachelor, you'll be primed for the bite.
Remember, pushing you to be exclusive too soon or begging to meet your kids before the second or third date are red flags for abusive behavior. So is isolating you from your friends and family. The partner who wants you to spend all your time with him or her and tell you there's nobody who cares about you more deeply is the same one who may turn against you once you've been swooped.
Stan Tatkin, PsyD, MFT, author of Wired for Love, Your Brain on Love, and Love and War in Intimate Relationships, suggests bringing a potential mate before friends and family. Ask their honest opinions. "You've watched us together. Do you you think this person is a good match for me?"
When we are at our most insecure, worried about being alone, we're more apt to make choices that might not serve us. Lacking the common thread of mutual friends, we may not be able to know if this person would be a good choice for a relationship.
Dating can be fun. Look at the process as a way to meet new people - and to reacquaint yourself with the skills you'll need to figure out who would be a good fit. Value your life as an individual and realize a partner, should you meet one, should complement and not replace the life you already have.
Thankfully, relationships aren't like baseball, where it's three strikes and you're out. The universe keeps pitching us new opportunities to redo, repair, and reinvent ourselves with another person.