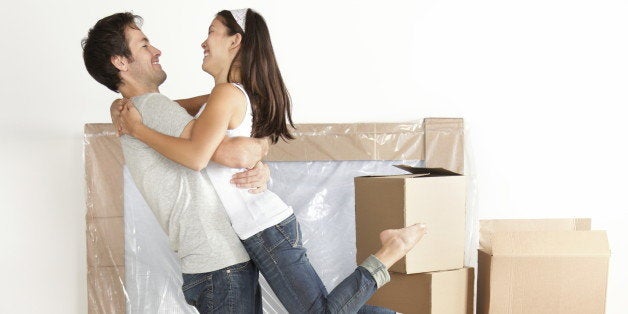 For newlyweds, learning how to combine furniture and décor styles to create a cohesive home can be quite the challenge -- for better or worse. After all, they say opposites attract. Whether or not that's the case in your relationship, you can most likely still agree that when it comes to your taste in home décor, your styles are more different than they are similar. MyDomain put this theory to the test last year and asked men what they really thought about feminine décor.
The result -- some LOL worthy statements that prove marriage is also about marrying your style to combine both of your tastes. Furry pillows? He's thinking, "If my dog is not allowed on the couch, why should that pillow be?" Florals paired with florals? "No, I can feel death approaching. Sorry Grandma." Read the rest here.
Many couples today have either lived on their own or with their significant other before tying the knot. And if not, they likely have a fairly decent hope chest ready and waiting. Neither situation is better than the other, so we asked a couple design professionals who are also newlyweds to weigh in and offer some advice.
Owner and stylist of Vision Expressions, Laurel Robinson, recalls her recent experience as a newlywed. "For my husband and I, it was a bit of challenge since he loves darker tones and bulkier furniture, whereas I prefer lighter, softer colors and less of what I like to call 'backbreaking' furniture." This is often the most common struggle we hear. Most couples end up going in one direction or the other, but it's important to know that it's really not about being feminine or masculine (or even neutral), it's about blending.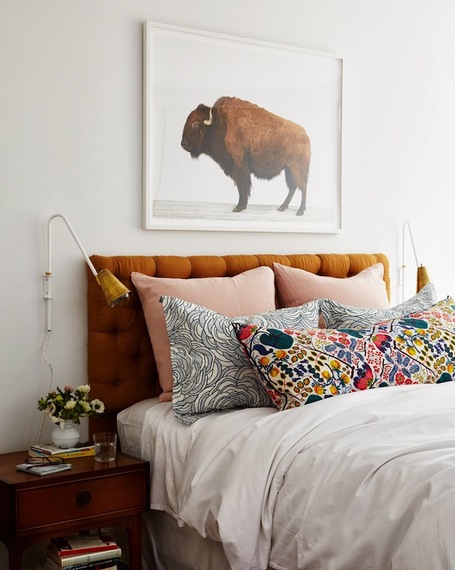 Photo: A Cup of Jo | Photography: Ryan Liebe
The Robinsons took on the challenge and made the process a fun and creative opportunity one room at a time. "My best piece of advice is this: Ask yourself, 'Where is the happy medium?'" Joss & Main, a flash sale website featuring furniture, housewares and décor, says it beautifully:
"When dark, handsome accents are coupled with light, feminine furniture, the result is a perfectly balanced whole."
Laurel and her husband decided to meet in the middle with what they felt best expressed both of their personalities and style. For example, his choice of their dark brown living room sofa was a beautiful balance against her choice of their soft, pastel blue walls. And his concept of adding dark gray paint to the walls of their powder room paired quite nicely with their white marble floors and pastel gray, blue and white accents.
It's important to be realistic and think not only about what works stylistically, but also what works logistically. Laurel shares this tip for combining furniture: "Since we both love to entertain, it was a no-brainer for us to keep my dining room table and chairs that seat 10 guests over his 4-seater set. The key is to find a balance that expresses a little bit of both your combined and individual styles."
For producer, designer and writer Michael Vann, Jr., it was all about building a new life together, and that includes a new combined style. "Each person should get three non-negotiable items to keep in the new home... no questions asked," he shares. "After that, everything else should be up for discussion." We love this tip because we all have those those specific items that are reminiscent of a memory, family member, or are simply just something we adore. If a piece is that important to you (or your significant other), it will go no matter what. You just have to find it's place.
Michael continues, "Define your design goals and then sort through everything, determining if it fits in your overall vision, if not, it goes. Setting boundaries first helps prevent conflict later. And besides, the decor you buy together will be full of memories that last a lifetime. That's what sharing your life with someone is all about!"
And for those registering for home décor items together, or starting from scratch, forget about "my style" and "your style" and figure out what your shared style is. "Remember to keep teamwork and the sharing of creativity in mind when registering for housewares and décor," recommends Laurel. "Being aligned on the overall concept is key and will make for a happy and beautifully decorated home."