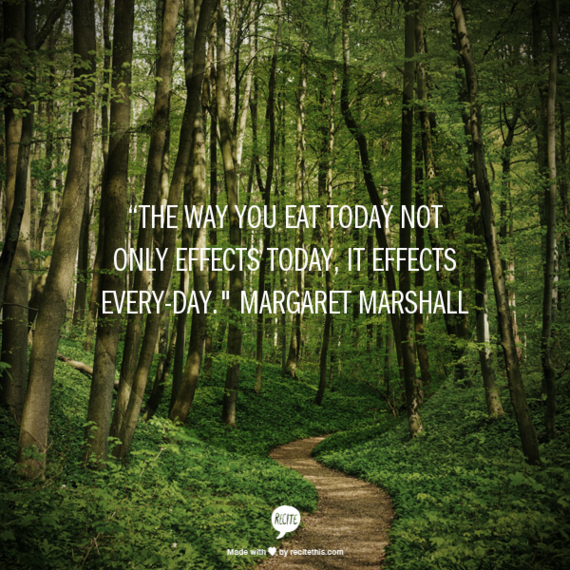 In order to have a home-cooked meal, you must be home. But what do women do when they are working and busy with activities and family, yet want to feed their family quality food? How does she steer clear of fast food, processed food and reservations each day at dinner time?
Since my son was a little boy he would say, "We have the best food when we have company." I must admit, he's right! When family or friends would come for holidays or special get-togethers, I would plan out a menu, buy special food and ingredients and spend time preparing to make the meal appetizing and enjoyable for the guests. It was as if I were on a cooking show...serving my best. By the time the guests arrived, my kitchen was spotless, table set and everything was in order. Nobody saw the days of preparation it took, just as viewers don't see the preparation that takes place on the cooking shows. It looks effortless and the chef is smiling. Nothing has fallen on the floor and there are no stains on clothing due to splattering or spilling. The chef does not have to stop what he/she is doing to attend afternoon school sporting events, religion lessons, or drive kids to and from a friend's house. There are no homework assignments or science projects to work on during televised cooking sessions, as is common in many families. In the home, these time-intensive meals happen mostly on special occasions.
Never underestimate the importance and quality of a home-cooked meal. Preparing and feeding your family each day is a tall task. Most of my female clients find preparing a family meal a necessary and overwhelming chore. Those who do enjoy cooking can't find the time. My male clients, who like to cook, do so on special occasions. Those men, who don't like to cook, have the opt-out option.
For many, home-cooked meals are nonexistent, mostly because you are not home during the day, and when you do return home at the end of the day, you are exhausted. It is then you begin your other job...caring for your family. To have take-out food during the week is fine, but to have it every day can be unhealthy and costly.
For the women who must cook, I have some simple solutions that worked for me and for others I've shared these ideas with. The key is to have your food be simple, healthy, and tasty. You are not on a cooking show and nothing needs to be perfect or time consuming. Try some of these ideas.
Buy fresh vegetables already chopped or sliced in your market. Make sure you use them quickly because they are usually the vegetables that have been on the shelf for a few days. They are still good and a big time-saver for you.
Before you leave your house in the morning, clean vegetables and put them in a pot with ice cubes on your stove. The cubes keep them cold and fresh all day. When you return home later, just turn the stove on and cook the vegetables. The ice will have melted and is now used as water for cooking.
If your children will not eat vegetables, try raw vegetables with dip as a side dish. It is also healthy to use fruit as part of the meal.
Stop at the local Chinese take-out restaurant and purchase steamed vegetables and brown rice. At home, grill some chicken or fish.
Cook once-eat twice. While preparing meals, make enough for two dinners. Serve it on the first night, then two or three nights later, serve the same meal again.
If you bake potatoes or sweet potatoes, bake many. They can be heated easily on other evenings, and are also delicious as a lunch or snack for you.
Use roasts often. Buy them larger than you need. Be creative and use the leftover roast for different dinners during the week. For example: a pork loin is a roast the first day. On another day, try sliced pork, sauerkraut, and grilled apples, or put the leftover cooked pork into a pot to simmer in sauce and make pulled pork. Serve with apple sauce and vegetables.
Roast a turkey breast. The first night it's a turkey dinner with potatoes and vegetables. Another night it's turkey tacos, and yet another night it's sliced turkey on a big salad. Freeze the turkey carcass and a week or two later make an easy turkey soup.
Be creative with different meats and Google recipe ideas.
Keep non-perishable cans of beans, and a frozen package of chopped onions and peppers. Mix together with your favorite salad dressing for a delicious three-bean salad. Serve with any fresh vegetables.
Keep a can of lump crabmeat in the refrigerator and make crab cakes with frozen onions and peppers (thawed and drained), egg, sharp mustard, and your favorite bread crumbs. Pat the mixture together into a small cake. Bake the crab cakes for about 20 minutes and at the same time heat baked potatoes prepared on a previous day, and roast fresh vegetables, all at the same time.
Be creative. You want your daily cooking to be easy and healthy with the least amount of clean-up. Keep it simple, healthy, and tasty.
Related