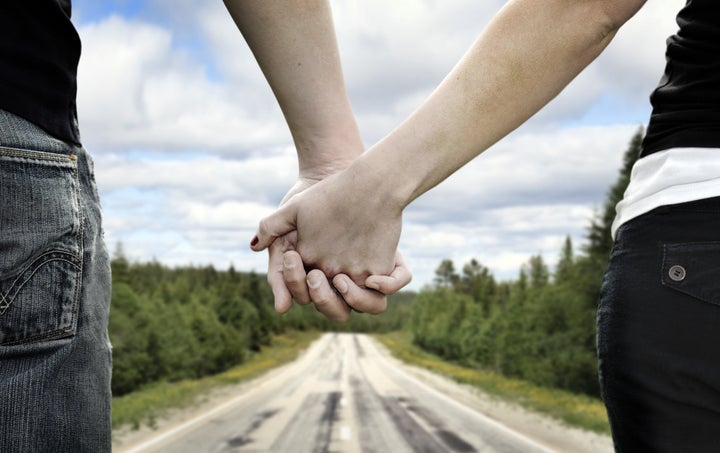 This article was originally published on Babble
We got married whimsically, if you wanna put the right spin on it.
We met in a bar, made out in a truck, and said goodbye in a dimly-lit parking lot all in one night. Two months later we showed up at a judge's house in suburban Salt Lake City and squeezed each others sweaty palm in silent squeals of disbelief as we exchanged vows.
Then, we went to Red Lobster (I had a gift card).
The next morning I flew away to go on tour with my band; Monica went back to work. We didn't tell anyone. We weren't even completely sure what had just happened. And to be honest, the cards were probably a little stacked against us. We'd known each other two months total. We'd spent a few hundred hours together at best.
Did we even want to make it?
On the airplane back to Philly, I stared into the bathroom mirror and took a deep breath of processed air/urinal cake.
Who the hell did I just marry?
Someone tried the door even though it was locked.
That was going on nine years ago now.
I guess nine years isn't all that long as far as marriages go, after all the deal was supposed to be 'forever' right? But still, whenever I look around me and take even a brief glimpse at the road under my feet, I see the wreckage of a thousand marriages: the torn soiled veils and burning tuxedos, the smoldering hot mess of a bazillion dreams and plans gone wrong.
Love smells so alpine, so goddamn Irish Spring when it's fresh and new, huh? But once it starts rotting look out; it's like someone thumb-tacked a thousand sardines to the studs behind the drywall. There ain't another stank like it in this world or the next one. Love is never easy to find, that's for sure. But what they forget to tell you is that once you find it the clock starts ticking and it begins to try in vain to get as far away from you as possible with the quickness.
Lucky for Monica and me, we have made it through some tough times and although there will surely be plenty more that come barreling down the pike at us, knowing the feeling of emerging out the other end of the Year of the Sardine into something sort of resembling a bright clear breeze has given us hope. And without hope, you'll never make it, amigo. No where/no how.
So, given the circumstances, I suppose that it never really occurred to me that maybe we missed out on something special, something beautifully cool back when our life together began. We hadn't exactly sought out an alternative romance to the ones they sell you in magazines or on the internet, but we'd gone down that road anyway.
We didn't have a wedding, as our story goes.
No wedding = no wedding day = no one smiled at us; we didn't get to share the moment with anyone other than the judge and our server (Hey Darlene! Thanks for the extra oyster crackers!) at the Red Lobster. There was no special dress for Monica and the rings we exchanged were $10 each at a cart in the mall. Of all the people on Earth, no one raised a bottle of beer or a glass of cheap champagne to us that evening. No one toasted the happy couple. No one even knew what the hell we were up to.
It was our secret and it felt quietly magical and neither of us would have changed a thing about it. In fact, I will always always be certain that we did it absolutely right.
But, the other night, as I was trying to have a beer and watch an episode of Wicked Tuna on the couch before the kids accosted me with plastic giraffes and dolphins again (I suck at saying no), Monica crawled out of the blue and made an announcement from her end of the leather.
"We're going to have a shindig for our 10th anniversary. We'll make it more like a wedding, but just the way we want it. It'll be super cool and we'll just invite the people we want to be there."
I tried to act cool, but I'm older now than I was back then. I look for adventure where I can find it: Big Wheels and toy dinosaurs, fat novels, some fly fishing here and there.
I took a swallow of pale ale.
Inside of me, my inner-little girl was screaming shrilly -- I got all hopped up on pure and utter delight.
I was going to be a groom! I was going to look dapper and handsome and everyone was going to look at me and whisper and point and smile and the women were all going to look at their chubby husbands and feel terribly sad that the last of the sexy non-gay guys was now officially 'taken' for the last and final time!
I was going to be a Prince!
I took another swallow and tried to camouflage my lame-o effervescence behind my wall of gruff.
"Well, I'm not getting dressed up in a tux and all," I grumbled. But really what I was thinking was: you're goddamn right I'm getting dressed up in a tux! To be honest, in my mind, right away, within seconds of the very birth of the entire notion of a vow renewal thing, I was thinking that I might end up doing costume changes throughout the special evening. A tux here, a dandy suit there, bow ties and seersucker, Andre 3000 meets Duck Commander!
"Wear whatever you want," Monica said flatly, much to my disappointment. "It'll just be a day that makes perfect sense. After 10 years, we'll be getting married in a way that seems right."
I didn't look at her, but her words rang like a bell down through the dark alleys of my guts.
Then, I got so horny for her and her incredible sensibility that, even after all this time together/all these years, I had to get up and go get another beer before I lost all control with the kids in the next room.
I have no idea how to have a wedding.
I don't know what Monica knows about it either, but it can't be that much because as far as I know she's never had one either. (A mysterious slightly naughty past is sexy, but there are limits, you know?)
But we'll have to figure some stuff out over the next year, I guess, if we really aim to get re-hitched somewhere around our 10-year mark in October 2014.
Obviously, we aren't in the market for any of the over-the-top stuff. First of all, because we've already been married for a long time, and secondly, because we aren't really that sort of couple. I mean, yes I'd like an explosion of a hundred wild turkeys (doves are so 1991) bursting into the sunsetty horizon at the exact moment I slip Monica's brand new super-badass diamond ring on her finger in what people call one of the most romantic moments they have ever witnessed, but I have to be realistic. That isn't really me or us. And this isn't gonna be some fairytale wedding for me anyways. I don't really need that.
What I want, what I need, I guess you could say, is to give the woman of my dreams, my best friend and baby mama, something to remember forever, a day just as awesome as the first time we got married but in different, more complete ways.
And knowing Monica, I know that what she'll want won't really be bells and whistles and bullshit.
She's going to want to look beautiful. That won't be a problem.
She's going to want our kids, Violet and Henry (and maybe little Han Solo Bielanko or Princess Leia Bielanko if he or she decides to get born by then) to be right there at our side, all bare feet and baskets of flowers. I'm all about that, too.
Monica will want to be somewhere pretty cool, I reckon, but nowhere fancy or weird. We won't be in a catering hall or down at the VFW when we say "I do" again. Maybe a country church, she says. Maybe in our yard, I say. I'll probably let her win this one, too.
And, if you're coming to our big day (and I hope you can) well, don't expect a wad of salmon and one of those ruffled whipped potato jobs on your plate, friend. That probably isn't going to happen. Seeing as how it's up to Monica, I'd say you can probably expect to be breaking off a hunk from a half-acre pile of nachos on the communal table. Then, you could wander over to the bar-b-q where, even though she's pretty much meatless these days, my wife still knows that you and me would probably not shirk away from a sagging paper plate of ribs if there was one nearby.
But don't eat too much too soon. Remember this is Monica's hootenanny after all and while the bluegrass music ricochets off of the tops of the trees and the early autumn air begins to get chilly and dark, she is probably going to be calling your name across the grass at some point.
Poor you, standing there in the twinkling golden Christmas lights.
You haven't done a keg stand since freshman year.
This is her night and you're doing one.