For the past seven years I've traveled the country speaking to hundreds of people with diabetes. What does everyone want to know: "What can I eat?!"
The cry rises midway through a presentation followed by, "I know I should cut my carbs but I can't give up______(fill in the blank with anything crumbly and delicious)."
Being a recovering muffin- and scone-aholic myself, who has long gone without for better blood sugar management, I am hooked once again. But this time it's a nutritious, soul-satisfying low carb muffin that has found its way into my heart and onto my plate. And this muffin comes with "mojo." You make it in the microwave in a minute.
I've also found a bread to die for, hmmm oddly named "Life-Changing Bread." And, I've created a low carb biscotti by replacing the flour called for with almond meal and the sugar with Stevia. I make both the bread and biscotti in my toaster oven. Like my fellow New Yorkers I use my regular oven for storing pots and pans.
These "ode to crumbs" items, recipes below, contain all natural ingredients, are gluten-free and extremely blood sugar friendly. Since we do know "your diabetes may vary," check their impact on your blood glucose. Make sure you wash your fingers not just lick them.
My husband, who doesn't have diabetes, now sees these as the better part of our wedding contract.
Flax Egg Muffin in a Minute in a Mug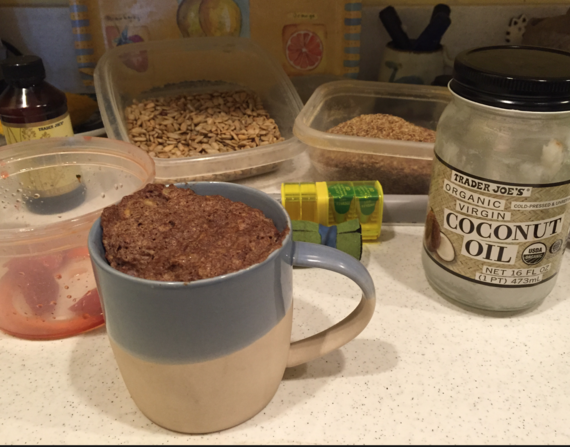 All photos courtesy of Riva Greenberg.
This fiber-rich, quick and easy muffin makes a perfect breakfast on-the-go. Shared with me by Dr. Jody.
In a coffee mug combine:
1/4 cup ground flax seeds
1 Tsp cinnamon
1/2 Tsp baking powder (ideally the kind w/out aluminum...look at ingredients label)
Add to dry mix in cup:
1 egg
1 Tsp vanilla
Few drops Stevia to taste
A bit of any type of berries, nuts and/or seeds. A few bits of banana make the muffin creamier. I add one strawberry cut in small pieces, one bite-worth of banana and a small handful of sunflower seeds.
1 Tsp butter or coconut oil (melted)
1. Stir all ingredients thoroughly so the mixture is wet throughout. Make sure to stir at the bottom and sides of the mug.
2. Cook in microwave for 1 minute
3. Remove and turn upside down. Muffin will slide right out of the mug.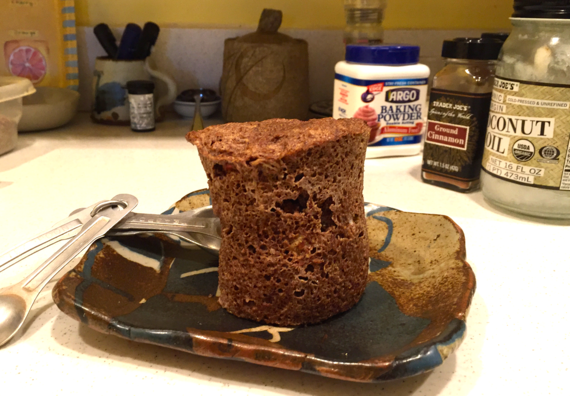 If you don't eat flax seeds, first work your way up from a teaspoon or two to the amount called for in this recipe, otherwise it will irritate your stomach. Due to the super high fiber content, drink at least 8 oz of liquid with the muffin.
Life-Changing Loaf of Bread
Makes 1 loaf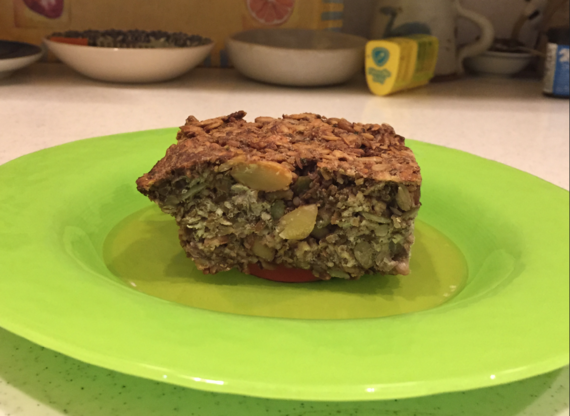 Pictured, one-sixth of a loaf.
There is a tale at the end of this recipe how this bread got it's name. Whether precisely true or not I don't know, but I do know it's worthy of it. This bread is mostly made of nuts and seeds, high in protein and fiber, and shockingly easy to make. If you're gluten-free, use gluten-free oats.
Mix ingredients in a medium size bowl or right in a loaf pan:
1/2 cup pumpkin and 1/2 cup sunflower seeds
½ cup whole flax seeds
½ cup chopped nuts of your choice
1 ½ cups of rolled oats
2 Tbs of chia seeds
4 Tbs of psyllium seed husks (3 Tbs if using psyllium husk powder)
1 Tsp fine grain sea salt (add ½ tsp if using coarse salt)
2 packets Stevia (optional)
Optional: handful of dried fruit like dried cherries, cranberries or raisins
1. Whisk 3 Tbs melted coconut oil and 1 ½ cups water together and add to dry ingredients. Mix all ingredients very well until everything is completely soaked and dough becomes very thick (if the dough is too thick to stir, add one or two teaspoons of water until the dough is manageable).
2. If working from a bowl, pour mixture into a flexible, silicone or regular loaf pan slightly oiled. Smooth out the top of mixture with the back of a spoon.
3. Let sit out for at least 2 hours, or all day or overnight. To ensure the dough is ready, it should retain its shape even when you pull the sides of the loaf pan away from it.
4. Preheat oven to 350°F.
5. Place loaf pan in the oven on the middle rack and bake for 20 minutes. Remove bread from loaf pan, place it upside down directly on the rack and bake for another 30-40 minutes. Bread is done when it sounds hollow when tapped. Let cool completely before slicing (difficult, but important).
Store bread in a tightly sealed container for up to five days. I cut 3'x3" squares, wrap in aluminum foil and freeze. For quick and easy toast slice before freezing.
Here's the story behind this bread and some of the most beautiful photos I've ever seen.
My Adapted Chocolate Ginger Biscotti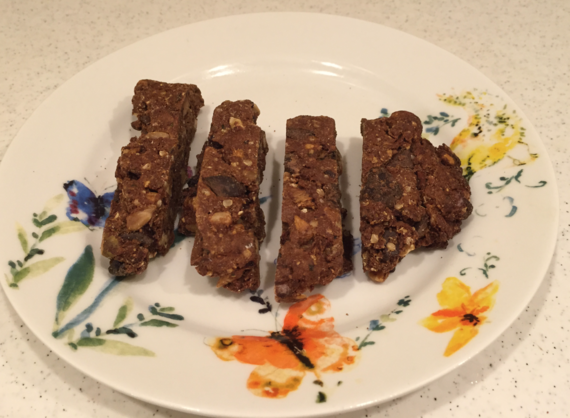 Using almond meal instead of flour, these biscotti will crumble, but they're still delicious. I add ginger for its flavor and health benefit. To make even lower carb, leave out or reduce the chocolate chips.
Mix in a medium size bowl:
2 cups almond meal
2/3 cup chopped nuts of your choice
2/3 cups chocolate chips
1/3 cup finely chopped fresh ginger
2 packets Stevia
3 Tbs cocoa powder
½ Tsp baking soda
½ Tsp baking power
½ Tsp salt
In a separate bowl blend:
1 egg (optional)
2 Tbs melted butter or 1 1/2 Tbs coconut oil
1 Tsp vanilla extract
¼ cup water
1. Pre-heat oven to 350 degrees.
2. Add wet ingredients to dry and mix well until blended
3. Divide dough in half and, as a rounded ball, put each half on a baking sheet coated with coconut oil. Put in fridge 10 minutes. Take out of fridge and press dough into two logs each about 12 x 2 x ¾ inch. Cooling the dough makes it easier to work with.
4. Bake 30 minutes; remove from oven and cool for 10 minutes. Place logs on cutting board and with a serrated knife, cut logs diagonally into ½ inch slices, using a sawing motion. Place slices cut side up on baking sheet and bake for another 15 minutes. Centers will be slightly soft but will harden as they cool.
5. Remove to wire rack to cool.
Recipe makes about 24 biscotti
Marie Antoinette may have said, "Let them eat cake!" but I'd always rather eat something with crumbs.

Popular in the Community