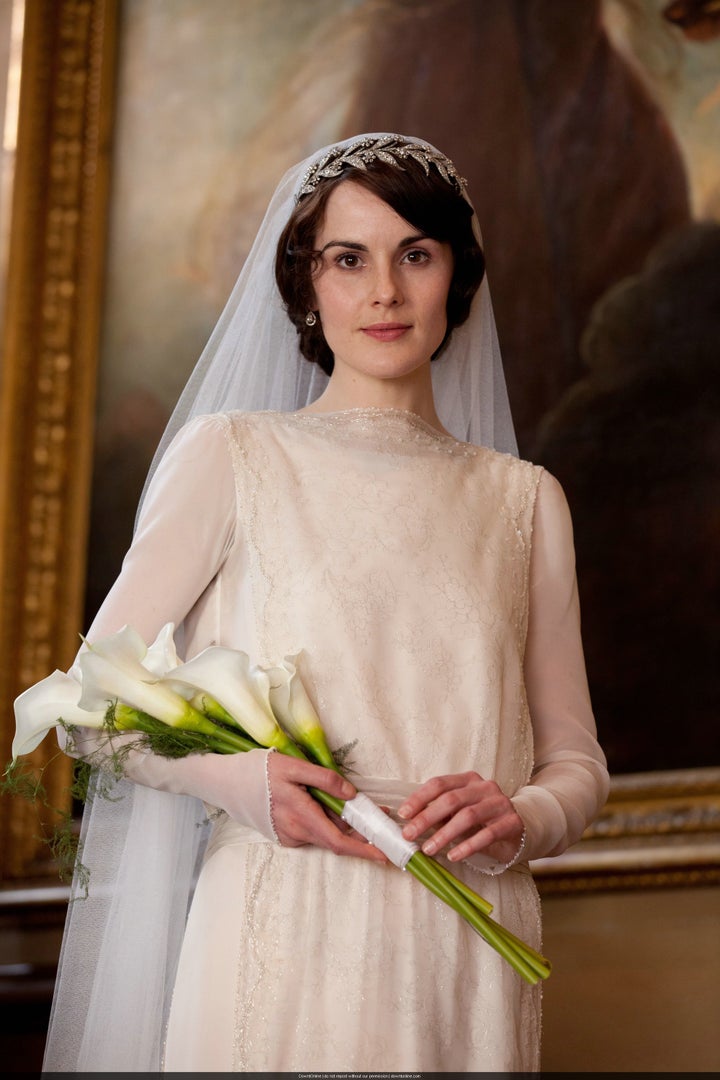 Now that Lady Mary and Matthew Crawley have finally said "I do", brides-to-be are sure to turn to the "Downton Abbey" couple's big day for ideas for their very own 1920s-inspired weddings. While most of the "Downton" reception details were not shown on air, there were still plenty of fashion, beauty and decor ideas that you can replicate. Here are a few "Downton Abbey" wedding details you can easily find in stores and online boutiques:
The show's costume designer Caroline McCall, told Grazia UK that Lady Mary's wedding gown cost over $6,000 to create. "It's a silver lace tabard fabric that goes into a train at the back, and underneath is a silk dress with silk sleeves. The lace goes into a 'V' at the back with tiny buttons and it's completely edged with tiny rice pearls and Swarovski crystal."
At Bridal Market this past October, a number of designers featured Art Deco wedding gowns and veils that are similar in silhouette and detailing to Lady Mary's gown. The three wedding dresses in the slideshow below were designed by British designers Jenny Packham and Temperley London, and will be in salons in 2013.
Any proper lady would wear a diamond tiara on her wedding day, and Lady Mary's was exquisite. The show's costume designer, Caroline McCall, collaborated with British jeweler Bentley & Skinner to create a yellow gold and silver Georgian tiara featuring 45 carats of pavé-set old-cut diamonds. The $200,000 tiara can be converted into a headband and brooch.
Lady Mary carried a simple bouquet of several long-stemmed white Calla lilies with greenery, tied together with white ribbon and pearl-headed pins. Any florist should be able to create a similar arrangement for you, and DIY brides can also put it together quite easily the morning of their wedding.
Matthew Crawley and his best man, Tom Branson, wore morning suits to the daytime wedding, the most formal attire for a wedding held before the sun sets. A morning suit consists of a black or grey coat with a single button and one broad tail at the back paired with striped trousers. A wing-collared dress shirt is accessorized with an ascot, or tie for a less formal style. The gentlemen in and attending the Crawley wedding also wore grey gloves and black top hats, but today's grooms don't have to dress up that much to look as handsome as the gents from "Downton."
Check with your local formal menswear shop to see if they sell or rent morning suits.
As is the British tradition, Lady Mary and Matthew had several children make up their bridal party. The three adorable girls wore long pink dresses with sheer sleeves and carried pink flowers. In these less conservative times it's difficult to find a dress with long sleeves, but for those looking for a more modest style, a sleeveless dress can always be accessorized with a shrug or cardigan. We found a number of pink dresses for flower girls at Watters, including the two styles shown below.
While the audience only gets a glimpse of Lady Mary and Matthew's wedding cake, we can see that it has many ivory tiers that are in an octagon shape. Each side looks like it's decorated with an image, presumably representing the family, county and country.
Lady Mary and her father, Lord Grantham, arrive at the church by a covered black carriage lead by several horses. The village road from Downton Abbey to the church is lined with cheering townspeople waving flags at the bride and her Papa. While you may not have screaming fans lining the streets as you make your way to your wedding, you can still arrive in style with an open or covered carriage.
Vendors across the country rent a variety of carriage styles from Cinderella coaches to Vis-a-Vis carriages to Victoria Paetons. You can also rent wagonettes to transport guests to and from wedding festivities, just as the Downstairs staff were chauffeured from the house to the church.
The townspeople decorated Downton, the village not the house, with white bunting -- hanging it along the road and in the branches in the church courtyard. Couples can easily find bunting in a variety of colors and patterns that can be used to decorate entranceways, walls, ceilings and the edge of reception tables.
The Downstairs staff decorated the house with beautiful floral arrangements, including garlands that wrapped around the grand staircase. For your "Downton Abbey"-inspired wedding, work with your florist to create green garlands, or designs incorporating lush blooms in your wedding's color palette. You can place them along the sides of your ceremony aisle, down the center of reception tables, or create smaller ones to drape on the back of the newlywed's chairs.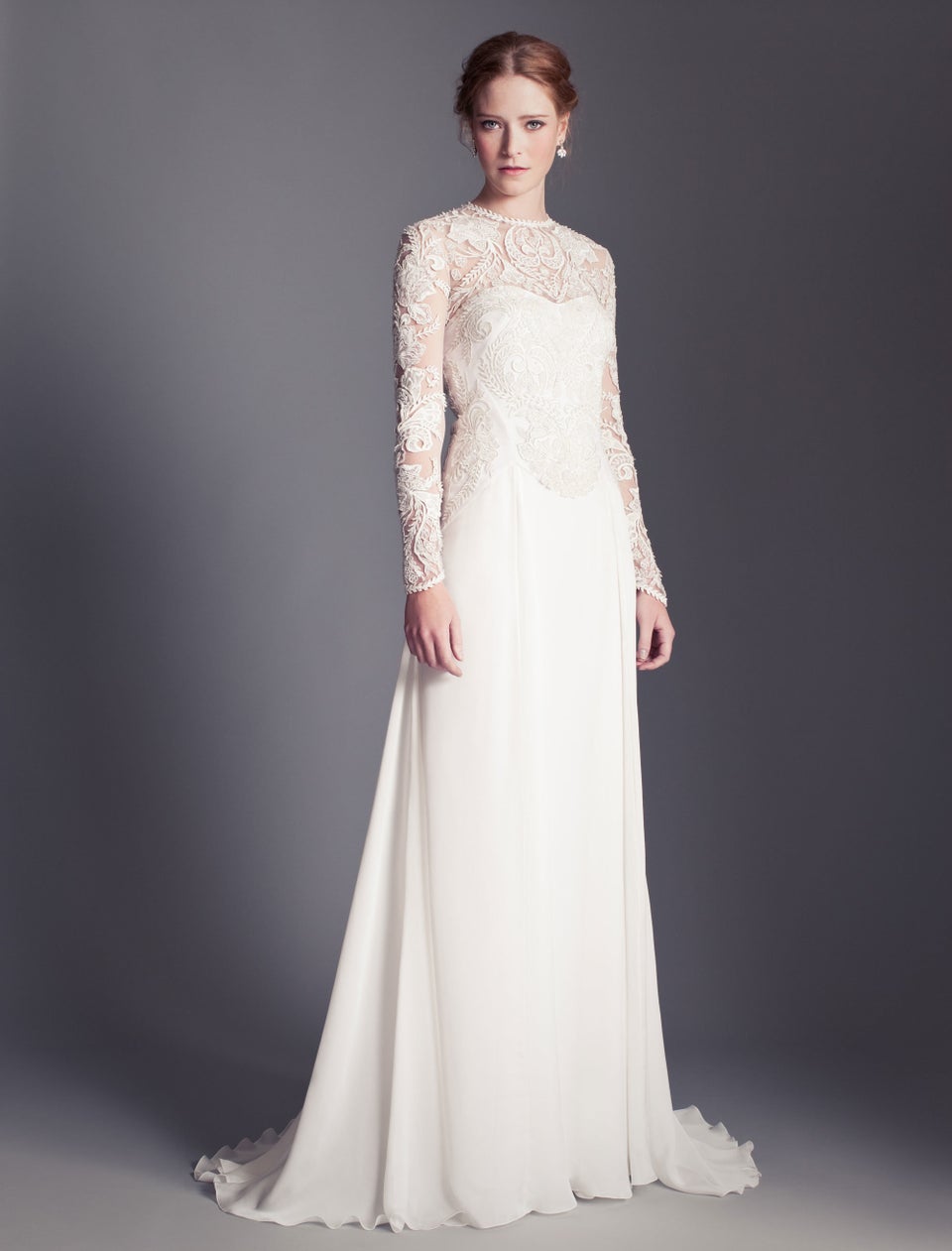 'Downton Abbey' Wedding Inspiration