WASHINGTON ― In what may wind up being the biggest single-day demonstration in American history, millions of women and men took to the streets around the country Saturday to call for gender equality and express opposition to the Trump administration. How many millions is an open question.
Erica Chenoweth of the University of Denver and Jeremy Pressman of the University of Connecticut are overseeing the collection. Send them any info you've got on Twitter, and include whatever backup documentation exists. If you have a photo that wasn't published anywhere, tweet it yourself and send that link. Chenoweth is @EricaChenoweth and Pressman is @djpressman on Twitter.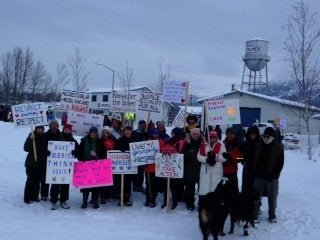 As of Sunday morning, they've counted at least 3 million people, but the number is surely to grow, because marches and rallies were held in an extraordinary number of small towns around the country, even in the deepest red territories.
For instance, in Palmer, Alaska, a town of fewer than 6,000, more than 1,000 people marched, according to witnesses. The Palmer Police Department told The Huffington Post the estimate sounded accurate, though it hadn't done an official tally.
Popular in the Community