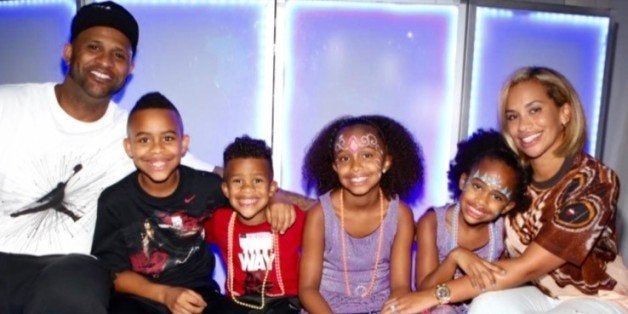 Many times in a household, one parent, if not both, tend to travel for their job. It can be a random weekend trip or travel that's so frequent, it can seem like that parent spends more time away from their family than at home.
In our household, Daddy has a very non-traditional job schedule. He is on the road during the baseball season every other week, and he is home in the "off season." It's a give and take. He is home from October through February and becomes Mr. Mom, helping with school pick-up and check-ups at the doctor's office.
Then, spring training comes and he's gone for six weeks in sunny Florida while I become a single mom and deal with snowstorms and juggling four kids' after-school activities. With CC gone for spring training, I work overtime, but have to remind myself to not let "mom guilt" keep me from doing things for myself, too. I take myself on "day dates." From lunch with a girlfriend to a matinee movie by myself, I have to do something, anything, to give myself a break.
Last year, I attempted to bring our youngest down for spring training. It was a mistake to separate the kids. I thought he would enjoy the one-on-one time with Mommy and Daddy, but missing his siblings seemed to frustrate him and make him uncomfortable without our regular routine.
My children were raised on my husband's baseball schedule, so when people ask how they deal with Daddy's traveling, I always explain that this is all they know. We have found ways to deal with Daddy being away so much. I have become a huge fan of FaceTime and Skype. We no longer have to take pictures or just talk on the phone. We can now have a face-to-face conversation, and both Daddy and the kids feel more connected.
It's best to prepare a child for a parent going away in advance. Experts say that children between the ages of 2 and 7, who have more difficulty with the concept of returning, have the hardest time with departures, according to experts. Making a visual reminder of when a parent will come back helps the younger kids understand. Once older than 7, a child begins to understand that work is something a mother or father has to do.
You can put the trip on the family calendar or give children their own calendar to cross off days as a countdown until the parent will return. Sometimes the trip may be unexpected, so there's no time to prepare. This is when bringing home a small token gift is OK. You never want children to expect a present every trip, but when they are not prepared, the anxiety of waiting can be transformed into excitement as they wait for a gift upon arrival.
I recently created a clothing line for children, CCandy. This endeavor now causes me to travel for sales, design and summit meetings. My kids have not grown up with Mommy traveling for work and it comes as a shock when I'm packing for a trip. They ask, "But who is gonna take care of us?" When I say, "Daddy is," and get a look of confusion.
With both parents traveling, kids have to learn to be receptive to changes. Last year, I decided to bring my oldest to a summit with me. He was fascinated. It was a great way to spend quality time but it also showed that in the future this is what Mommy is doing when she goes away for work.
Follow Amber on twitter and Instagram @AmberSabathia