The violent shaking toppled dozens of buildings throughout the country's capital and the surrounding areas, leaving more than 230 people dead. Among the victims were 21 children and four adults who were at the Enrique Rebsámen elementary school at the time of the tremblor, according to The Guardian.
Mexico is still recovering from a magnitude 8.2 earthquake, the strongest one the country has felt in 100 years, which hit the southern coast just two weeks ago. Tuesday's temblor also fell on the 32nd anniversary of the magnitude 8.0 earthquake that struck Mexico City in 1985, killing thousands.
In a statement issued on Tuesday night, President Enrique Pena Nieto said authorities were focused on rescuing those who were still trapped in the rubble or in need of medical attention. But many others will require assistance in the coming weeks and months.
1. Donate money or supplies
Nonprofits on the ground in Mexico City will need supplies, including water, batteries, medicine, food and canned goods. If you're in central Mexico, you find a list of local donation collection centers here.
2. Share emergency information on social media
Social media has proven to be an important tool during large-scale natural disasters. People in Mexico are using this public Google document to list the names of those who have been rescued. Google also opened its People Finder feature, which helps collect information on victims.
Tweets and Facebook posts with information on open hospitals and shelters were also useful for those affected by the earthquake.
3. If you live in or around Mexico City...
Make your WiFi connection public so that victims and families may get in touch with each other. If you are a medical professional or have experience with architectural engineering, find a disaster zone where your expertise may be utilized.
If you cannot provide professional medical experience, rescue organizations are asking that you stay out of disaster areas for your own safety and the safety of victims who are injured or trapped.
Clarification: This story has been updated to specify that Oxfam U.S. and Oxfam Mexico, two regional chapters of the same nonprofit organization, are only accepting money donations.
Before You Go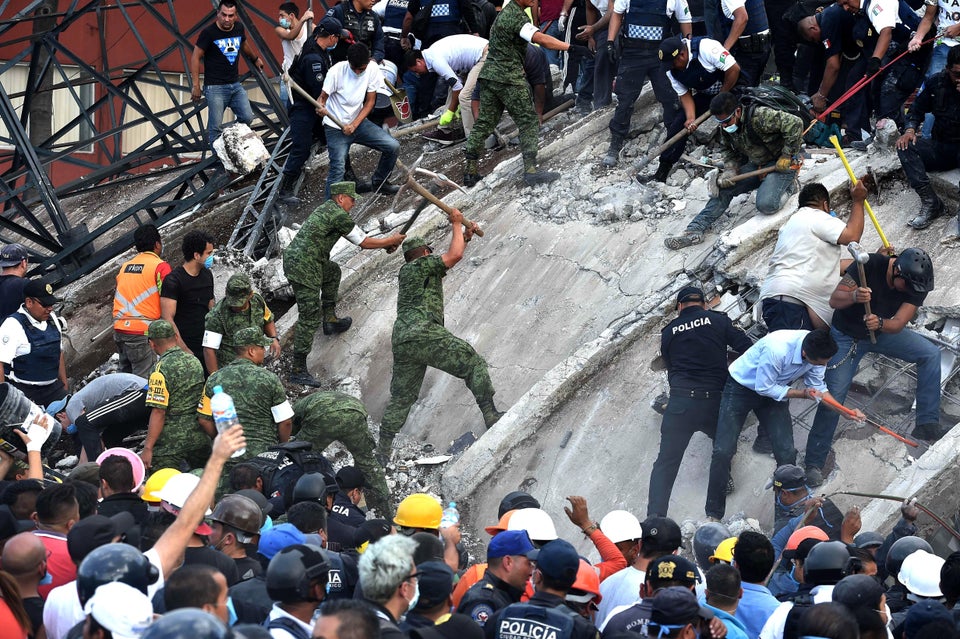 Earthquake Rattles Mexico City
Popular in the Community