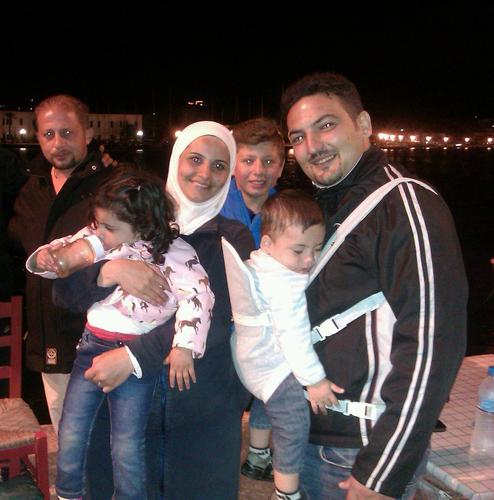 Nour, her husband, and their two children arrived by a dangerous rubber raft on the tiny island of Leros in Greece, just seven miles from the Turkish border, in September. They were traveling with their friend Hamdo and his father (all are pictured above). With their meager supplies chucked aside to make room for more people on the dinghy, they made it to European soil with little more than the soaking wet clothes on their backs--but grateful to be alive.
During the two days they were held at the port police compound in Leros whilst their papers were processed, these Syrian refugees relied totally on the kindness of strangers to survive. Volunteers provided them with water, food, baby milk, and dry clothes. Even after they were released from the compound and moved to the larger refugee camp close by to await a ferry to Athens, Nour would return seek our volunteers for more diapers and baby milk.
Nour, Hamdo and their families all are from Aleppo, Syria. Nour studied at the Engineering Technical Institute. "We had no choice but to escape," she said.
Hamdo was a student back in Syria who wants to be a pilot. He speaks very good English and helped to translate for many other refugees. He had to flee his home country because their house had been destroyed in a bomb attack and his school was also vulnerable--a bomb fell nearby. His father was unable to work as he had been employed as real estate agent, but no one was buying property anymore with a war going on. The family quickly ran out of money and had to move into a small rented flat. Tragically, Hamdo's mother, brother and two sisters are still in Aleppo as there wasn't enough money to pay for them all to escape. They hope that Hamdo and his father will be able to start work in Germany and send money back to the family in time for them to make the journey to Europe next summer when the weather is better and the seas calm again.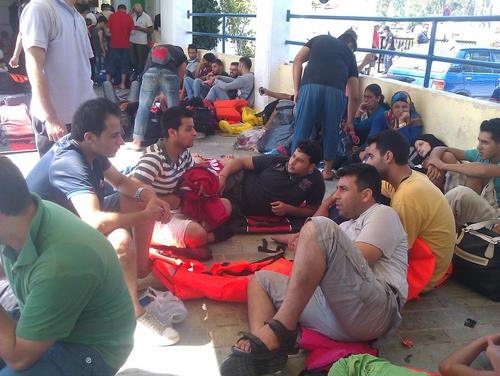 Certainly you have heard about the largest refugee crisis since World War II: The one going on right now, with people escaping warfare and violence in their home countries (Syria, Afghanistan, Somalia, Iraq and other places), desperately seeking safety for their families. Many die during the journey, including children. Now, in the light of the recent terrorist attacks in Paris and California, the US and other countries are threatening to shut down immigration for these refugees, leaving people like Hamdo, Nour and her tiny baby with no place to call home.
The question is: What can you do to help?
Doctors without Borders, the Red Cross, the UN, the International Rescue Committee and other large, multinational NGOs all are doing their best, and donating to any of them this holiday season is definitely a worthy cause. But if you, like me, are more interested in supporting local efforts by volunteers who are on the ground working tirelessly to provide assistance with very little overhead, then read on. Kate Lincoln and the group she works with, the Leros Solidarity Network, are an inspiration and deserving of donations.
In the past few months, thousands of refugees have arrived on the shores of Leros, having voyaged across the water in unsafe rubber dinghies made for 15 people but crammed with 45 to 60. There, they await processing and transit by ferry to Athens, and most move on from there to Germany and other countries in the EU that offer more economic stability and employment opportunities.
At one stage during a ferry driver strike, there were over 5,000 refugees on Leros, an island with a population of 8,000. Can you imagine? And each of these people, most of whom had had their worldly possessions destroyed or cast aside by greedy traffickers, must wait days to be given identification. But without help from Athens or the EU, the island is sinking--they have no way to provide. The refugees are totally dependent upon volunteers and your donations.
Kate Lincoln is a child protection lawyer in the UK who came to Leros this summer on vacation. But upon learning about the refugee crisis there, she felt called to stay and serve. She has been working with the refugees ever since.
Initially, Kate asked at the police station if they needed volunteers to help with the refugee registration process, but she was told no, they did not. She then made inquiries and discovered that there was a volunteer group called the Leros Solidarity Network helping out at the main port of Lakki, where most of the refugees first land. So she showed up one morning and got involved in helping care for these people.
The refugees arrive in desperate need of food and water. So the volunteers first hand out milk to the babies and juice to the children, then food, diapers, sanitary products, and other supplies. Sometimes people are wet, having crossed rough seas, and need dry clothes as a matter of urgency. Volunteers also take people to the local hospital if they have serious problems, but often their poor health is a matter of complete exhaustion and dehydration.
The refugees are "extremely grateful for the volunteers' help," Kate says, and quickly understand that the people assisting them are donating their time and money; these services are not government appointed. Kate explains, "The situation is constantly evolving, not necessarily in a positive way. Obviously the economic crisis in Greece impacts the way the government can respond." The Leros Solidarity Network is always looking for more help from the West, accepting donations of time and volunteer effort. You can reach them via the Leros Solidarity Network - Team UK Facebook Page.
Although Kate did not have prior experience doing humanitarian aid work, she has found that many of the skills she uses at work help very much here in Leros. "For example, I liaise with a number of agencies including UNHRC and Doctors with Borders, communicating concerns and exchanging ideas between the groups, as well as helping to organize volunteers and assessing needs of the refugees," she says.
Kate says that being on the front line of the crisis "brings it home what these people are going through--so of course you want to help." The volunteers always are very busy at the camp with "no time to think." Often they are overwhelmed with the endless need for food, water, shoes, etc. "But then someone says thank you and how grateful they are, and it just makes you realize that you are making a difference. It can be very emotional. Also, it can be heart-wrenching saying goodbye. The refugees are filled with endless expressions of gratitude for our help, and excitement and nervousness as they set forth on the next stage of their journey."
Usually, when Kate bonds with a certain refugee or family, she only has a few days with them before they move on to Athens by ship. But in Hamdo's case, thanks in large part to his excellent English language skills, the two have stayed in touch. He wrote from Germany once he and his father, Nour and her family had arrived there. He said that they had endured a very difficult four-day journey through Serbia, where police had beaten them and many of the other refugees. Fortunately, they felt that Germany was a good country, and he already was learning the language. Hamdo, his father, and his uncle were sharing a decent apartment and he would be starting school the following week. He had high hopes for their new life and reuniting with the rest of their family in the near future.
Photo credit: Kate Lincoln
Related
Popular in the Community