The Trump administration is working on a plan to severely narrow the legal definition of gender, according to a report in The New York Times on Sunday.
The proposed policy, according to the Department of Health and Human Services, would define gender "on a biological basis that is clear, grounded in science, objective and administrable," meaning it would define gender as either male or female as determined by genitalia at birth. Any dispute about an individual's gender would require genetic testing. This would have major repercussions for the transgender and gender nonconforming communities ― particularly in regard to health care.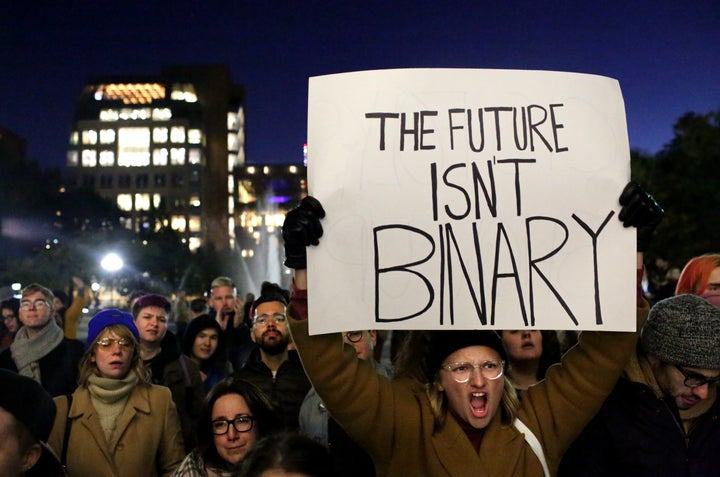 But there is still a lot of work to be done to make sure the trans and gender nonconforming communities are protected. Here are some ways you can help:
Vote
You've likely seen people coming out in droves to encourage others to vote; it's one of the most important things you can do as an American. Casting ballots at the federal, state and local levels affects transgender rights. Check Vote.org for ways to promote turnout in your area. Call your friends and family members nearby to go to the polls with you, and remind those in other states to vote too.
Educate yourself
Being an ally isn't just patting your trans or nonbinary friends on the back or retweeting them occasionally. It's about respect and fighting for their rights. The first step to being a good ally is educating yourself on the basics — knowing someone's pronouns, avoiding stereotypes and learning what policies in government directly affect the trans and gender nonconforming communities. You can find a primer on those issues and more here.
Promote helpful resources and trans-led organizations
While many "prominent national organizations are not led by trans or nonbinary people," many are and need help on both the national and local levels. Some of those organizations, according to Out magazine are: Audre Lorde Project, Casa Ruby, Familia: Trans Queer Liberation Movement, Fierce, Organizacion Latina de Trans en Texas, Southerners on New Ground, Sylvia Rivera Law Project, Trans Latin@ Coalition, Trans Law Center and Trans Lifeline. More comprehensive lists can be found at the Trans Justice Funding Project and Borealis Philanthropy's Fund for Trans Generations.
Sharing numbers like the National Suicide Prevention Lifeline at 800-273-TALK (8255), the Trevor Project at 866-4-U-TREVOR (866-488-7386) and Trans Lifeline at 877-565-8860 can be immensely helpful for those in crisis.
Share the work of trans activists and journalists
Groups like Lambda Legal, the ACLU and the Transgender Law Center are legal organizations that ofter extensive information about trans rights and policies that affect them. Keep an eye on their social media pages to see if they're holding events you can take part in or to share their messaging.
Additionally, sharing the work of trans and gender nonconforming journalists helps spread the messaging being put out by the community for the community. Too often, work about the trans community is written by people who are not members of that community ― which can be completely OK, as long as it's done correctly. This piece in Them does an excellent job of explaining the problem with media organizations not hiring trans reporters to cover trans issues.
CORRECTION: A previous version of this story suggested the organizations recommended by Out were not led by trans or nonbinary people.
Popular in the Community