Giving to others is a habit - a part of an ongoing pattern of behavior that begins early in life. Studies show that when parents talk to their children about giving, it increases the likelihood that the child will give. And when kids see their parents involved with a cause, they are more likely to volunteer in their lifetime. But much of the time, this process seems forced. When parents talk about the importance of giving back in the world or even role model it, the advice can feel like it falls on deaf ears - or doesn't come across as authentic or personally meaningful to the child.
At least that is what we experienced as a family.

But something shifted that pattern three years ago. My husband and I took our son Cooper, a fifth grader, to see his favorite team, the Golden State Warriors. We went to the game early because a friend had invited us to a reception before the game - in support of Nothing But Nets. There, Cooper met Director Chris Helfrich, who invited us to a post-game interview with Stephen Curry. After winning the game (or so we seem to remember), Stephen talked at length about the fight against malaria - every 60 seconds, a child dies from malaria, a disease spread by a single mosquito bite. Malaria is particularly devastating in Africa, where it is a leading killer of children. Stephen explained that Nothing But Nets works with supporters and partners around the world to raise funds and awareness about the disease and advocate for malaria prevention. One net only costs $10. Stephen pledged that for every three pointer he would sink in the season, he would donate three nets to a family in Africa to keep them safe from malaria.

Cooper was mesmerized. At the time, no NBA player he knew had ever gone into this much depth about a cause he cared about. As Stephen talked about the challenges kids and families face fighting malaria, Cooper became increasingly interested. By the end of the interview, Cooper looked both personally touched and inspired. He asked us - could we learn more?

That is the moment that most parents wait for. That moment where your child is asking you to help him to impact the world - to help people he doesn't even know.

We asked Chris how Cooper could help support the cause. We settled on donating Cooper's 10th birthday to Nothing But Nets. Instead of asking for presents, Cooper asked for donations to help Nothing But Nets send life-saving bednets to families in Africa. And twenty of Cooper's friends signed individual postcards to kids in Tanzania - wishing them well, good thoughts, and health. These personal messages were hand-delivered by Stephen Curry who visited Tanzania two short months later. Together, they raised enough money to deliver 210 nets to Tanzania.
The next year, Cooper donated his 11th birthday again to Nothing But Nets but this time creating a special basketball challenge with his friends at Oakwood Athletic Club in Lafayette, CA. And he again went to a Warriors game - but this time, he got to speak to hundreds of Warriors fans and Nothing But Nets supporters about the importance of getting involved.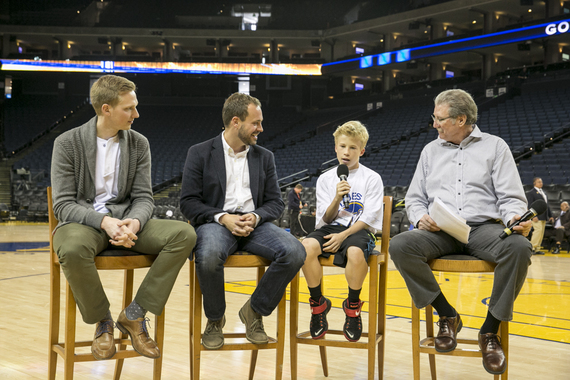 This past holiday season, Cooper asked friends and family to donate their holiday gifts to Nothing But Nets. Through family, friends, and extended networks, Cooper raised more funds but more importantly, he started to believe deeply that his actions really matter - that making an impact on people he doesn't even know is part of who he is. He isn't just a student or an athlete - he is a philanthropist. He is just a kid but he is doing something that matters in the world. And Cooper helped raise $10,200K for NBN, through social networks, so one person's impact has spread.
This month, just before World Malaria Day on April 25th, he donated his 13th birthday again to Nothing But Nets - and then started to redecorate his room - not just with posters of basketball players but of signs and symbols of Nothing But Nets. On his bookshelf sits a framed picture of a child from Africa - a boy not much younger than Cooper - who is part of the Nothing But Nets family. And in some small way, he is part of our family too.

Cooper has created small acts that, when repeated over time, can create big change.

Anyone - from a 12-year-old to a CEO - can make a difference in this world. Cooper's mission is Nothing But Nets. You can join him this World Malaria Day, April 25, and take The Million Nets Pledge.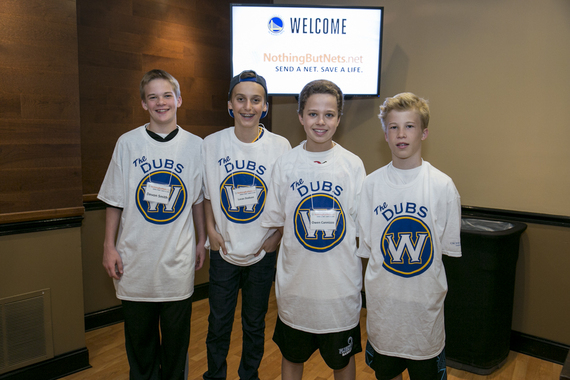 By Jennifer Aaker (and Cooper Smith)
Calling all HuffPost superfans!
Sign up for membership to become a founding member and help shape HuffPost's next chapter