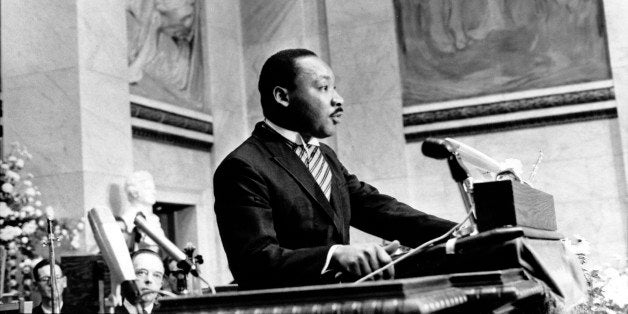 Have you ever considered the legacy that you'd like to leave the world? While this may sound like a lofty question, legacy holds the power to transform you. As a career and legacy coach, I can assure you that this seldom asked inquiry can create seismic shifts in your life.
Martin Luther King Jr. left a legacy of great purpose that inspired huge changes in the world we live in. While not always on that scale, the people in our past that have touched our hearts left some indelible legacy that impacts our lives long beyond their time on this planet. Big or small, a positive legacy can provide an inner peace that comes from knowing that our precious time on this Earth has been well-spent.
Here are five keys to living and leaving your legacy:
1. Create personal sustainability. Sustainability is not just for our planet; you deserve it too. It's hard to leave a lasting legacy if you are burned out, drained by a relationship, or simply focused on the acquisition of more and more. Instead, slow down to ask yourself the deeper questions that can invite big shifts into your world. What needs to be handled, changed or released from your life so that you can make your difference? Living your legacy becomes possible with a sustainable, day-to-day lifestyle.
2. Know the impact you want to have. We all have something that we are meant to contribute to the world. Your contribution starts with being who you are in your life, and then that ripples outward into the world beyond. Understanding what you can contribute and taking ownership of it is one of the keys to fashioning your legacy. A cause that arouses your passion. An organization or institution you treasure. Children you wish to steward. Your purpose doesn't have be to the scale of Gandhi's or Mother Teresa's, it just has to be yours. You'll be happy and leave the biggest impact when you know your purpose and live a life aligned with it.
3. Consider your eulogy. As the Buddhists say, recognizing impermanence is wise. Although it can feel vulnerable to consider your own eulogy, it is a powerful way to get to the heart of the impact you want to leave. If you had to leave this world tomorrow, who would have been uplifted by you expressing your unique gifts and passions? How would you have brightened your corner of the world? What would you want to be remembered for five, ten, or even twenty years after you're gone? Considering your eulogy is not a reflection on death, but rather a way to clarify the purpose by which you live your life.
4. Pay attention to your questions. In his poem, Sometimes, the poet David Whyte implores us to notice "questions that can make or unmake a life/... questions that have no right to go away." Whyte believes in the value of questions and of living in the inquiry. Your questions can reflect a quality or capacity that you are growing into, such as, "how can I be more generous?" Or your questions can address those things that trouble you, such as, "How can we create a sustainable world for the next generation?" Whether directed inward or outward, asking powerful questions is one of the most generative ways you can step into your legacy.
5. Invite the muse in. Think of your life as a work of art. You have all the creativity you need to leave a lasting legacy. And like an artist, you create from nothing. There are no rules to follow. Your legacy doesn't have to be simply a cause, an endowment, or something your community needs. It can be something drawn from deep inside your soul. Your legacy is your lasting gift to the world, so let your creative spirit guide you in building it.
We will all leave a legacy of some kind. So the question becomes whether it will be one of unprioritized good intentions, or one of touching lives? Will it be one of regret, or one of giving to causes close to our hearts? Will it be one of unfulfilled longing, or one of bringing light to our corner of the world? Your legacy may be only a whisper now, or perhaps you already have a sense of it and only need some support to bring it into focus and put it into action.