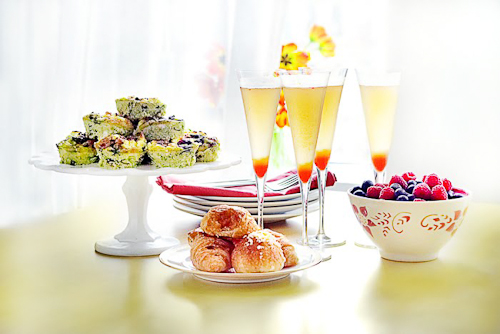 Photo by Signe Birck
With the balmy weather, budding trees, and extra hour of daylight, I'm in the mood to plan a spring brunch party. Because what could be more spring-like than tulips, mimosas, and pastel colors?!
There's something really wonderful about having friends over for brunch (instead of going out and waiting in line for an hour). I love the sunlight streaming in the windows. I love buying fresh flowers and placing them around the apartment. I love drinking bubbly in the middle of the day (who doesn't?!). I love how relaxed everyone is after a good night's sleep, late on a weekend morning. Plus it's really nice to throw a party midday and still have plenty of daylight hours left to enjoy. But most of all, I just love brunch food.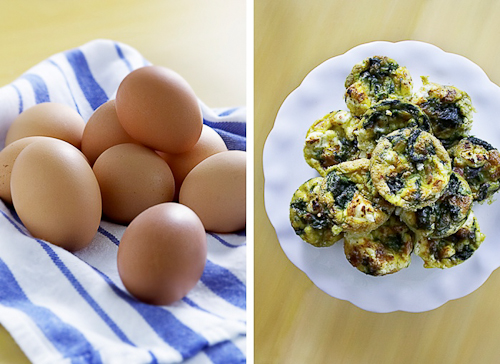 Photo by Signe Birck
When planning a brunch menu, I like to include a little sweet, a little savory, plenty of coffee, and lots of bubbly! And ideally, everything can be assembled in about an hour, so I don't have to get up at the crack of dawn. For a recent party (shot by the talented Signe Birck), I made some delicious little Mini Frittatas with Goat Cheese, Spinach, and Bacon, along with Blood Orange Mimosas, mixed berries, and some pastries from a local bakery.
The frittatas could not be any easier to make: Just whisk some eggs together with your favorite cheese, vegetable, herb, and/or meat (like bacon, sausage, or prosciutto) and bake them in muffin tins for 15 minutes or so. My favorite combination is spinach, bacon, shallots, and goat cheese (recipe below). I've made them a few times now and I love how versatile, easy, and delicious they are. And as an added bonus, they can be served hot or at room temperature.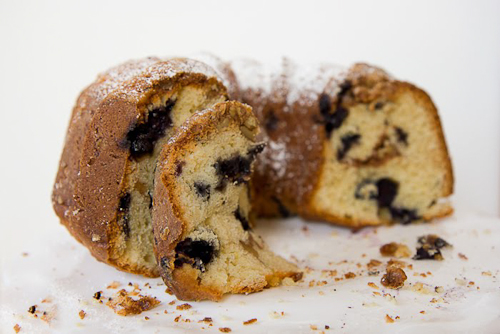 Photo by Brandon Carl
If you're in the mood to bake, try making this Blueberry Streusel Bundt Cake or Banana Muffins with Sour Cream and Walnuts. There's nothing quite like a cinnamon-scented blueberry coffee cake (with plenty of crumbly topping) or moist banana muffins to get your morning off to a good start. If you decide to make a coffee cake, bake it the night before to save on your morning prep time. For the muffins, make the batter the night before and bake them just before the party so they are still warm.
As for mimosas, my favorite kind are made with blood oranges. They aren't around much longer, but nothing beats their deep red color and intense flavor. Of course, if you can't find blood oranges, feel free to substitute regular oranges. But fresh-squeezed juice is a must!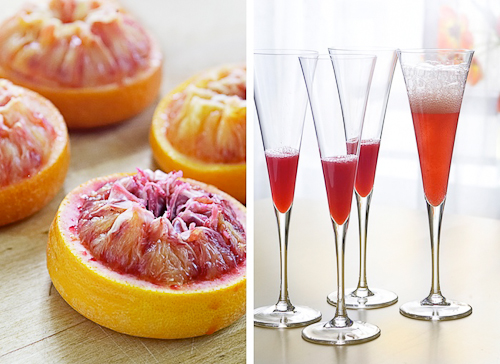 Photo by Signe Birck
I hope you are inspired to have a few friends over this weekend (or sometime soon) for a laid-back spring brunch. Go buy some fresh tulips, a few bottles of Prosecco, some blood oranges (while they are still around!), berries, and your favorite frittata ingredients. If you don't have time to bake, just pick up some pastries or scones. Whatever you make, as long as you've got good friends, good conversation, and plenty of mimosas, you can't got wrong.
Spring Brunch Menu (click on the links below for recipes)
Blood Orange Mimosas
Mini Frittatas with Goat Cheese, Spinach, and Bacon
Blueberry Streusel Coffee Cake
Banana Muffins with Sour Cream and Walnuts
Mixed Berries
REAL LIFE. REAL NEWS. REAL VOICES.
Help us tell more of the stories that matter from voices that too often remain unheard.