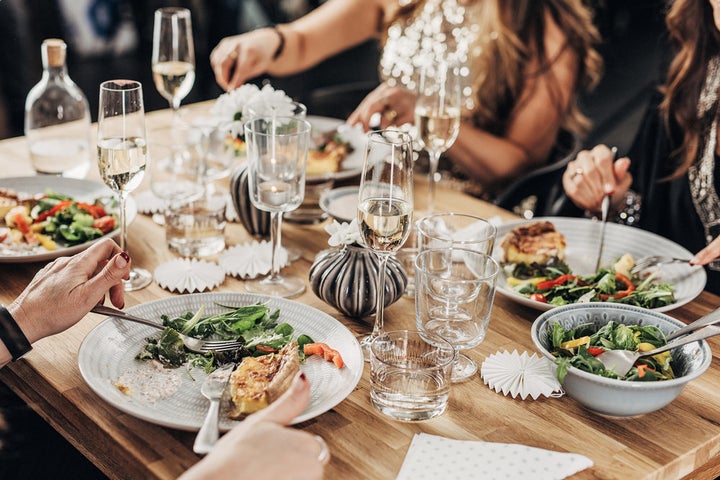 Sharing a meal with loved ones strengthens relationships and creates community. For those who love to host, it can be challenging navigating everyone's dietary needs. It is considered good host etiquette to accommodate your guests if they provide you advance notice of a food allergy, food sensitivity, or preference. Here are five tips to cover a range of diets without added stress.
1. Serve Your Meal Buffet or Family Style
If you know you have a group with various diets, it is best to serve buffet or family style so people can build their own plates with what they want. It will save you energy and embarrassment from having to remember exactly who is eating what. Allowing people to choose what goes on their plate also reduces food waste.
2. Always Be Vegging
No matter if your guest is Paleo or Vegan, veggies are the base of any well-balanced diet. Serve a large colorful veggie dish that is also gluten-free and dairy-free. I like to make a grilled vegetable salad with a homemade vegan pesto or drizzled with a delicious high-quality flavored oil. Serve everything else on the side so people can build their own plates. Include a couple types of protein such as white beans and roasted turkey. A loaf of locally baked bread and some gluten free crackers can go a long way with a selection of grass-fed cheese, butter, and vegan olive tapenade. For dessert try poached pears with the option of ice creams (dairy & dairy-free). You can also set out a beautiful tray of dark chocolates that everyone will love.
3. Keep It Simple
Some of the best meals have the fewest ingredients. Stick to whole food & high-quality ingredients. Let the natural flavors of your ingredients shine. Use herbs and spices to enhance flavor and avoid packaged products or seasonings. I like to put out a couple fancy condiments from the farmers market like a seasonal fruit marmalade or fresh pickles to make the meal feel more special. Better yet, make a few of these items yourself and everyone will be beyond impressed.
4. Be Honest
A lot of cooks have kitchen secrets and might add a pinch of this or a scoop of that without telling anyone. Or you may not think just a dash of something will hurt anyone. Don't. You really don't want to know what can happen if someone accidentally ingests something they are allergic to. It's also diminishes trust in you as a host. Do you want your guests to come back? Print a detailed menu or label your dishes with ingredients so everyone can relax and enjoy the party.
5. Be Accepting
Some people have a difficult time navigating their own diets. It isn't easy living with food restrictions and some are more severe than others.
It's not that your guest doesn't want to try your grandmother's special casserole. They simply might end up in the bathroom the rest of the night or worse, the hospital. Some people don't want to talk about it and they may politely refuse your request to taste something. If someone does say no, simply accept it and move on.
If you feel uncomfortable accommodating someone or you find it too challenging, let them know and invite them to bring in their own dish. Keeping a positive and open line of communication is key. Remember, this is all about connecting with each other and having a good time.