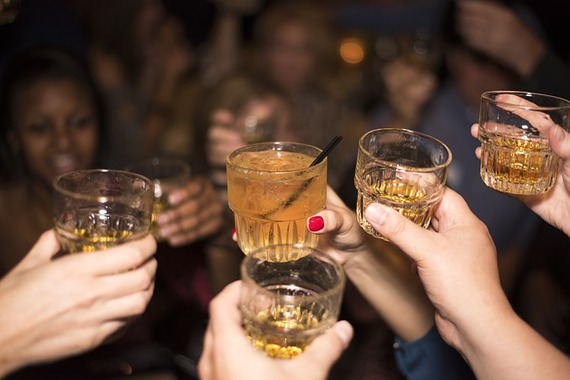 However, the festivities may spiral out of control when employees let loose -- and holiday party lawsuits unfortunately happen more often than they should.
Stimulated by eggnog and company dollars, holiday celebrations can turn into holiday disasters in a matter of minutes. Since there are many liabilities party throwers (and party goers) don't consider, below I've outlined four common liabilities to be cognizant of prior to the upcoming holiday season.
Holiday Office Party Planning: Risks + Liabilities to Consider

1. Blame it on the alcohol.
Most holiday party mishaps can be -- you guessed it -- attributed to alcohol consumption. From vandalism to assault or transportation issues, alcohol can quickly escalate potential threats at a work event.
But, of course, adult beverages have a certain way of encouraging employees to attend work-related functions. While you don't need to eliminate spirits for your holiday shindig, you should consider the following preventative measures to ensure your employees stay safe:
Talk to your employees about basic rules and expectations surrounding alcohol consumption at work events.
Limit free drinks by providing drink vouchers or tickets to employees and their guests.
Select one or multiple company leaders to remain sober to oversee the party and enforce safety expectations.
Talk with bartenders ahead of the party, and encourage them to use best judgment.
Serve food and plenty of water and soft drinks to encourage employees to stay hydrated and avoid drinking on empty stomachs.
The biggest alcohol-related risk takes place after the party when employees are heading home. Your company could be held liable if an inebriated employee chooses to drink and drive. To prevent devastating accidents (and costly lawsuits), offer transportation alternatives for your employees -- such as cab reimbursements or Uber credits.
2. Take the party outside.
Unless your holiday party will take place during lunch and will be alcohol-free, avoid hosting your party in your office.
Instead, you should plan on hosting your party at a restaurant, venue or outdoor center to relay some of the potential risks to the vendor. If over pouring or food poisoning takes place, the responsibility will defer back to the vendor.
3. Deck the halls with...
Your office party should be inclusive of more than one religion to avoid making employees feel left out or uncomfortable. Planning a Christmas or Hanukkah party, for example, could present a threat of religious discrimination against employees who practice other religions.
To avoid potential grievances, opt for a more general holiday theme without religious imagery and topics. However, if the lack of decorations takes the joy out of the celebration, make sure to include all major religious holidays when decking the halls.
4. No one likes an over-sharer.
Encourage employees to share office party memories on their social media profiles, but only if the posts reflect your company's integrity and brand.
If you haven't already, create and implement a social media conduct guide for your team. This manual should specify rules for social media use -- specifically while alcohol is consumed during social business gatherings.
Here are a few helpful tips to include in your social media conduct guide:
Refrain from over-sharing content and images from company social events. While posting to social pages may seem harmless, images and messages can be perceived by followers and third parties (especially stakeholders) as inappropriate or detrimental to your company brand.
Do not contact clients or customers via social media networks or emails while under the influence of alcohol.
Be careful of accidentally (or unintentionally) posting confidential company information. This includes trade secrets, HR information or business changes.
Protect the Party: Insurance Coverage Options
While calculated risk management will help your party run smoothly, you should consider other methods of safeguarding your business from potential risks as well.
Make sure the planning and funding for your event is protected by your existing liability insurance policy. If your policy does not cover liquor liability or other exposures specific to your event, consider investing in special event insurance or host liquor liability coverage. Depending on the type of policy you select, this short-term coverage can protect the event holder against lawsuits arising from property damage or bodily injury.
Ultimately, these risks and liabilities should not deter your business from celebrating during the holiday season. Hosting a corporate holiday party is a great way to foster company culture and camaraderie. Plus, these gatherings are a fun way to wrap up the year and celebrate major company wins.
Related
Popular in the Community