Co-authored by: Kelly Michelson MD, MPH, Amy Basken MS, and Bradley S. Marino MD, MPP, MSCE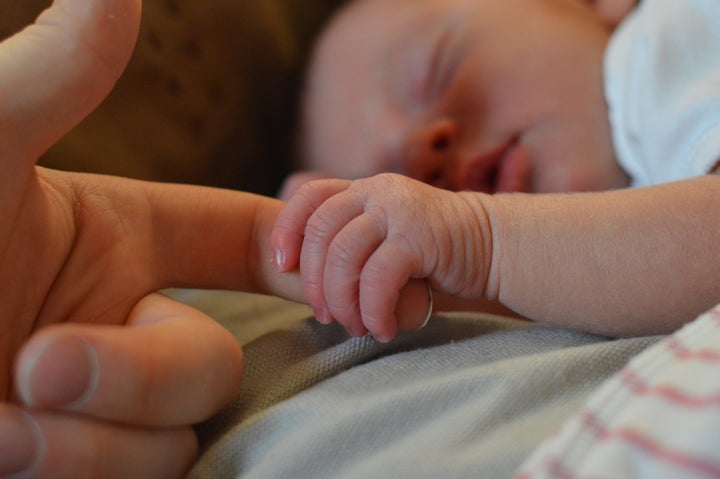 While other pregnant women were planning their baby showers, Esther was searching for the right doctor to perform her unborn daughter's life-saving surgery. Esther's 20-week ultrasound revealed that her daughter had a life-threatening heart defect called total anomalous pulmonary venous return. Suddenly, Esther's attention switched from choosing baby names to finding the right hospital.
"I really struggled with the decision of where my daughter should have surgery," says Esther. "I reached out to the closest surgeon to ask about his outcomes since it is so rare. I felt like I was getting very vague answers. My gut told me to get a second opinion."
Unfortunately, the answers Esther needed are not easy to find.
February is heart health month. And February 7-14 is a special time to improve awareness and education about infants born with heart defects. While we celebrate advances made in treating these fragile infants, stories like Esther's remind us of work still needed.
Congenital heart disease affects nearly 40,000 babies each year in the United States (US). Fortunately, survival for infants with CHD has improved dramatically over that last three decades. From 1979-1993, only 67% percent of infants with the most severe forms survived to one year. This number improved to 83% for infants born from 1994-2005. Today, 75% of infants with the most severe forms and 95% of infants with less severe forms of heart disease are expected to survive to 18 years of age.
However, data show that mortality improvements for babies with heart disease are not uniform across institutions. Centers that perform fewer surgeries on infants typically have higher mortality rates. This was seen in Maine, Florida, and in Pennsylvania when these surgical programs reported mortality rates up to three times the US average. In fact, a commentary by leaders in the field advocates for reforms supporting regionalization of care and dedicated centers of excellence.
Yet, mothers like Esther have no easy way to know which hospital has better or worse outcomes for infants and children with heart disease.
As pediatricians and advocates with over 50 years combined experience, we constantly see how lack of transparency, knowledge sharing, and inadequate reporting can lead to devastating consequences for babies born with heart disease. Parents deserve to know that their child might have a higher risk of dying, simply because of where their child receives care.
In the US, regulatory organizations such as the Joint Commission exist to monitor hospital certification, accreditation, and quality. Unfortunately, there is no mandated public reporting or a central authority that regulates the number of procedures or surgeries a hospital must perform to remain active when caring for babies with heart disease.
In the absence of any mandate, the onus falls on the health care system to provide clear, honest information about outcomes. But such transparency has been difficult to provide.
When advising parents about a surgery or treatment for their child, a physician is obligated to ensure the parents understand the indications, risk, and benefits of the care proposed. This includes revealing differences in care delivery at their institution compared to other institutions. Unfortunately, such accurate outcome information is not always available, leaving physicians to guess (at best) or to knowingly provide inaccurate estimates (at worst) of the quality of care at one institution compared to other institutions. Such lack of transparency leaves parents and children vulnerable.
Standardized, validated outcome metrics for all types of congenital heart disease could provide information that would enable physicians to provide accurate information and help parents to understand the immediate and future risks for their child. Full transparency requires that such data are publicly reported, easily accessible, centralized, and presented by geography/region, and by diagnosis/surgery in a manner that families can access and clearly understand with adequate context to support accurate interpretation.
In Esther's case, it was important for her to know the number of surgeries performed at a specific hospital, data about how many children like hers die, and whether there was a dedicated team with cardiac anesthesiologists and cardiac intensive care unit physicians to ensure that her child receives optimal care.
But, we must do more. Public reporting of congenital heart disease outcomes is in its infancy.
We need organizations to work together in a unified fashion to establish a centralized repository for reporting and collating outcomes data similar to what has been accomplished in England. We also need improved education for both clinicians and patients about existing and new resources and data to assist decision-making.
Esther did get a second opinion. She chose a center that was transparent about their outcomes, which allowed her to make an informed decision for her child. Esther reflects, "I wish every parent had this information in hand when meeting the medical team. Having access to information gave me courage."
Parents like Esther deserve access to the best information possible when deciding where to obtain care for their child. Advancing mandated public reporting, improving information sharing, and transparency will make this happen.
Patient permission obtained to share story.
Dr. Angira Patel is a pediatric cardiologist at Ann & Robert H. Lurie Children's Hospital of Chicago, Assistant Professor of Pediatrics and Medical Education, and member of Center for Bioethics and Humanities at Northwestern University Feinberg School of Medicine.
Dr. Kelly Michelson is pediatric intensivist at Ann & Robert H. Lurie Children's Hospital of Chicago, Associate Professor of Pediatrics, Julia and David Uihlein Professor in Bioethics and Medical Humanities, and the director of the Center for Bioethics and Medical Humanities at Northwestern University's Feinberg School of Medicine.
Amy Basken is a founding member and Director of Programs of the advocacy group Pediatric Congenital Heart Association. She is a nationally recognized speaker on the importance of data transparency.
Dr. Bradley S. Marino is a pediatric cardiologist and intensivist at Ann & Robert H. Lurie Children's Hospital of Chicago and Professor of Pediatrics and Medical Social Sciences at Northwestern University Feinberg School of Medicine.
Popular in the Community