Last week in Research Triangle Park, North Carolina, network engineers helped 50 student robotics teams compete in Aerial Assist, a game in which students program and operate robots to toss as many balls into a goal as possible -- in just 150 seconds. Similarly, in San Jose, a group of women engineers at Cisco hosted 70 middle-school girls earlier this year as part of "National Engineering Week" to give them a glimpse into how cutting-edge technologies are developed in R&D labs.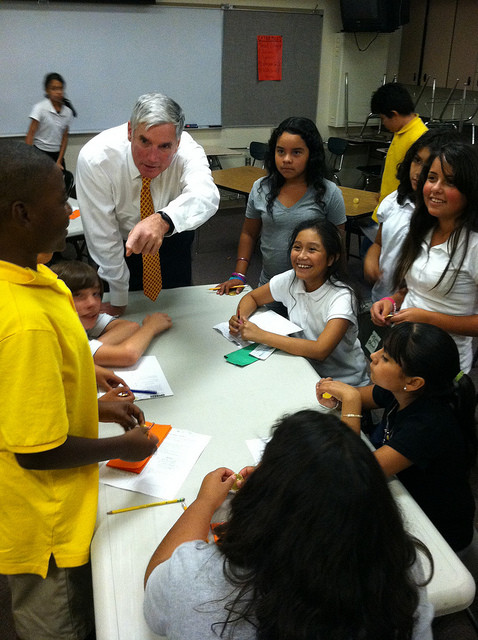 Cisco employees are among Citizen Schools' largest group of Citizen Teachers, with more than 44 volunteers offering 23 apprenticeships in 2012 alone.
These engagements, part of the US 2020 initiative announced at the White House Science Fair last year, reflect the urgent need to do more to encourage students to go into Science, Technology, Engineering, and Math (STEM) professions.
Three things are true in STEM: There are a lot of job openings. These jobs pay well. And there are not enough qualified people to fill these jobs. Today, the technology industry employs 6 million people. By 2018, the U.S. will face a projected shortfall of 230,000 qualified advanced-degree STEM workers. Meanwhile, the Bureau for Labor Statistics predicts that STEM jobs will grow 55 percent faster than non-STEM jobs over the next 10 years. The flow of talent into the STEM pipeline is limited. Without a dramatic change, the pressure will weaken further, and the flow of talent will slow to a trickle.
The simple truth is that we have a growing STEM gap, and we need a nationwide commitment to address the challenge. So what should we do to encourage students of all backgrounds to go into STEM?
We need to put technology in the hands of our young people at an earlier age by connecting every classroom in America to high-speed wireless broadband within five years. We need to develop and scale new and innovative models for teaching math and science, including programs like the Mind Research Institute, which has helped hundreds of thousands of students in underserved communities to double and triple their math proficiency. We need career training for those looking for a job in technology through programs like the Cisco Networking Academy, which teaches students to design, build, maintain and secure computer networks.
But beyond providing the necessary technical skills, there's something more. As William Butler Yeats said, "Educating isn't the filling of a pail, but the lighting of a fire."
We need to light the fire and inspire our young people to explore the incredible world of science, technology, engineering and math. We need to encourage young people from all backgrounds to participate in hands-on STEM projects. These are chances to experience life-changing moments of discovery with mentors from the STEM professions.
It's difficult to dream about something that you have never seen. It's tough to imagine yourself as a scientist in a laboratory if you have never been in a laboratory or met a scientist. National surveys have found that nearly two-thirds of teenagers said that they may be discouraged from pursuing STEM careers simply because they either do not know anyone who works in these fields or they do not understand what people in these fields do. Student interest in eighth grade, more so than achievement, has been found to be the strongest predictor of a student graduating with a STEM major in college.
Stepping Up To Address The Issue
The good news is that professionals in the STEM fields are responding. Engineers and technology professionals across the nation are leaving their cubicles, offices, and workspaces in growing numbers to mentor young people and give them a hands-on look at what STEM is all about.
These engagements are being fostered by US2020, which brings together schools, committed companies and leading nonprofits to mentor students of all backgrounds and expose them to STEM. This concept grew out of an urgent White House call for an "all hands on deck" approach to STEM. The goal: matching 1 million STEM mentors with students by the year 2020. And together with its founding corporate partners, including Cisco, Cognizant, Raytheon, SanDisk, and Tata Consulting Services as well as leading nonprofits partners, US2020 is making progress toward that goal.

Organizations like Citizen Schools have seen dramatic increases in student interest in STEM careers. After working with STEM mentors for at least a semester, 80 percent of Citizen Schools' students said they were interested in STEM careers. This compares to the national average of just 32 percent of eighth graders expressing interest in a STEM career.

For Cisco, the issue has become so significant that we have pledged to encourage 20 percent of our workforce to spend 20 hours a year on STEM mentoring by the year 2020, with a particular emphasis on encouraging women and girls to enter STEM. This is especially important given the steep decline in the number of female graduates with computer science degrees over the past three decades. According to the U.S. Department of Education, the number of computer science degrees awarded to women peaked at 37 percent between 1984 and 1985. Compare this to only 18 percent of the degrees awarded to women in the period between 2008 and 2011, and it is easy to see the dilemma STEM employers are facing today.
Innovation and Creativity is the Future
Clearly, there is hope. We see it on the faces of the students who come to our campus and in the excitement of their mentors, who are encouraging creative thinking and analytical problem solving.
As it turns out, creativity is the biggest mismatch between what schools offer and what the workforce needs. In 2010, IBM surveyed 1,500 CEOs; they identified creativity as the number one "leadership competency" of the future. In 2011, LinkedIn reported the word "creative" was the most commonly used word in the profiles of its members. And there is evidence that the creativity of America's children has been in decline since the mid-1990s, according to a study done by Kyung Hee Kim at the College of William & Mary.
That's one reason why US2020 focuses exclusively on STEM mentoring that is experiential and hands-on with the specific goal of building creative and innovative thinking.

The bottom line is this: US2020, and initiatives like it, are helping address our STEM shortfall through high-quality mentoring, engagement in earlier years of education and addressing the "creativity crisis." But we must act quickly.
"Help Wanted" signs are taped to the doors of America's STEM companies. Yet not enough prepared people are walking through those doors. Creating the STEM talent pipeline the nation needs will require students from all backgrounds and it will require deep commitments from the private and public sector.
US2020 and its partners like Cisco believe that our nation can meet this challenge head on, increasing the numbers of students going into STEM, while at the same time, building a stronger and more dynamic U.S. economy.
The time to act is now.

Cisco Corporate Social Responsibility education programs and partnerships improve access to quality education for students worldwide using the combined power of network technology and human collaboration. From the Cisco Networking Academy to mentoring at-risk inner-city students through programs such as Citizen Schools, we help prepare people of all ages to succeed in a global, technology-driven society. For more information visit: http://csr.cisco.com/pages/education
Related