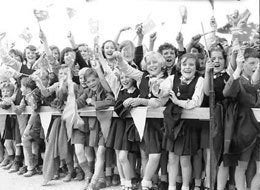 "I slept and dreamt that life was joy. I awoke and saw that life was service. I acted and behold, service was joy."
Rabindranath Tagore
The joy coming from America on Inauguration Day touched me and warmed my heart. Now the parties are over, does the joy need to evaporate? As President Obama pointed out there are many real issues yet to be resolved.
Is it reasonable to expect more joy out of life when so much turmoil is happening, and the daily news continues to cast its shadow over us? And is it even acceptable to be joyful in the midst of others' suffering? After all, misery loves company, does it not?
Misery does not necessarily love miserable company. In my experience, when I approach a person who is suffering with a smile, it seems to help them to relax and to feel better. The gentle touch of a hand, as Princess Diana showed so often, communicates a great deal, for both giver and receiver, and brings a moment of joy for each.
"You can bring the blessings of who you are to any situation simply through your loving and compassion. Smiling at people is a great service. Bring forth that place from within you that smiles upon the world and smiles with compassion upon someone in need."
John Morton from: You Are the Blessings
Our first responsibility is to ourselves so that in our giving, we give without expectation or need of reward or acknowledgment. When we first fill our own cup, we give from overflow. Why is this important? Each of us, without exception, is I believe richly endowed with gifts, talents, resources and love.
We have a responsibility to the love that we innately are, that is to say an ability potentially to respond in all circumstances with our love. As we mature, we no longer need to look to our parents, or parental figures, to supply love to us. We do need to learn to first accept and love ourselves and having done so, we may then freely give of our love to others.
This I believe is one challenge that we are now meeting, not just in America but everywhere. A mature community made up of adult individuals will make President Obama's task much easier. Maturity is, I have found, less a matter of years lived; more an attitude of mind. The mature of all ages embody a wonderful youthfulness of spirit.
For more joy through service:
1. Cultivate attitudes of joy in yourself
Appreciate the blessings that you are and that you have, and feel grateful for them. Choose to smile when you go to sleep, and when you wake up in the morning.

2. Do more that brings you joy
What are the simple things you can do that bring you joy? Walking in the fresh air perhaps, daily meditation, watching an inspiring movie or one that makes you laugh, for example.
3. Cultivate an attitude of serving others
When you assume a serving frame of mind, it is less likely you will feel needy, despairing or dependent upon outer, material circumstances for your well-being and happiness. Giving gives you freedom.
Whether at home or at work, how could you become more mindful of others' needs?

4. Find out what others need - and commit some time to giving it
Opportunities to serve others will not necessarily fall at your feet. Being pro-active is where you can make a real difference. You can experience great joy through performing simple tasks, like filling envelopes, cleaning, filing for example that take a load off people running a charitable organization,
"Joy can be real only if people look upon their life as a service, and have a definite object in life outside themselves and their personal happiness"
Leo Nikolaevich Tolstoy
One of the ways I raise my own quota of joy is through looking into the eyes of infants. The joy of an infant does not disappear as a person grows up. It may get hidden for a while, but it can always be once again revealed, as I saw clearly on 20th January this year when the extent of joy was so apparent.
Joy is inherent in the soul of each one of us. In joy, we are more creative and resourceful. With joy, we can produce better results. Joy will make the tasks ahead of us all much easier.
"Those who bring sunshine into the lives of others, cannot keep it from themselves."
James M. Barrie
We may not be born to greatness, but in our own ways, we can achieve it. Not for recognition by others. Simply by the peace of mind that comes when we know we have done our best, as minor contributors towards a much larger solution. In that, we raise our joy in celebration of the expressions of love that we are.
"Everybody can be great... because anybody can serve. You don't have to have a college degree to serve. You don't have to make your subject and verb agree to serve. You only need a heart full of grace. A soul generated by love."
Martin Luther King, jr.
Would you like more joy in your life? How could you create more joy if you wanted it? Have you ever found joy in serving others? I would love to hear your thoughts and ideas.
For information about Clear Results Consultations and Training; for a free copies of the Clear Results Self-Assessment, or The Guidelines For Possible Dream Meetings, contact clearresults@mac.com.
Popular in the Community