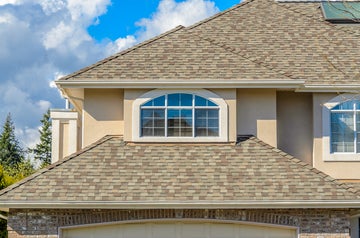 When assessing property for flipping, knowing a bit about roofs and the basics of how to inspect a roof will help you prevent overlooking a costly expense. Depending on the material, square footage, type of roof, slope, architecture, and number of interruptions such as chimneys, skylights, dormers, and vents, a roof replacement can cost thousands of thousands dollars. And because many buyers hire home inspectors, an overlooked needed roof replacement can come to light during the selling process and cost you a property sale.
What to look for When Checking a Roof
You can hire a property inspector that includes a roof inspection when you purchase a property or do this yourself. However when you are evaluating a property before purchase and because you will no doubt check out dozens if not hundreds of homes for sale when looking for deals, hiring an inspector for each one would soon eat all your profits. You can learn the basics of how to inspect a roof, limit unwanted surprises, and save thousands in the flipping business.
While any documentation that tells when the roof was installed or last replaced on a property is valuable, you will still need to check the roof. A visual roof inspection requires knowing what to look for. You can climb up to the roof, use binoculars to inspect the condition or even a drone mounted camera. In addition to the roof, inspect under the eaves and overhangs, the fascia, and guttering for any water damage. Check around all roof interruptions such as skylights, dormers, chimneys, roof mounted antennas or satellite dishes, and vent pipes.
When you are examining the roof also check for:
chimney caps and chimney mortar joints
obsolete antennas and satellite dishes
vent stacks
solar panels
trees that are coming into contact with the roof and need trimming
any debris
gutter systems and condition
House Interior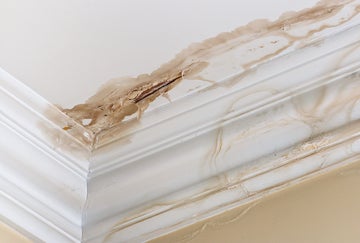 You also want to check the interior of the structure for water damage and mold. Look at:
the attic
ceilings and walls
around chimneys, vent stacks and
skylights for any water damage or mold
the tops of cabinets and the back
walls inside cabinets
closet ceilings and walls
around chimneys and skylights
roof mounted exhaust fans
How to Inspect Roof Types
The first protection any house has against the elements is the roof and there are a variety of roofing materials. You can learn a few basics about each material that will help you spot damage that needs to be repaired or roofing that should be replaced.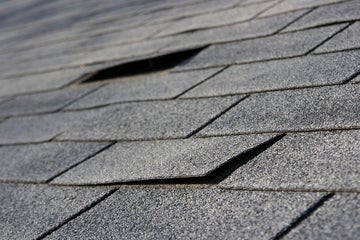 Asphalt roofing surfaces are granular. When asphalt shingles age they become brittle from the sun and other elements. Then the granules can detach from the shingles. Check in the gutters and at the end of the downspouts for asphalt granule deposits. Inspect the roof for spots that look bare where all the granules have detached and been washed away. Also inspect for missing, torn or warped shingles. When the edges or corners of shingles are rising or curling, they have outlived their usefulness and will need replacing. Also look for indentations or punctures from hail damage. While homeowner's insurance usually covers damage from hail, if the property has been vacant or a previous homeowner collected insurance money and did not have the roof replaced or repaired, you could be paying either for repairs or a new roof. In some areas placing a new layer of shingles over the old is allowed by code. There is usually a limit as to how many times this can be done such as 3. So if a property needs a new roof and you can simply place a new layer of shingles over the old you save a lot of money. But a roof that needs replacing and has reached the legal number of shingle layers will require a tear off and all old layers of roofing will need to be removed. This can be far more costly than simply adding shingles so knowing how many layers are on the roof and the legal limitations can be valuable. You can commonly determine how many layers are present by examining the edge of the roof.
Metal roofs are commonly steel, copper, aluminum, or galvanized iron. Most metal roofs have a life expectancy of about 50 years. Perforations, pits, rust, or corrosion can help determine the age of the roof. Check the seams, corners, and joints for loose, dried out, or peeling caulk or other seam material.
Slate or Clay Tile Roofing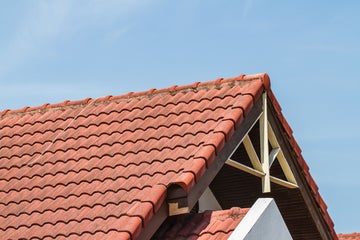 There are 3 most common tile roof materials and these are concrete tile, clay or terracotta tile, and composite or light weight tiles. The most common tile is made of concrete and you can identify these roofs by the thickness and absence of color on the bottom or underside of the tiles. They often have 75 years or lifetime warranties. However they can leak sooner depending on the quality of workmanship. Local codes and the area of the country will require these tiles be attached with nails, construction adhesives, battens, screws, foam, or a combination of fasteners.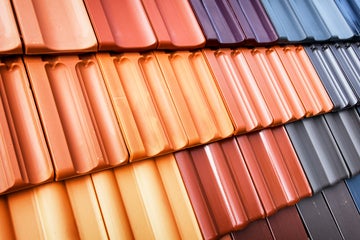 Composite tiles are not as popular and are made to resemble clay tile. They are principally installed on homes that lack the structural ability to hold much heavier concrete. Composite tiles also cost less to install.
Clay tile comes in two types: terracotta and sand cast. Terracotta tile look just like the material of clay flower pots. Sand cast tiles come in different colors.
Slate and clay tile roofs and even cement shingles are designed to last as long as the structure when cared for properly. However they can be broken by hail, ice, or by walking on them. Avoid walking on these materials and use a drone or binoculars to look for any missing tiles or ones that are chipped or broken.
Wooden Shakes or Shingles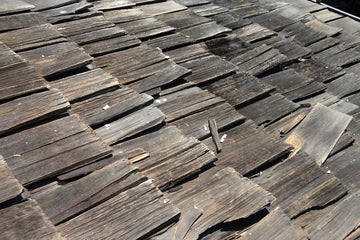 This is another roofing material you should not be walking on. Inspect these roofs from a ladder, with binoculars or a drone camera. Wooden shakes are split by hand, and wood shingles are sawed and tapered. Weather will deteriorate wood shakes and shingles over time. See if there are missing rotted, warped, or broken shingles or shakes. As a general rule of thumb if a third or more of these roofs are damaged, the whole roof needs replacement.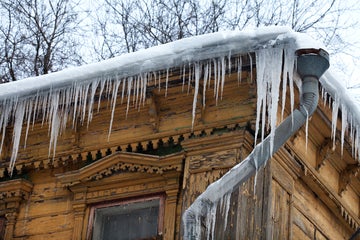 Look for water damage on fascia and exterior walls caused by gutters leaking (usually at the seams.) Also inspect the roof edge above the gutter in climates susceptible to freezing. Gutters can be blocked with ice and as it melts water can back up under the roofing surface causing substrate damage.
Note: Check all downspouts and where water is being diverted on the ground. Many basement leaking problems can be relieved and foundation issues prevented by diverting roof water away from the building.
When you spot gutter or roof damage you will need to get repair estimates. Keep a trusted roofing contractor in your contacts file to further inspect any damages you spot.
Knowing the fundamentals of how to inspect a roof and with experience you should be able to more often than not determine if a roof needs repairs or a complete replacement. And the difference can be between a few hundred dollars for a repair or thousands of dollars for a replacement.
Support HuffPost
The Stakes Have Never Been Higher
Related
Popular in the Community