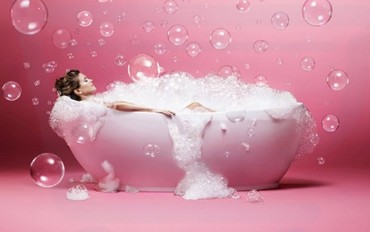 Written by Angela Mujukian
When her world comes crashing down how does a woman stay calm? Well, patience is a virtue. Whether you're going through a transition period in your life, find yourself in a tough situation, or it's just not your day, remember to keep calm.
You think this sounds absurd right? What should you do when everything seems to be going wrong? How can you cope? How can you keep moving forward and not let this one bad decision or moment impact your day-to-day workload? Usually, overreacting in the moment or even dwelling on the past can lead to distractions and mistakes, ergo, how can you learn to control yourself in order to accomplish today's tasks? Also, how can these mistakes be prevented from happening in the first place?
The secret is to take care of yourself first before you can take care of the rest of the world.
Here are three simple tips on how a woman keeps calm when life doesn't necessarily go the way she planned.
1. She takes warm baths for an uplifted spirit.
When you're having a bad day, try taking a bubble bath. According to science, a lavender and sea salt combination are known to relax the body. A warm bath can not only alleviate pain and anxiety but also rejuvenate your best self after a challenging day at work. If you take the time for self-care, then you can give the world everything you have to offer. Consequently, a more calmed self will allow a woman to get the job done effectively.
2. She does hot yoga for a fierce mind.
Who wants to sit in a steaming hot room dripping in sweat? Don't be so negative if you've never tried it, you just might like it! If you find yourself always feeling anxious, then yoga can change your mood. All it takes is one hour to get away from everything and concentrate on yourself. Yoga disciplines the mind and lets you focus on your purpose and intention in life. Yoga builds mental strength and focus, teaching you to be selfless. Yoga teaches you to give to the world your best and let the world give back. Since a healthy woman is a happy woman, yoga ultimately promotes a feeling of calmness.
3. She lives by the words, "see no evil, hear no evil, speak no evil," for a kind heart.
Girls compete with each other while women empower one another. As females with a voice, we should be applauding each other's accomplishments, building each other's confidence and spreading kindness through compliments as role models for the next generation of leaders.
Your purpose in life should be to help others, harness your innate goodness, and spread the love. Your tenacity will allow you to get the job done and make an impact. If people are talking about you in a negative light, then ignore them. If someone is trying to hinder you from your goals or undermining your greatness, then detach yourself from them. Negative criticism may be a self-reflection of the person attempting to drain your energy and dim your light. Therefore, surround yourself with positive people who celebrate your achievements, lift your spirits, and encourage your dreams. Lastly, let your actions speak louder than your words. If you've got something to prove, stop telling people you're going to do it and start doing it. Start reproducing results. You can keep calm knowing your results speak for themselves.
Choose kindness because love is more powerful than hate. Finally, all you can do is give the world your best self, be kind, and love all. Now that you have three simple tips, use them wisely, remember to keep calm and be your best self!
Angela Mujukian is an Author, Mentor, and Medical Student. She is the co-author of the best-selling book series, "20 Beautiful Women" widely known for #20beautifulwomen challenge (over a million women participated) and was featured in the Huffington Post, Buzzfeed, and many other sites. As a first-generation Armenian-American and UCLA graduate, her passion for helping people in all aspects has always been quite clear. As a blogger for Huffington Post and Elite Daily, she aims to spread global awareness of women's rights and empower the #62MillionGirls who are voiceless.
Calling all HuffPost superfans!
Sign up for membership to become a founding member and help shape HuffPost's next chapter