With a little help from their imaginations, kids drift off to lands of make believe and travel to exciting new places, where a couch can turn into a pirate's ship and a blanket becomes the mightiest superhero cape. Classic play is alive and well, and this type of play is more important than ever before. Although it feels like the toy aisles are overrun with tech toys, there's plenty of ways to keep kids in touch with their imaginations.
Toys like traditional role-play items help kids take their imaginations to full heights, and there are tons of items to help keeps busy (especially with the school year ending in just a few months). Best of all, these toys kick the fun into high gear, so you'll never hear the dreaded, "I'm boooored!"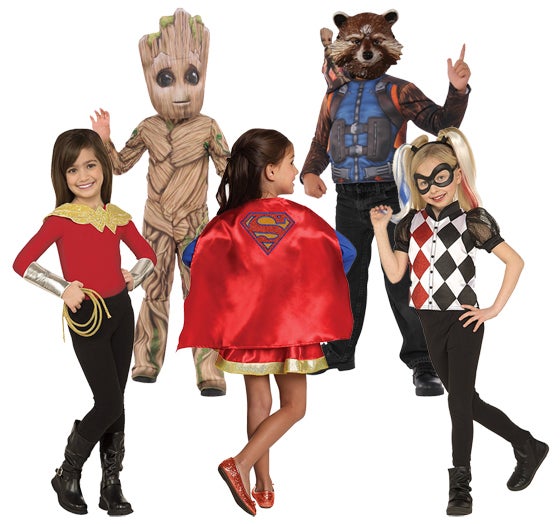 Kids don't always have to be decked out in full costumes to pretend to be anyone they want. Imagine by Rubie's, the dress-up costumes and accessories division of leading Halloween costume manufacturer and designer Rubie's Costume Co., inspires imaginative playtime year-round.
This division of role-play items feature high-quality designs from the most popular pieces of traditional Halloween costumes, such as muscle chest tops, dual-sided capes, masks, and other accessories. I love that kids can wear Imagine items with their own clothes, so they can be comfortable in their own styles.
Imagine offers designs to fuel playtime such as ninjas, pirates, police officers, and more, but some of the most popular trending items (and my favorite) include the licensed superheroes of the Marvel and DC Comics universes.
With Guardians of the Galaxy Vol. 2 coming out next week, kids can dress up as their favorite out of this world Guardian. The Rocket Raccoon Dress Up Set includes a costume top, stuffed Groot that is attached to Rocket's shoulder with Velcro, and a plastic half-mask. The Groot Dress Up Set comes with a printed jump suit and a foam mask (because we are Groot after all!). Or, kids can be Star-Lord with his iconic mask, which looks just like it does in the movies and original comics.
Kids can also dress up as their favorite DC Super Hero Girls characters with adorable dress up sets. This hot property just launched last year, and features a new interpretation of iconic DC Comics characters in a high school setting as they learn to hone in on their super powers. Available in Harley Quinn, Wonder Woman, and Supergirl styles, each set has a special feature that is unique to that superhero. The Harley Quinn dress up set comes with a costume shirt, eye mask, and headband with attached pony tail; Wonder Woman set comes with a belt, lasso, and signature foam gauntlets; and the Supergirl set has a cape and skirt. Kids will be excited to get their capes on and learn what it takes to be a true superhero.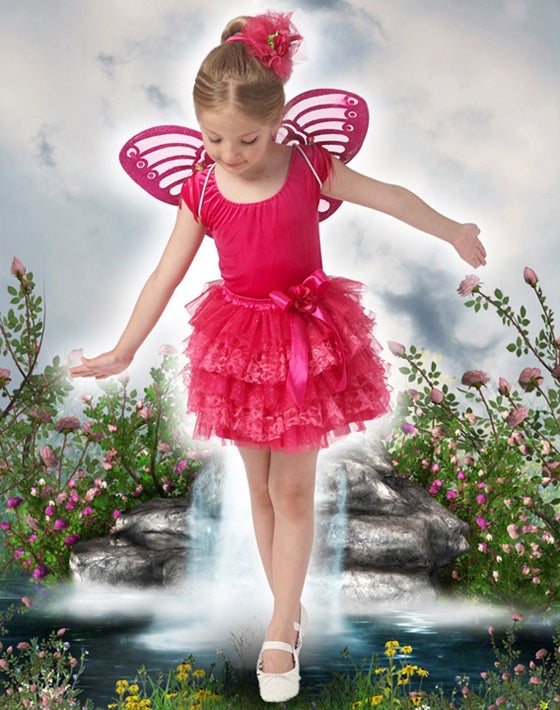 Just Pretend Kids also offers an array of dress-up clothes, and some of my favorites are the princess styles (there's a bit of fairy princess in all of us!). Made for true fairytale dreamers, kids can take their pretend play on land, or even into the ocean with the Lacey Collection Tutu and Enchanted Sea Princess costumes.
The Lacey Collection Tutu features a silk skirt covered in layers upon layers of tulle and frill. There are plenty of gorgeous details that even the youngest of kids will appreciate, from the floral designs to the large bow in the middle of the skirt.
The Enchanted Sea Princess costume takes dress-up fun under the sea. The one-piece features a top with metallic turquoise, scale-like patterns, and a green center. The shoulders of the costume are blue and are made of a puffy, tulle material. Covered in blue metallic sequins, the skirt runs right above kids' ankles and has pleats to look like a mermaid fin. The bottom portion of the costume—or the mermaid tail—has tons of layers of blue tulle with glitter designs that look like scales.
And, since, no fairytale is complete without a little magical glitter, the sea princess and tutu have enough glitter to leave a trail of enchanted dust. Kids' imaginations are guaranteed to take them to far-off lands or magical worlds with these fun sets.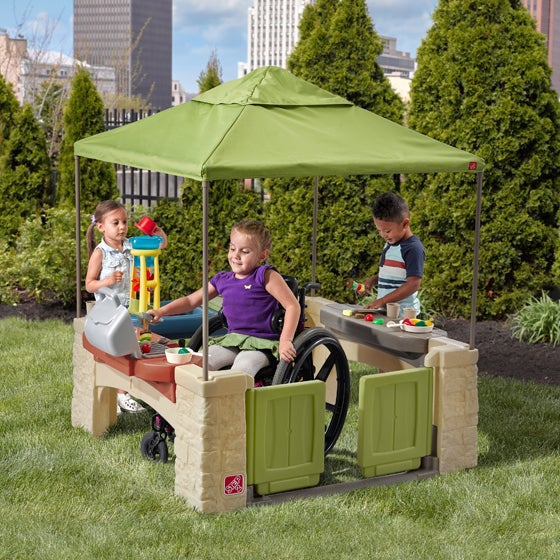 Outdoor play doesn't always necessarily mean active play. Kids can have just as much fun roleplaying outside, and when it comes to impressive outdoor sets, it's hard to beat Step2.
Kids can be the coolest on the block and host their own backyard parties with the All Around Playtime Patio with Canopy. This playhouse features a stone-stacked design and neutral tones to fit any backyard. Not only is it spacious enough for multiple kids to play inside at once for social and interactive play, but it also has a removable adjustable canopy to block out the harsh sun or light rain drizzles.
The set also comes with tons of accessories for kids to host their own dinner plans. The kitchen grill can be used to cook up their favorite food, and can then serve it on the snack table on the dish set for the ultimate game of restaurant. While kids are waiting for food to be served, they can play in the sand and water area. And, when dinner's over, kids can do the dishes in the sink with a swiveling faucet (not it!).
Laurie Schacht, also known as The Toy Insider Mom, has covered the toy industry for more than 20 years. The Toy Insider is a year-round resource for parents, grandparents and other gift-givers looking for the best toys for their kids. The Toy Insider also produces an annual holiday gift guide featured in Family Circle magazine. Visit thetoyinsider.com for the latest toy news, reviews, giveaways, and more.
Calling all HuffPost superfans!
Sign up for membership to become a founding member and help shape HuffPost's next chapter
This post was published on the now-closed HuffPost Contributor platform. Contributors control their own work and posted freely to our site. If you need to flag this entry as abusive,
send us an email
.