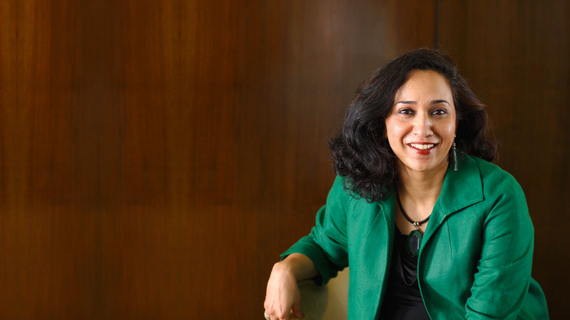 Why I Care So Much
I am a single mother with two sons - a teenager and a pre-teen. I have always had a very hectic career and yet have enjoyed myself thoroughly and never regretted a moment.
Both of my sons were born when I was working long hours in a bank. Actually, I was happy that I was so busy working during my pregnancy because it kept my mind off the aches and pains. However, coming back when the baby was just 3 months old was not easy at all.
Today, I lead Accenture Operations in Philippines- a team of 25,000. It is not always easy being a mother and having a tough job, and I am not an exception.
What keeps me going is having a wonderful career counselor at work who inspires me, supports and cares about me.
One of the things I like about him is that he believes in women and in gender equality. But at the same time, he makes it clear that he will give a role to a woman not because she is a woman, but because she earns and deserves it more than others.
He has given the most difficult roles to women, and I don't think we have let him down.

Making It Work for Women
Philippines can be called a matriarchal society as women have worked for years to support their families, many of them having to go to other countries, leaving their families behind.
As I work with the Filipina women, what amazes me is their resilience, their patience and their hard work.
Accenture in Philippines employs more than 40,000 people, and more than half are women who support their families.
However, when we looked at our young women employees, we realized that many of the young moms were struggling getting back to work.

In one of my recent trips to Chicago, I met Ellyn Shook, Accenture's Chief Human Resources Officer. In a casual conversation, I was telling her how we needed to increase the maternity benefits in the Philippines. Ellyn had been instrumental in creation of initiatives in several other countries. Her response was immediate - she asked me to go back and work on it with the other leaders in Philippines and promised her support.
The entire Philippines leadership team and our HR leader was extremely supportive, although this change would mean a significant financial impact to the business.
We decided to go ahead with the change of maternity benefit from 60 to 120 days of paid leave. We have been the first to make this change in the industry in Philippines.
Calling all HuffPost superfans!
Sign up for membership to become a founding member and help shape HuffPost's next chapter