Interview with Life is Good founders Bert and John Jacobs.
After five years of being dead broke, of living out of a van, and yet another night of getting kicked off of a college campus without selling any t-shirts, most entrepreneurs would be ready to throw in the towel. However Bert and John Jacobs kept slogging away, designing logos for local bars and restaurants to keep the dream alive, until they stumbled upon their hundred million dollar idea.
Where did they discover the simple, powerful message that Life is Good? Who was their biggest source of inspiration? How did they keep going for five years without capital funding? What kind of toll did that take on their personal life?
I caught up with Bert and John at a charity event to support Alex's Lemonade Stand, a nonprofit that is searching for a cure for childhood cancer, to find out the answers to these questions. (The following week, Life is Good installed a new basketball court at the Long Beach Boys & Girls Club. Giving back is at the heart of their 8-week #GrowtheGood tour.)
Life is Good founders John and Bert Jacobs pose with Liz Scott, founder of Alex's Lemonade.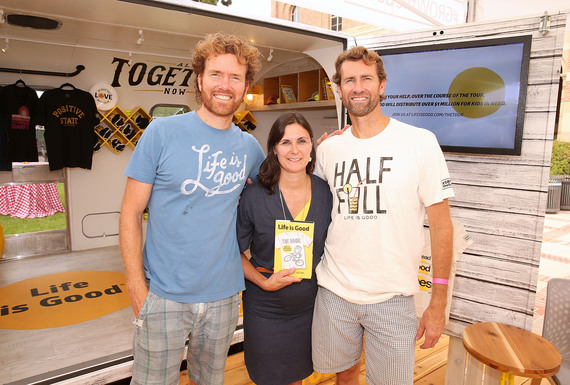 Photo: Jesse Grant / Getty Images for Life is Good. Used with permission.
Natalie Pace: Life is Good is now a $100 million lifestyle brand. Take me back 20 years ago. Would you have ever believed it?
Bert Jacobs: Probably not. The goal when we left was to try and make a living selling art.
John Jacobs: We didn't have a clue.
NP: Did you hit on Life is Good early on, or did you flounder around for a while?
JJ: We stumbled along for five years, sleeping in our van and selling t-shirts in college dorms up and down the East Coast, trying all sorts of sayings and artwork. Though we didn't succeed financially all of those years, we learned a lot. Eventually we got to a point where there was one conversation we had repeatedly in the van about how the mainstream media tends to inundate people with negative information.
BJ: Everyone except you. Ha ha.
NP: I actually do focus on people who are doing good things.
BJ: That is bucking a huge trend.
NP: Bloggers are not part of the mainstream media. We get to make our own rules (for the most part).
BJ: We have a kinship because we don't consider ourselves part of the apparel industry. We see t-shirts as a vehicle for communication.
JJ: We believe that what you focus on grows. If you choose to focus on what's wrong with your life or the world that will fester. The people who choose to focus on what's right in their life, they get momentum.
NP: If you're living in your van for five years, that's challenging! Can you give us one juicy story that was rock bottom that tested your optimism?
BJ: We were still failing by most standards when I was 30 years old. I had a girlfriend who I was mad about. She broke up with me because her mom told her, "This guy's 30 years old, and he's still sharing a van with his brother." Could you blame her? I was devastated. There was nothing I could do because I couldn't argue with it. The thing that she wasn't seeing, and the thing that many people don't see, is that life isn't good because of what you have or because of even where you are. It's good based on your disposition.
NP: Even if you're living in a van and your girlfriend just dumped you?
BJ: When we were sleeping in the van, life was good for us. Even though things were tight and it didn't look like we were going to be successful, we were travelling around visiting schools that we couldn't get into. We were throwing the football and the Frisbee by day. When we had a great night and sold a lot of t-shirts, we'd celebrate by going to a college food truck and buying a sandwich. We'd sit behind the truck and high-five and say, "What an awesome night!" And we weren't joking or trying to be humble. It was an awesome night.
NP: Do you think you've found the secret to happiness? Are you still happy?
JJ: We had a heck of a source of our optimism. Our mom is by far the biggest inspiration for Life is Good. We grew up the youngest of six kids in a small house. Our dad was a blue-collar guy. A car accident left him without the use of his right arm. That left him very frustrated and depressed. It led to a lot of yelling in the house when we were kids. And yet, we had this optimistic mom who, way before Life is Good, would sit at a dinner table looking at all of her kids saying, "Tell me something good that happened today." She just sort of knocked aside all of the chaos and challenges and got us focusing on, you know riffing with each other on, something funny and absurd.
NP: What is the best thing that happened to you in the past year?
BJ: It's been a tough year, to be honest. We lost our dad and then last year, we lost our mom. The best thing was joining a community called Summit Powder Mountain, that's a group of people who are focused on innovation. It's combining nonprofits with for-profits with scientists and artists.
NP: How do you turn those painful losses into optimism?
BJ: It's been a tough year, but at the same time, it's allowed us to reflect on how lucky we were to have a mom who taught us the power of optimism. And even a dad who struggled and was depressed our whole life. He just lost himself. Our mom stayed with him all along. In the last ten years, the old great guy that he was when he was young came back. My mom and dad, it was like they were dating again for those last ten years. He saw all of his rag-tag kids land on their feet and do okay.
NP: You've got your message on hats and t-shirts. Why did you want to write the book?
JJ: The book is made up of personal stories from our community. A big component of it is letters and emails from people going through difficult things. There is a letter in the Gratitude chapter by these two twin boys who are ten years old. One had his leg amputated when he was born. One is blind.
BJ: They were writing to tell us how good life is. They didn't even ask for a free t-shirt. Everybody asks for a free t-shirt. One of the boys said, "I now know that my brother has more challenges than I do. But he says and does things that make me laugh and forget about feeling bad." Amazing. And we're going to meet them on this trip. We're going to meet a handful of people who wrote those letters, whom we've never met.
JJ: There's a girl who was one of the biggest inspirations early in our business - Lindsey Beggan.
BJ: Lindsey has unbelievable courage. She's the lucky one who beat cancer. The media started asking her, "Why are you wearing a shirt that says Life is Good?" They asked her if she understood her prognosis. She was like, "Yeah. They don't think I'm going to live longer than a year." They couldn't believe she was wearing these shirts. But she beat it. She's 27 years old.
JJ: That's what led to the Kids Foundation and hosting fundraising events. It was people like Lindsey who inspired us and showed us the depth. We're so thankful for those stories and that is why they are a big part of the book.
BJ: And it keeps being the fuel. Just finding people whose resilience comes from their disposition and their unwillingness to get beaten down by the challenges. That's what optimism is about. You can look at the world and you can see obstacles, or you can look at the world and see opportunities. Pessimists list the obstacles and optimists see the opportunities and they move toward them.
NP: Do you think that living a fulfilling life is part of the key to happiness?
BJ: Takers eat well, but givers sleep well.
Life is good, even when you're living in a van. And, even if you are going through chemo for bone cancer, according to Lindsey Beggan. Lindsey began wearing a Life is Good hat when she lost all of her hair because "It reminded me to be positive, happy and excited, even though I was going through something that was a little bit difficult." (Click to see a video of Lindsey sharing her experience.)
The two eternally optimistic brothers, who grew up sleeping in bunkbeds, are now touring the nation in an Airstream to promote their book and to support children's charities along the way. Join them if you'd like to #GrowtheGood.
REAL LIFE. REAL NEWS. REAL VOICES.
Help us tell more of the stories that matter from voices that too often remain unheard.