You sleep on your bed every single night, so it's about time you give it the attention it deserves.
You probably have the essentials you've used for years: satisfactory blankets, decent pillows, sheets that are perfectly fine. But what if your bed could actually become the sleeping space of your dreams?
The crown jewel of your room shouldn't just be the spot where you crash at the end of a long day. It should be a location that's too good to resist. That's why we consulted home design retailer West Elm for a few easy tricks for making your bed look and feel positively dreamy. Below are their tips for taking your sleep haven from so-so to over-the-top:
1. Start with a clean base.
Basic is best when it comes to your sheets, according to Scott Charles, lead home stylist for West Elm's Chelsea location in New York City.
"Usually white is a nice resting place for the eye and then you can put whatever kind of print that you want [on top]," he told The Huffington Post.
Keeping your sheets and comforter simple allows you to have fun with accent pieces, Charles said. Plus, you're never married to the same bold look. Tired of that embroidered accent pillow and craving something neutral? Just swap out the throw pillow, rather than all of your bedding.
2. Layer, layer, layer.
Stacking your bedding elements is key to making your bed look as lush as the one in the store. In warmer seasons, the duvet can play a decorative part, folded at the foot of the bed, Charles said. In other seasons, it's an essential add-on to stay warm.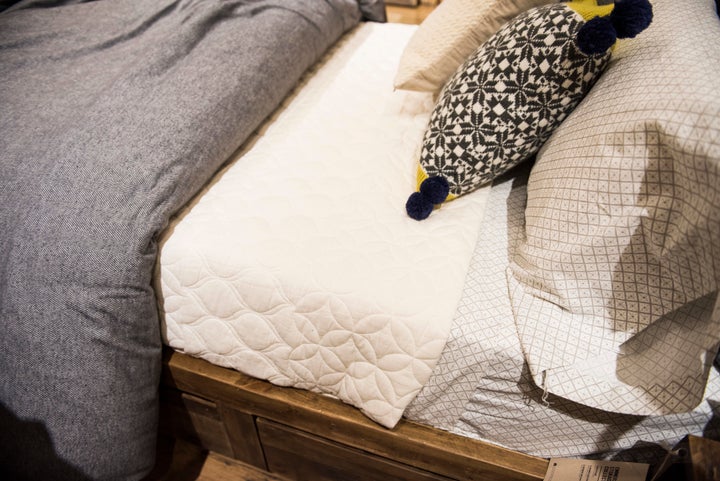 Pillows punch up the look.
One size does not fit all. Up the ante and challenge the norm of standard size pillows. Line up a few plush, oversized pillows with some that are standard size, like in the photo below, Charles suggested.
Then, grab a couple of decorative pillows in different textures and colors to complete the look. Try one that's faux fur and another that's embroidered or has a velvet fabric. Varied textures have a way of making the whole bed look more dynamic, according to Charles.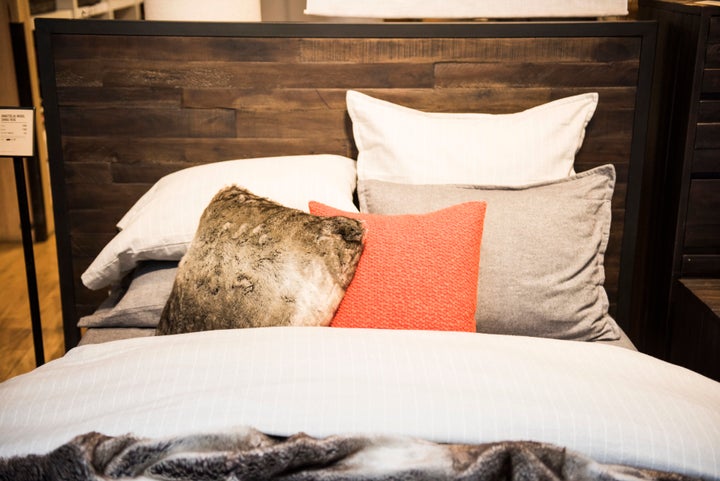 It's all how you fold the duvet.
If you're wondering why your blanket doesn't seem as plush as the bedding on display in stores, here's the scoop: That display duvet is usually stuffed with two down feather inserts to create that fluffy, lush look. Sneaky!
Since two down feather blankets is excessive ― or at the very least, can be a recipe for overheating at night ― Charles suggests you get fancy with how you fold your single duvet instead.
Fold the duvet in half, with the ends over the foot of the bed. Then fold up the top half toward the pillows, as seen below, so that this portion of the duvet is doubled over on itself to create volume. (All the volume of a regular blanket is lost when you just spread it out over a mattress.)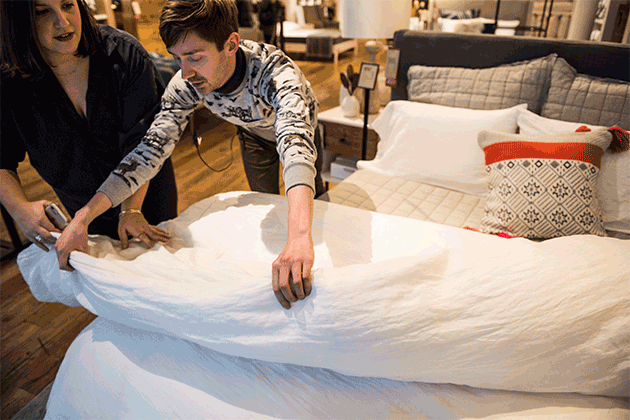 Combine all of these tips and it might get tough to leave your room. Don't say we didn't warn you.