Mr. Rotterdam was 4,000 miles from home, but he wasn't on vacation or holiday. He was on a mission.
That mission had taken Ernest Rotterdam from his hometown in the Netherlands to an expansive mansion belonging to an inventor and tech entrepreneur. He believed that this mansion--out of all the places in the world--was where he needed to go for the best opportunity to learn the most relevant and talked about skill of the twenty-first century:
How to program and develop apps.

You'd think that his quest would have taken him to a well-known tech hotbed like Silicon Valley, or maybe a large city like New York and Chicago that have dozens of coding academies. But Rotterdam's search led him to Eleven Fifty Academy, run out of voicemail inventor Scott Jones's mansion in Carmel, Indiana.
"I was looking for a place where, in an intensive way and in a short period, I could learn something with other people really interested in programming grouped together," Rotterdam said. Eleven Fifty's focus on immersive learning has indeed made it a top choice for people looking to learn technical programming skills quickly.

Since its founding in January 2015, this elite academy has already graduated more than five hundred students from countries around the world, including Canada, Costa Rica, The United Kingdom, and now the Netherlands. It's a long way to travel, but students say it's a unique experience and a once in a lifetime opportunity.
When asked about his favorite part of the Academy, Rotterdam didn't hesitate, "The class, of course, and the way of teaching. It is kind of high-speed and you sit next to someone else and you can code together; that's the best way to learn. I learned a lot and I still have to learn a lot. It got me motivated and I know many examples." And Rotterdam didn't limit his immersion to the classroom.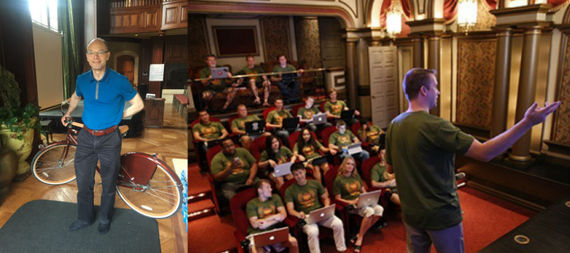 With his hotel just a few miles from the mansion, he purchased a bicycle that would allow him to explore the town and embody the academy's true spirit of immersion.
"It [the bike] gave me more freedom and I got here a little before [class] so I could walk around myself. I've also been to the gym a few times [on-site at the facility]," Rotterdam reflected on the experience.
But complete immersion is just one of the many ways people are learning to program software and develop apps. Online training like Codecademy and Lynda make it easy to get started with learning programming in minutes. And more flexible programs and bootcamps like the Iron Yard allow students to learn over time.
Let me know in the comments below.
REAL LIFE. REAL NEWS. REAL VOICES.
Help us tell more of the stories that matter from voices that too often remain unheard.