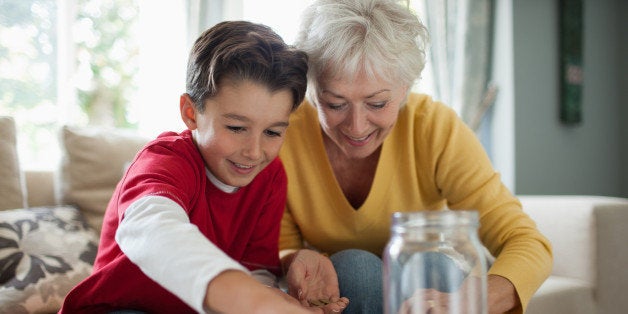 Both of my grandmothers had a positive impact on my life. I can still hear the laughter of my grandmother on my mother's side. I see her in her summer home, on the beach in Michigan City, Indiana, preparing fresh corn on the cob in her kitchen, adding a drop of sugar to the boiling water for sweetness. She said this to me as if it were a legendary secret -- shhh, don't tell her I'm sharing with you! At times, I still notice things I say and do that I carry with me from her and I marvel at her ability to have managed to leave a piece of her behind with me to this day.
I lived 60 miles away from my grandmother! I did not see her often and yet she holds a big place in my heart and mind. So much so, I was determined to emulate her by leaving a part of my essence with my grandchildren -- all twenty of them.
A young mother sent me a quote that best describes my feelings on the most important role of a grandmother. It goes like this:
"It is not what you leave your grandchildren when you are dead; it is what you leave them in their head. Your wisdom and your values, grandma!"
The question now remains, how do we do this when our children have our grandchildren programed until bedtime? I have the following scenarios to attend to -- some of these may sound similar to your own:
A granddaughter, who is a star pitcher on her college softball team.
A grandson in middle school, a hockey goalie, who has private hockey practice every morning and then team practice each afternoon.
A grandson who practices daily with his high school football team and just won the Arizona State Championship this season.
A grandson who is a star tumbler on a large cheerleading squad that won first place in the West Coast Region of the US.
That's just the beginning! Other grandchildren of mine have lead roles in their class plays, one is an exchange student in Beijing, China, and another is studying at Haifa University in Israel! I'm sure many of you are in a similar boat!
So, how do we try to be an important part of our grandchildren's lives and leave a lasting impression, when they are so busy coupled with long distance relationships? My grandchildren live in Arizona, Texas, Indiana, California and Chicago. I live six months in California and six months in Chicago. It's hard to be a grandmother of consequence!
I am sad that I am not in the middle of their daily lives, but I have to be creative in finding ways to leave them with "Honey wisdom" and "Honey value builders!" Here are a few things I have done that I hope have instilled a part of me in their minds. Maybe you will gather some information from my doings and do something like this for your grandchildren.
My grandson, Michael, the football star, loves the color green. I sent him a green protective cover for his computer. On the card I wrote: "I know your favorite color is green. I know your computer needs to be cared for. Enjoy the cover and always take pride and care of your possessions." I was in Arizona with him last week. I noticed he still had the same computer cover I gave him when he was 13. He is now 17!
My 12-year-old grandson, Joshua, has two turtles. I bought him tiny turtles at Pet Smart about six years ago. I told him it was his responsibility to feed and care for them. Now they are huge and live in a gigantic tank in his home! He always tells me: "Honey, see how healthy I have kept my turtles and how old they are!?"
My grandson, Jack, the athlete and acrobat, has a rock I bought him in the shape of a pyramid. I walked into his bedroom and was surprised to see it sitting on a tray in a primary spot. When I gave it to him I told him "the rock should remind you to climb your mountain in life with honor."
My granddaughter, Skylar, has a little fairy that I gave her when she was six. The card read, "This is your personal fairy. Keep her in every bedroom you live in all of your life. She will guard and protect you!" Her fairy sits on her desk in college. She has kept this fairy with her for over a decade, it's very special to both of us!
My granddaughter, Samantha, is studying in China. We are weekly pen pals. "Our" goal is to put together a book! We are partners with a project!
My grandson, Rob, my first-born grandchild, has a painting hung behind his desk that I recently had painted for him. It is a picture of four half filled glasses of water with the saying, "Always See the Glass Half Full." We had an experience together when he was four. I put a half-filled glass of water in front of him and asked him, "Do you see the glass half full or half empty?" He said half full. I have taught him that his life will have hills and valleys but he can overcome them by maintaining a positive outlook.
I am creative with my "Honey messages" and small "Honey gifts." They seem to stick and hopefully they continue to as the years go on. I truly feel that I make a contribution to their lives and that is very important to me. I know a grandmother can always be in the minds of her grandchildren.
One last note: I text often, call them on their cell phones, Skype, email and Facebook with them. I know my grandchildren love me, respect me and have learned much from me. That is the gift they have given me and it truly is priceless.
Calling all HuffPost superfans!
Sign up for membership to become a founding member and help shape HuffPost's next chapter